The Afghan theater of operation is a demanding one. Wide ranges of temperatures, high mountains, wind, deserts, and dispersed population.
On the map, the country resembles an irregularly shaped leaf hanging from the Wakhan Corridor at its stem. It encompasses approximately 637,397 square kilometers and is completely landlocked… The nearest seaport is Karachi, Pakistan, almost 1,170 kilometers away. The country's extreme length from west to east is about 1,240 kilometers, including Wakhan. Its greatest width from north to south is approximately 565 kilometers.
Mountains traverse the center of the country, running generally in a northeast southwest direction. Of the total land area, over 49 percent lies above 2,000 meters…. The highest peaks are over 7,000 meters above sea level and are found in the eastern part of the country. In comparison, Mount Everest, which has the highest elevation in the world, stands 8,853.5 meters above sea level. The mountains of the Hindu Kush diminish in height as they stretch westward. Toward the middle of the range, near Kabul, they extend from 4,500 to 6,000 meters above sea level. In the western portion of the range they attain heights of 3,500 to 4,500 meters and at the extreme western border are lower still. The average altitude of the Hindu Kush is 4,500 meters. The Hindu Kush runs about 966 kilometers laterally, and its median north south measurement is about 240 kilometers…..
Afghanistan's mountains are transected by a number of passes that have been, and continue to be, of great strategic importance….. Among the most famous passes in Western historical perceptions of Afghanistan are those leading to the Indian subcontinent. They include the Khyber Pass (1,027 meters) and Lateh Band Pass (also found at a relatively low elevation) leading to Kabul.
In addition to its mountains, the country also possesses many rivers, river basins, lakes, and desert areas. Rivers take on a very special significance in an arid, landlocked country. The major rivers axe the Amu Darya (or Oxus; length at least 800 kilometers), Helmand (length 1,000 kilometers), Harirud 850 kilometers), and Kabul (length 460 kilometers). In addition, four important rivers flow northward: the Balkh, Morghab, Koshk, and Qonduz. The last two rivers flow into the Amu Darya. Many additional rivers and streams flow only seasonally, drying to a trickle or becoming totally dry during part of the year. Most rivers simply empty into arid portions of the country, spending themselves through evaporation without emptying into another watercourse. The most important river basins in the view of Gopalakrishnan are the Amu Darya, Kabul, Helmand, and Harirud.
http://www.globalsecurity.org/military/ world/afghanistan/cs-enviro.htm
The terrain and geography dictate the challenging nature of military operations. Lighter equipment is often necessary because of the operations in mountains. Winds, dust and dirt create an environment where tents are a regular feature. Air connectivity is provided by rotorcraft, which has high demands for maintenance for rotorcraft, and unmanned and manned aircraft. Air dropping of supplies is often required to support deployed forces. Command and control needs to rely on non-line of sight communications. This is a demanding and costly operational environment, which underscores the need to operate in a distributed operational approach sustained by a mobile logistics infrastructure. The absence of roads is a major challenge to provide mobility and logistical support to the troops, so that airlift remains a key element for operations in Afghanistan.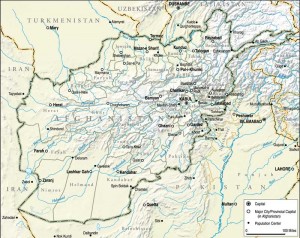 http://www.understandingwar.org/map/ afghanistan-topographical-map
The photos in this slide show underscore the interaction between military operations and the Afghan environment. The first three photos show USMC operations in Helmand province. "A desolate patch of Afghan desert has been transformed into the Marine Corps' newest installation in Helmand province, Afghanistan. Marines and sailors from 3rd Battalion, 6th Marine Regiment, have been working night and day to establish Camp Belleau Wood, named after the famous World War I battle in which 3/6 valiantly fought many years ago.In a matter of days, the Marines have made Camp Belleau Wood into a functional military camp that is continually growing and improving at an exponential rate.The Camp Lejeune, N.C.-based battalion moved from Camp Dwyer earlier in the week to their current location at Camp Belleau Wood. From that point, the battalion has been conducting military operations while continuing to build the camp from the ground up."
[slidepress gallery='afghan-terrain']
Photos Credit: Regimental Combat Team-7, 1st Marine Division of Public Affairs; Joint combat Camera, Afghanistan (for Photos 5-10); USAF Central Public Affairs; Navy Visual Service.

Photo 1 shows Columns of tents provide shelter to the Marines and Sailors of 3rd Battalion, 6th Marine regiment at Camp Belleau Wood, Helmand province, Afghanistan, Feb. 3, 2010.
Photo 2 shows Marines from 3rd Battalion, 6th Marine Regiment move along the outskirts of Camp Belleau Wood, Helmand province, Afghanistan, Feb. 3, 2010.
Photo 3 shows a strong wind kicks up dust behind the male restroom at Camp Belleau Wood, Helmand province, Afghanistan, Feb. 3, 2010.
The operations in Afghanistan rely heavily on the use of various forms of airpower. Photo 4 shows the Osprey during Operate Cobra's Anger. The tiltorotor flew general support operations throughout the operation and provided the advantages of its flexibility and troop carrying size to advantage.
Photos 5, 6 and 7 show an implicit advantage of the Osprey. The Osprey is the functional equivalent in operations of 3 CH-46s and the use of two FOBs (forward operating bases) or FARPS (Forward Armament and Refueling points.
Photo 5 shows A U.S. Army UH-60 Black Hawk departs Forward Operating Base Wolverine, Zabul province, Afghanistan, Dec. 14, 2009
Photo 6 shows Soldiers from Echo Troop, 3rd Squadron, 17th Cavalry Regiment run to refit, refuel and rearm an AH-64 Apache helicopter assigned to Task Force Lighthorse at the Camp Wright Forward Armament and Refueling Point, Jan. 18, 2010. The FARP Soldiers are responsible for fueling and arming helicopters supporting battlespace owners and maneuver elements within Task Force-Mountain Warrior's area of operations. The unit of approximately a dozen Soldiers work 24 hours a day, seven days a week refuel all the military and contract helicopters, as well as support the ground elements on Forward Operating Base Wright with fuel for generators and vehicles.
Picture 7 shows An AH-64 Apache helicopter assigned to Task Force Lighthorse departing the Camp Wright Forward Armament and Refueling Point, Jan. 18.
Picture 8 shows the venerable Kiowa Warrior helicopters. This helo has been in constant demand by operational commanders who find its core capabilities to be well suited to Afghan operations. The Kiowa Warrior is a candidate for upgrades and modernization. A U.S. Army OH-58 Kiowa Warrior flies over Forward Operating Base Frontenac, Afghanistan, Dec. 14, 2009.
Pictures 9 and 10 show British soldiers on patrol in Afghanistan. Photo 9 shows British soldiers from B Flight, 27 Squadron, Royal Air Force Regiment, drive through heavy dust near Kandahar Airfield, Afghanistan, Jan. 2, 2010. And Photo 10 British soldiers from B Flight, 27 Squadron, Royal Air Force Regiment conduct a combat mission outside Patrol Base Centurion near Kandahar Airfield, Afghanistan, Jan. 2, 2010.
The multiple roles of air support, include transporting equipment, ammunition, fuel, food, troops and various and sundry items for the logistics and sustainment needs of the troops and the equipment deployed throughout Afghanistan.
Photos 11 and 12 show the role of airlift in bringing ground equipment to land-locked Afghanistan. Virtually all of the new M-ATVs have been delivered by air. These photos show Tech. Sgt. Antonio Munoz, NCOIC and instructor loadmaster from the Transit Center C-17 detachment, guiding an MRAP-all terrain vehicle into a C-17 Globemaster III prior to shipment to Afghanistan. The new M-ATVs are better equipped to withstand current combat conditions. Several C-17s provide airlift for military service members and cargo. (Credit, 376th Air Expeditionary Wing).
Photo 13 highlights the airdrop support role of the USAF for ground troops. And innovations are being shaped in this role. For example, the 772nd Expeditionary Airlift Squadron dropped 56 containerized delivery systems over three different drop zones within Afghanistan from the same aircraft on the same day January 27th which had never been done before. The photo shows the Squadron loadmaster, helping to upload containerized delivery systems onto a C-130J Super Hercules. The 82nd Airborne Corps' new rigging facility at Kandahar Airfiled will allow Soliders to build more CDS bundles filled with supplies needed to be airdropped to FOBs within Afghanistan. The 772ned Expeditionary Airlift Squadrons airdrop support will then be increased by 250%.(Credit, 451st Air Expeditionary Air Wing).
A key air support element is the A-10 in the Afghan operations. The demanding environment requires keen attention to the maintenance side of operations.
Photo 14 shows Senior Airman David English is seen installing a left rudder actuator on an A-10 Thunderbolt II Dec. 10, 2009, at Kandahar Airfield, Afghanistan. The left rudder actuator is a device that controls the rear flaps. Airman English is a crew chief with the 451st Expeditionary Maintenance Squadron maintenance flight. (Credit, U.S. Air Force).
The USAF rescue efforts are significant as well, notably in providing medivac missions. Again the demanding environment places the air support role for medivac missions at the forefront of operational requirements. It is unfortunate that no rescue helicopter replacement program is in site. This is an example of allowing GAO protests to determine wartime policy, something that would have been difficult for President's in previous roles to have been able to understand.
Photo 15 shows U.S. Air Force HH-60G Pave Hawk helicopter from the 66th Expeditionary Rescue Squadron casts a shadow on the ground as it responds to medical-evacuation request Jan. 10, over Kandahar province, Afghanistan. (Credit, US Air Forces Central Public Affairs).
Rotorcraft play an important supply role as well.
In photo 16 a Chinook helicopter fires warning flares before dropping supplies at Combat Outpost SarkariBagh, Arghandab River Valley, Afghanistan, Jan. 9. In Photo 17 a Chinook helicopter is seen dropping supplies at Combat Outpost SarkariBagh, Arghandab River Valley, Afghanistan, Jan. 9, 2010.
Contrasting Photos 16 and 17 with Photo 18 gives one a sense of range of operational environments within which the forces operate.
Photo 18 shows Soldiers with Bravo Company 82nd Division Special Troops Battalion providing security before loading a CH-47 Chinook during an air assault mission Dec. 18, 2009, Parwan, Afghanistan.
Photo 19 shows another bit of the diversity of operating conditions. Here Two U.S. Army CH-47 Chinooks depart Forward Operating Base Wolverine, Zabulprovince, Afghanistan, Dec. 15 (Credit for Photos 16-19, Joint Combat Camera, Afghanistan).
And what photo essay on combat conditions in Afghanistan would be complete without showing grunts digging wells and trying to provide for water in austere conditions. Except these grunts are Navy.
Photo 20 shows Petty Officer 1st Class Aaron Nagel, equipment operator, assigned to the Water Well Detachment of Naval Mobile Construction Battalion 74, taps the team's first artesian well in Afghanistan. The detachment is conducting operations in southern Afghanistan, providing critical water sources and self-sustainability to U.S. and coalition forces assigned to the area (Credit: Navy visual service).
———-
***Posted February 12th, 2010