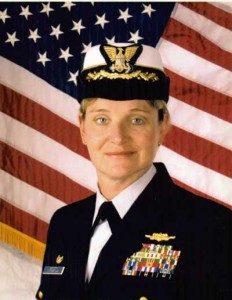 Captain Bennett is a Financial Management Specialist and Cutterman with a diverse career spanning a wide range of operational and staff assignments.  She has had three tours afloat, serving as an engineer on USCGC CHASE (WHEC-718) and serving twice on USCGC GALLATIN (WHEC-721), first as Supply Officer and later as Executive Officer. Her ashore assignments include Chief Administration Officer for Support Center New York, Executive Officer for Integrated Support Center San Pedro, California, and Comptroller for the Coast Guard Pacific Area Command headquartered on Coast Guard Island, Alameda, CA.  While stationed in the San Francisco bay area, she served as the President of the Northern California Officers' Association.  Captain Bennett further served in the Coast Guard Headquarters Office of Acquisition as well as the Budget Execution Division.  Notably, she served in a Joint assignment as Coast Guard Liaison Officer to the Department of Defense Joint Forces Command and Commander, Fleet Forces Command in Norfolk, Virginia.  While in this assignment she assisted in the Navy command center during events leading up to Operation Iraqi Freedom.
Captain Bennett holds a Master of Administrative Science in Financial Management "with honors" from the Johns Hopkins' University's Carey School of Business.  She has also earned a Professional Certificate in National Security and Strategic Studies from the Naval War College, Newport, Rhode Island.  A graduate of the U.S. Coast Guard Academy, she is a native of Stony Brook, New York.
Captain Bennett has received numerous military awards and is a recipient of the Johns Hopkins' Edward P. Stegman award for academic excellence.  A strong supporter of community service, Captain Bennett has been a lifelong volunteer; in her community, in Parent-Teacher Associations, and in her church.