01/19/2011 –
Story by 1st Lt. Ashley Jackson (credit : 4th Infantry Division Public Affair)

Forward Operating Base Shindand, Afghanistan
As the pilots of Task Force Comanche, 4th Combat Aviation Brigade, 4th Infantry Division continue their extremely high tempo of operations, TF Comanche fuelers from Company E are there to support the demand for continuous refuel.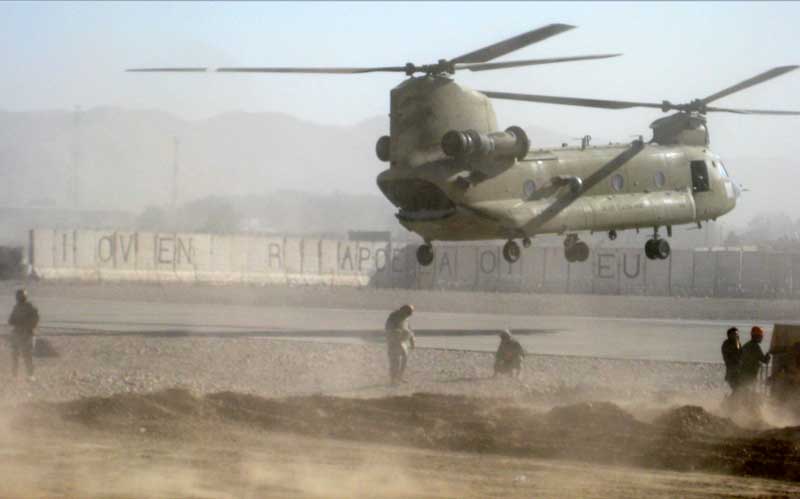 Credit: Combat Aviation Brigade, 4th Infantry Division Public Affair, 12/19/10
Fuelers from Company E, Task Force Comanche, 4th Combat Aviation Brigade, 4th Infantry Division prepare to refuel a CH-47 Chinook at a Spanish run FOB. This FOB is the location of one of TF Comanche's forward arming and refueling points where Soldiers have pumped approximately a half million gallons of fuel since their deployment began in June.
The fuelers run 24 hour refueling operations at FOB Shindand in support of helicopters in Regional Command (West). Refueling during a mission is dependent upon TF Comanche forward arming and refueling points. In order to sustain the aircraft during their missions, TF Comanche currently runs two separate FARPs [Forward Arming and Refueling Points].
One FARP is located at a Spanish FOB. As the current Spanish unit prepares to redeploy, the TF Comanche team is key to integrating incoming forces into the area. The U.S. team works with the Spanish fuelers on a daily basis to ensure that both countries' missions are completed successfully. TF Comanche soldiers will help the new Spanish fuelers learn the tactics used in Afghanistan.
While stationed at this Spanish FOB, TF Comanche soldiers are responsible for the set-up, maintenance and manning of the FARP. By the end of this month, the team is expecting to hit the half-million mark of gallons of fuel pumped since the beginning of their deployment.
This number does not include the volunteer fueling missions they help the Spanish perform. The Spanish Army has a refuel point for their vehicles and aircraft, but they do not have 'hot refuel' capabilities. TF Comanche does have the ability to fuel an aircraft while it is still running, called a 'hot refuel.' The Soldiers refuel as many as 16 U.S. Army aircraft a day. The team, led by U.S. Army Staff Sgt. Raphael Ayala, 41, FARP NCOIC from San Antonio, Texas, works 24 hour operations to fuel aircraft any time, day or night. Through a system of hand and arm signals, soldiers communicate with each other in order to complete various tasks simultaneously.
Between the FARP soldiers and the aircraft pilots, everyone remains focused to ensure efficiency, safety and accuracy. "The deployment to Afghanistan and working with the Spaniards for an entire year was a great experience for every POL soldier to be a part of something very special and meaningful," Ayala, said. The other remote FARP team is led by U.S. Army Staff Sgt. Gilroy Barros, 36, FARP NCOIC from Killeen, Texas.
The small contingency of Army personnel on this FOB are mostly from TF Comanche and are there to support the refueling mission. "My guys know that every mission here is important," Barros, said. "They understand that when any type of aircraft arrive on our landing zone, they need to refuel them in a safe and timely manner to get to their next destination." These soldiers fuel Spanish, Italian, and other International Security Assistance Force forces and civilian aircraft in addition to those of the U.S. forces. Like the Spanish FOB, this team also works 24 hour operations.
The soldiers have pumped more than 300,000 gallons of fuel during the deployment. TF Comanche fuelers rotate through positions on all FARPs including FOB Shindand. Though they are away from the Task Force, the soldiers at both FARPs are critical pieces to the accomplishment of the TF Comanche mission. The soldiers work together with coalition forces from all around the world, and work diligently to ensure the success of everyone involved.
Not only do they impact the missions of multiple forces, but they also set the example of how to integrate different cultures and languages into a cohesive program. "These soldiers are a quintessential part of the Task Force Comanche team, we can't complete our missions without them," Black Hawk pilot U.S. Army Capt. Lionel Macklin, Jr., commander, Co. E, TF Comanche, said.