Worldwide exhibition of internal State security
18-21 October 2011
Paris Porte de Versailles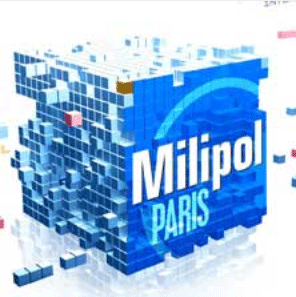 A worldwide meeting place for internal security professionals
Ever since its creation in 1984, Milipol Paris has established itself the foremost event, which brings together the key players involved in internal State security. Milipol Paris is constantly developing, and is a major technological showcase for products and services in the homeland and industrial security sector.
Milipol Paris
– gives a global vision to the security issue
– gives access to the international markets
– is the meeting place of the sector buyers and purchasing advisors from 135 countries
– is the meeting place of institutional key players.
A real concentration of innovation and information
Milipol Paris is an action market for Security professionals that wish to develop their business.
Milipol Paris 2009 hosted
– 887 exhibitors, from 43 different countries.
– 27 646 visitors, from 132 other countries.
The sector of Major Risks at Milipol Paris : initial success in 2009 and expansion in 2011
Milipol Paris 2009 created a Major Risks area at the heart of the trade show. An area dedicated to prevention and management of Major Risks was launched at Milipol Paris in 2009, enabling organisations to present for the first time their general and specific solutions in the fields of natural, health-related, technological, industrial and terrorist disasters. The clear interest showed by professional visitors and the specialist press emphasizes the importance of the Major Risks sector in all fields: environmental, climatic/seismic, industrial, NRBC, etc.
Based on this initial success, the dedicated area is growing in 2011. All the relevant international players, both public and private, will present their innovations in this constantly evolving field at Milipol Paris 2011. All Major Risks activities will be covered:
–       prevention, detection, identification, analysis, intervention,
–       protection, surveillance.
From 18 to 21 October, Milipol Paris, working with the French Civil Defence, National Police and Gendarmerie, is presenting three different demonstration scenarios illustrating their actions, interventions and innovations.
SECURITE CIVILE (French Civil Defence)
Screenplay: a bomb disposal team is dealing with a suspect object that shows signs of being loaded with chemicals.
POLICE NATIONALE (French National Police)
Screenplay: CBR terrorist attack
GENDARMERIE NATIONALE (French National Gendarmerie)
Screenplay: The Versailles criminal investigation section and the OCLAESP (French National Gendarmerie special unit for combating environmental and public health threats) are investigating the traffic of fake drugs prepared using dangerous chemical products that are for sale over-the-counter on the Internet.
Find all the details on the show website, breaking news section.
Organised under the patronage of the French Ministry of the Interior, Milipol Paris is an official event, carried out in partnership with the National Police, the National Gendarmerie, Civil Defence, French Customs, the French Armament Procurement Agency (DGA), the SCA CESCOF, Europol…
For the latest information