China's second stealth fighter has made its first test flight, state media reported yesterday, in a boost to the country's air capabilities even though the plane is unlikely to be deployed for years.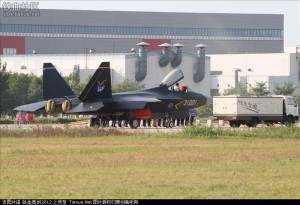 The J-31, the second stealth plane to be unveiled by China in less than two years, flew for 11 minutes on Wednesday morning, the state-run Global Times reported, citing an eyewitness. Two Chinese-made J-11 fighters accompanied it on the flight.
Photographs posted online by Chinese military enthusiasts appeared to show the black-painted combat plane in mid-flight near the northeastern city of Shenyang. Images of the aircraft were first leaked online in September.
http://www.taipeitimes.com/News/front/archives/2012/11/02/2003546677
For our treatment of the impact of such a plane, not only on evolving PRC defense capabilities, but arm's exports see the following: