From time to time we will run an historical piece which highlights the central focus of this website which is concepts of operations, logistics and deployed capabilities. We are beginning our "History and Lessons Learned Corner" with a piece by Fred Allison, a Marine Corps historian, on the challenges facing the USMC in operating from Bagram in the aftermath of 9/11. This piece highlights the concepts of operations and logistics challenges facing the USMC and the crucial role one piece of technology, the litening pod, played in their performance.
Fred Allison is a Historian with the U.S. Marine Corps History Division: he is a retired Marine Corps Reserve major, F-4 Radar Intercept Officer and has a PhD in military history. Allison's article will be presented over the next three weeks and will then be followed with a piece on the challenges of providing close air support in Iraq during the Fallujah operation.

BAGRAM NIGHTMARES I
by Fred H. Allison (U.S. Marine Corps History Division)
Getting "Inside the fight"
Bagram air base today is one of the world's busiest, large, sophisticated and bustling in support of the coalition's war against the Taliban. In the early days of what was then called the War on Terrorism, eight years ago, Bagram was the northern front, an outpost in a dangerous and hostile land. It was isolated and austere, wind-swept and foreboding. Situated on a plateau, its elevation was almost 5000 feet above sea level. Shot-up and gutted Russian MiGs were reminders that it had once been a Russian air base. Shortly after 9-11, in the earliest part of Operation Enduring Freedom (OEF) the Northern Alliance and Taliban battled for its control, literally on the base. Mortars and rockets ravaged its buildings, runway, taxiways and ramps. Once liberated, gutsy C-130 pilots began flying in and out of Bagram, bringing in troops and supplies. The decimated airport conditions however would not allow tactical jets to operate safely from Bagram.
Strike jets therefore, had to fly a long way to get overhead the Afghanistan battlefields and provide air support for coalition troops. Except for the Kyrgyz Republic to the north no nation on Afghanistan's perimeter hosted American jets. Early in OEF U.S. Air Force bombers staged from Diego Garcia (2500 miles) or Missouri (much further) to provide air support while Navy/Marine Corps aircraft, which flew the preponderance of the OEF missions, flew from carriers 700 miles away in the Arabian Sea or from bases in Krygyzistan which were also hundreds of miles distant. With the possibility of war in Iraq looming even these limited aviation assets might not be available in the future. General T. Michael Moseley, U.S. Air Force, combined forces air component commander (CFACC) for OEF asked the Marine Corps in mid-2002, if Harriers could fly from Bagram.
The AV-8B Harrier's vertical (or) short takeoff and landing capability meant that it did not have to have a sophisticated airfield on which to operate. Bagram was basically an Army helicopter base. Its runway had no arresting gear and unlike other tactical jets, the Harrier required none. A squadron of strike jets based in country could provide near the same air coverage as a much larger force of aircraft based hundreds of miles away. If Harriers could fly from Bagram they, like the Air Force's A-10s which by mid-2002 were flying from Bagram, would be "inside the fight." They could provide a quick response to calls for air support and better integrate with the troops they were supporting which themselves were headquartered at Bagram.[1]
An important aspect of Moseley's request for Harriers was that they now had Litening targeting pods. This system, developed in Israel and co-manufactured with Northrop-Grumman, represented a generational step forward in precise weapons delivery and of great significance for Afghanistan, as it could gather intelligence data. Only Air National Guard F-16s had used them in combat, in Operation Southern Watch.[2] The Litening pod's capability and utility was recognized by Marines and by 2001 Marine Harrier squadrons were training with Litening pods in Yuma, Arizona.
Coping with FOD, gust and threats
The Marine Corps, in the summer of 2002, directed Lieutenant Colonel James "Grouper" Dixon, the commanding officer of a Yuma-based Harrier squadron, VMA-513, to conduct a site survey of Bagram air base to determine its suitability for Harrier operations. Dixon and party arrived in the middle of night at Bagram, it was pitch dark, and "the darkest place" he had ever been. The next day they began the site survey. Dixon focused on the runway and ramp surfaces. They were terrible. The runway overall was crumbling, with holes in the paving, some over two feet across, six inches deep. Initial construction, by the Soviet Union, was substandard. The wooden concrete joints had rotted away and the concrete slabs were buckled and crumbling, overall a real threat to an aircraft engine that might easily ingest a chunk of debris. This is known as foreign object damage (FOD) and can cripple an aircraft as surely as an enemy bullet. True, the runway was being repaired, good for the future, but for the near term it meant that even less runway would be available. Indeed one half of the runway's width was closed for repairs while the other half remained in its decimated state.
There were other concerns. Night operations would be required but because of the enemy threat the base would be blacked out. Harrier pilots were adept at night combat flying and practiced it regularly, but they expected to return to a base or ship that had lights to aid landing. Mines proliferated, they were visible just off the concrete, if an aircraft taxied off the paved surfaces the pilot would have to eject.
Logistics was another issue. Forward based Harriers were meant to operate as part of a Marine air-ground task force. A Bagram-based Harrier squadron would be the only Harrier squadron for thousands of miles, isolated and distanced from any Marine-specific logistics support. Bagram was at a high elevation and the thinner air would impede Harriers' performance and reduce ordnance loads (which for the Harrier was a real problem since it did not carry a big load anyway). Vertical takeoffs and landings could not be done and carry any appreciable bomb load. The mountains and windy conditions made the air around Bagram gusty and unpredictable, again a hazard to Harriers operating at slow speed around the airfield.
Upon return to the U.S., Dixon consulted with aircraft engine experts on the FOD problem. He learned that the Harrier's engine would not suck up a "rice krispy if it is not disturbed." An advantage the Harrier has is that the nose gear is behind its engine intake, so it would not throw up rocks to be ingested. The FOD danger came from another aircraft's exhaust that kicked up debris. Amended taxi and takeoff procedures and "tail pipe awareness" would minimize the FOD hazard.
Because of Bagram's high elevation, although a vertical landing could not be used, the Harrier's vectored thrust capability would allow short take offs and landings with a decent load of ordnance. This would also minimize the enemy ground fire threat since they would not be hovering while landing and taking off.
So, although the Harriers could operate from Bagram it was not going to be easy; the high elevation, gusty conditions, high FOD hazard, enemy threat, and minimal lighting conditions ensured that. Dixon's squadron was young, few of his pilots or non-commissioned officers had been to war. Nevertheless, Dixon believed his squadron was up to the challenge. He reported his findings to higher command.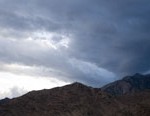 In August 2002 he got the word his squadron, VMA-513(-) would deploy to Afghanistan in October. He had about six weeks to get ready. Training was shaped to prepare. Night airfield operations were practiced at a blacked out Laguna Army Airfield west of Yuma. They hung external fuel tanks on their jets to simulate the diminished performance that Bagram's high elevation would have on their jets. A squadron mechanic adapted a helicopter infrared lens light cover for use on their Harriers' landing light. It allowed the land light to be used and seen by the pilots wearing night vision goggles, and unseen by others without NVGs. It increased visibility from 500 feet to 3,500.
Tactical training was not so problematic. They had trained at offensive air support which would be the predominate mission in Afghanistan; it's the mother's milk of tactical flying for Harrier pilots. An important difference though was that in Afghanistan their air strikes would be controlled by U.S. Air Force joint tactical air controllers (JTACs) instead of Marine forward air controllers (FACs). The Nightmare pilots practiced close air support missions with JTACs at the Goldwater Range at Davis-Monthan Air Force Base also in Arizona. The JTACs were enlisted men where Marine FACs were officers and aviators. Trust and reliability was built into the Marine pilot/FAC relationship, they shared backgrounds and military cultures. This streamlined communication in the challenging close air support mission of getting ordnance on targets very close to the good guys. The pre-deployment training with the JTACs served to instill confidence in the JTACs.
---
[1] The A-10 was able to fly from Bagram as it was a rugged jet, its engines were mounted high so the threat of its engine ingesting a chunk of concrete from the blasted and crumbling runway was reduced. It also was able to operate from shortened runways because it landed and took off at slower speeds.
[2] David P. Anderson, ANG History Office, e-mail to author, 3Aug09, author files, History Division, Quantico, VA.
———-
***Posted December 20th, 2009