A key focus of this website is the centrality of connectivity of platforms in shaping capability for the performance of military and security forces to execute their missions.  We deliberately prefer connectivity to C4ISR because often C4ISR is seen as a highly technical effort to network forces for high-end warfighting. Network centric warfare has hijacked the common understanding of the impact of C4ISR.  It seems however that the ability to connect assets is central to effectiveness in performance of missions, and in a period where platform acquisition will be more difficult, the ability of the US and its allies to work together is increasingly central.
Further, the role of C4ISR is simply not to collect information.  The euphoria over the acquisition of unmanned systems has enhanced the preoccupation for data collection; the real task is to improve the ability to make collaborative decisions necessary to achieve successful outcomes.  This is why we prefer C4ISR D where the decision-making goals are enhanced, not simply enhancing the size of data sets.
No service better underscores the challenge and the importance of connectivity than does the US Coast Guard.  In the criticisms of the Deepwater program, the role of the program in providing for the modernization of the assets which better connect the platforms has been lost.  Modernization is platform sensitive, not platform centric.  If one loses sight of the significant contributions which modernization of C4ISR understood as enhanced connectivity, one simply misses the impact already achieved by these efforts to enhance performance.  And it is often lost on Congress, journalists and analysts that the money spent on connectivity is often MORE important than platforms.  But unfortunately when Congress and the Administration address budgets, the connectivity side of the equation gets shortchanged.
Illustrative of the impact is the role the new capabilities have played in a variety of USCG missions, including interdiction of drug trafficking. The Coast Guard combats drug trafficking in the Caribbean, Gulf of Mexico and Eastern Pacific—their work accounts for more than 50% of all cocaine seizures each year. The service also stops thousands of illegal migrants thereby avoiding billions of dollars annually in social services. At the same time, they aid persons and vessels in distress, saving lives and minimizing injuries. In addition to trained personnel, accomplishing these challenging missions requires technology—electronic charts that integrate with radar, computerized planning and tracking systems, infrared-detection gear, all weather day/night cameras and secure channel radios.
Multi-mission stations, cutters, aircraft and boats linked by communications networks permit effective operations. Electronic systems enable coordinated tactics, integrated intelligence, multi-agency interoperability and common situational awareness necessary to fulfilling statutory missions.
A good measure of success of technology implementation is the continued increase in cocaine seizures. New communications systems, coupled with the latest in electronic sensor technology, are credited with making drug trafficking intelligence rapidly available and improving target tracking, thereby achieving effective prosecution of criminal activities. These systems, deployed across multiple types of assets allow for interoperability of electronic equipment and commonality of software. Operators are able to transmit and receive classified and unclassified information to and from other assets, including surface vessels, aircraft, local law enforcement, and shore facilities. The electronic network is the glue that permits them to work together to effectively achieve a common purpose—a true force multiplier.
A common architecture deployed across multiple types of assets allows for commonality of equipment and software systems and supportability of the entire Coast Guard enterprise. In general, the Deepwater C4ISR architecture ensures an open systems approach for design and implementation, providing a web enabled infrastructure. Its architecture adapts to technology insertion and enables the progression to future Coast Guard wide C4ISR architectures.
The first National Security Cutter, USCGC BERTHOLF, has passed all TEMPEST and information assurance requirements culminating in the authority to operate. Indeed, Lockheed Martin one of the partners in Deepwater was specifically cited in a Coast Guard letter of appreciation dated Jun. 24. Delivery of the second National Security Cutter, USCGC WAESCHE, also received an excellent C4ISR evaluation and the ship was accepted with no C4ISR trial cards. Systems include electronic charts that integrate with radar, computerized planning and tracking systems, infrared-detection gear, all weather day/night cameras and secure channel radios.
The Coast Guard has accepted delivery of missionized HC-130J Long Range Surveillance Maritime Patrol Aircraft. The aircraft's new mission equipment and sensor packages are designed to deliver enhanced search, detection and tracking capabilities to perform maritime search and rescue, maritime law enforcement and homeland security missions. The aircraft modifications include installation of belly-mounted surface search radar, a nose-mounted electro-optical infrared sensor, a flight deck mission operator station and a mission integrated communication system. The mission system installed on the HC-130J is derived from the same software series developed for the mission system pallet onboard the HC-144A maritime patrol aircraft.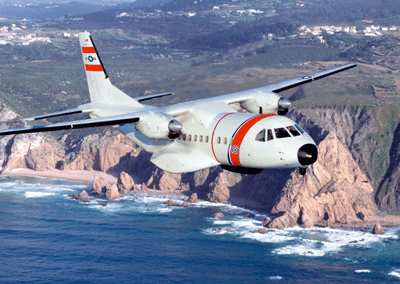 The Coast Guard has also accepted mission system pallets for their new HC-144A "Ocean Sentry" Medium Range Surveillance Maritime Patrol Aircraft. This roll-on, roll-off suite of electronic equipment enables the aircrew to compile data from the aircraft's multiple integrated sensors and transmit and receive both classified and unclassified information to other assets, including surface vessels, other aircraft, local law enforcement, and shore facilities.
At the heart of all these platforms is a common command and control system. It provides system interoperability as well as commonality for savings in maintenance and training. C4ISR system software reuse across Coast Guard platforms is significant. The same 100% common software between air platforms is also 41% common with the software on the National Security Cutter. The suite on the National Security Cutter leverages nearly 75% of the code from the Navy's latest Aegis baseline while the air suite is 80% common with Navy's P-3 Aviation Improvement Program. The command and control system is not only compatible with across the Coast Guard's land, air and sea assets. It is also interoperable with the Navy and 117 federal agencies.
In ports and coastal areas, one of Deepwater's most significant capability enhancements clearly is shaping a robust connectivity capability for the USCG and its maritime and security partners. It is a fundamental building block in improving the Coast Guard's ability to maintain maritime domain awareness focused on meeting the needs of decision makers engaged in operations at sea, ashore, and in the air. The Deepwater architecture is well suited to achieving the objectives of Maritime Domain Awareness as it is common and interoperable across the Navy, Coast Guard and other key departments and agencies. The broad implementation of Deepwater C4ISR, from foreign ports, open oceans, the approaches to the US and coastal waters as well as land stations would permit Maritime Domain Awareness information to be collected, fused and disseminated across the entire Coast Guard enterprise.
In spite of such developments, the Coast Guard has insufficient new assets—much of the fleet is wearing out at an ever-increasing rate. Modern communications and electronic systems are needed so that new and aging assets can be deployed effectively. Changing mission needs and innovative criminal tactics necessitate updating, refreshing and further expanding electronic and communication systems. Without adequate funding, critical missions—seizing illicit drug shipments, intercepting illegal aliens, and conducting lifesaving rescue missions—will be impacted.  And the Department of Homeland Security's ability to manage the threats facing the nation, its friends and partners from the maritime domain will be significantly degraded.  And this largely will be done because connectivity is so undervalued as a core competence.
———-
***Posted December 7th, 2009