This is the first of regular contributions by Rear Admiral (Retired) Ed Gilbert, one of the most experienced and knowledgeable experts on maritime security, who is president of Gilbert Associates and a frequent commentator on the challenges facing the US Coast Guard today.
The pressing need to modernize U.S. Coast Guard long-range assets has been discussed frequently in many different venues. But there has been less focus on the key issues of the other assets, which the USCG needs to modernize.  Indeed, the USCG as an integrated force providing of US and global maritime security faces many modernization challenges which, in spite of controversy, need to be accomplished to ensure the safety and security of Americans, friends and partners.
Shorter-range coastal assets need modernization, and this article discusses a program that's doing just that. Most see the Coast Guard operating in the coastal regions executing several missions and interacting with the maritime public, especially recreational boaters. More than 90% of all search and rescue incidents happen less than 20 miles from the U.S. coast plus there are many other Coast Guard missions to be executed in close-in waters and waterways. These include: safety, law enforcement, security, drug and migrant interdiction, protection for living marine resources, environmental protection, defense operations, and others.
For many years, the Coast Guard's 41-foot utility boat, which is being replaced, has been a workhorse boat for these missions.  On June 21, 2006, the Coast Guard awarded the RB-M contract to Marinette Marine Corporation (MMC) who is partnered with Kvichak Marine Industries (KMI). Construction began in July 2007 at KMI in Kent, Washington. A second production line was opened in Wisconsin in September 2008. Opening of the second production line was made possible by an added $36 million in the 2008 Consolidated Appropriations Act.
During the next decade, the RB-M Acquisition Project plans to acquire approximately 180 boats with the logistics infrastructure necessary to support them. More than just acquiring new boats, the RB-M contract requires delivery of a response boat system providing an integrated logistics package to support the delivered boats.  This includes an interactive web-based system that provides detailed drawings of the boat, complete parts lists, a maintenance planning and tracking system, as well as all applicable manufacturers technical documentation for equipment installed on the boats.  The initial cost per boat is about $2 million.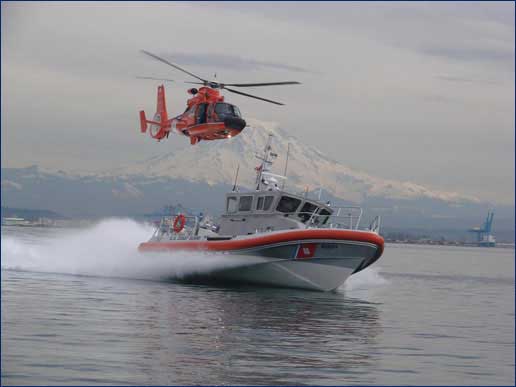 Incorporating inputs from operational commanders and experienced boat users in developing a more capable platform has driven the Project's approach. During the design process, multiple skilled operators from the existing small boat community were included in design reviews providing an opportunity to hear firsthand what works, what doesn't, and where the field operator felt there was the most room for improvement.
Capabilities needed for homeland security missions significantly influenced the design which will provide improved mission response. The most visible improvement is in speed going from a top speed of 26 knots with the 41" UTB to a top speed of 42 knots with the RB-M.
While this is the most apparent improvement, in addition the RB-M provides vastly improved navigation and communication capabilities, improved habitability with a climate controlled pilothouse and passenger compartment, shock mitigating seats for the crew, and an overall layout that was specifically designed to improve maintainability as well as operational efficiency through consideration of ergonomic factors.
State-of-the-art marine technology makes the RB-M a high performer with waterjet propulsion, an advanced electrical system, and integrated electronics that allow greater control from the pilot house.
Technological and design features will improve search object tracking, water recovery efforts, crew comfort, and maneuvering/ intercept capabilities for defense operations. With the latest developments in integrated navigation and radiotelephony, command and control will be greatly enhanced, as will crew safety.
The RB-M is designed to use existing  facilities and minimize the learning curve to ensure a quick and smooth transition. Life cycle support is part of the design – not just parts support, but all logistics, including training, maintenance, repair, and future upgrades. Equipment was selected for the RB-M based not solely on cost, but on reliability and supportability
In addition, extensive analysis was performed to minimize the training requirements necessary to safely operate and maintain the RB-M, and the design was influenced to minimize the training needs over the 20 year life cycle of the boat.
Given the Coast Guard's needs to operate in awful weather conditions and sea states, the boat is designed with a self-righting capability should a capsizing occur; hopefully this capability will not be needed (see 
video
of this capability being tested).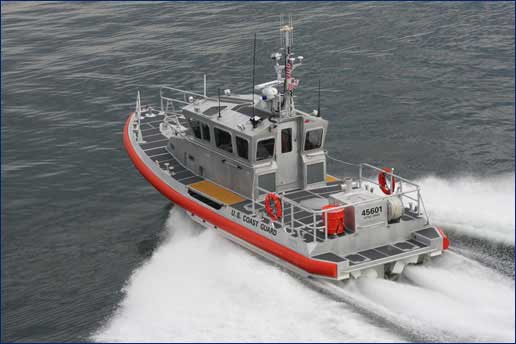 In short, the modernization of the small boat capabilities for the USCG is part of improvement necessary for the service to perform its duties in providing for maritime security.  Modernization of the platforms and of the systems which connect those platforms are crucial for the USCG to perform its concepts of operations in support of homeland and maritime security.  This program is part of the solution.
———-
***Posted December 7th, 2009
.