A Coast Guard 270-foot medium-endurance cutter sits offshore of Haiti as a Coast Guard MH-65 Dolphin helicopter crew patrols Haiti's coastline Jan. 13. Coast Guard personnel from across the eastern United States have deployed on Coast Guard vessels and aircraft for the earthquake relief mission in Haiti (courtesy photo: U.S. Coast Guard Atlantic Area, 01-13-2010)
A Growing Upcoming Mismatch Between Assets and Needs: Haiti As a Case In Point
As the USCG faces the safety and security challenges of the nation, the continuing gap between resources, modernization and missions will inevitably lead to growing security and safety deficits.  With aging assets, a slow down in procurement, and budget shortfalls, the inability of the USCG to respond to security and safety missions will clearly go up.  The ethos of the Service is such that they would not say this publically; but the reality is that the mismatch between assets and needs is growing, not decreasing.
In addition, the very effective tools, which the Deepwater and other acquisition approaches have generated, are not widely understood.  For example, the dramatic rescue off of Hatteras would not have happened without the C4ISR modernization for the C-130s.  Now the Department of Homeland Security (DHS) wants to slow down the acquisition of new maritime patrol aircraft, which are necessary for surveillance, security and safety missions.  The ongoing crisis in Haiti certainly can use significant lift assets, which are in short supply because of the Afghanistan and Iraqi missions.  USCG MPAs and C-130s are very useful in providing lift and support capabilities in a crisis such as the Haiti event.
On January 13th, 2010, outgoing Commandant Thad Allen provided an overview of the current challenges facing the USCG at the Surface Navy Association meeting.  His address focused on the following:
Much of it was about what's happening in Haiti: he had been up all night working with the Secretary and others about responding to the large earthquake there;
A USCG vessel was first on scene; two more in area quickly; another deployed to GITMO to await cargo coming for transport.
A title 10 requirement for USCG to transfer to SECNAV when ordered requires CG/NAVY/DOD interoperability;
USCG helos, C-130s and other assets flowing into the area quickly.
USCG is the first responder here; developing situation awareness and providing early assistance; others such as Navy must follow quickly with larger assets, and all will need in terms of staying power;
Execution of Anti-Drug, Law enforcement and Human Migrant Interdiction Operations missions allowed the necessary presence of capable assets;
USCG has demonstrated capability to surge quickly, but it is stretched to the limit;
USCG has response plans in place for mass migrations; started with Mariel and has been improved and exercised. Lots of interagency, state and local governments and organizations such as FEMA & Red Cross involved.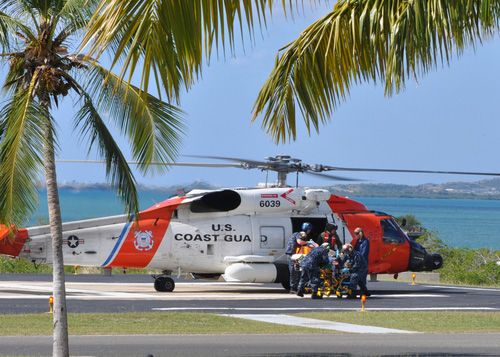 He moved on to stress much CG involvement around the world because most navies are like USCG; strong support for Department of State, training, ship rider programs, joint ops.
Commandant Allen then discussed anti-piracy efforts, which in his view require two different evolutions:
Stop the incidents
Punish the perpetrators—this requires evidence preservation, and place for trial (agreement negotiated with Kenya for this and other law enforcement activities).
Recapitalization, a Must: The Arctic Mission As a Case In Point
Although budget pressures will be significant, recapitalization must continue.  He fears the possibility of having a hollow force.
The Commandant then discussed the Arctic mission.  There is growing joint and international cooperative emphasis on Arctic. Except for underwater ops, mostly all the Arctic missions are USCG missions vice DOD—EEZ and continental shelf enforcement, navigation, pollution prevention and response, etc. North Pacific and Atlantic CG forums have been useful models for cooperation in safety, security, resource protection and working Arctic issues.
In short, the USCG activity discussed by the Commandant underscores importance of presence in the regional areas of operation, having capable assets in the AORS, and having a surge capacity to deal with crises, and robust C4ISR to work across the USCG, with the USN and with other nations. There's simply no substitute for having capable assets on scene with knowledge of the areas and highly trained crews; this requires a force in being—we must have effective presence in our AORs with the right equipment and fully interoperable to leverage what the nation and partners can bring to core safety and security missions.
But the positive contribution, which the USCG brings to the table, is not fully resourced. For example, with regard to the Arctic mission, the USCG has but three polar capable icebreakers, and two of them are in dire need of replacement.
———-
***Posted January 18th, 2010