By Alain Bonny
Alain Bonny is the head of Paris-based Dassault's Military Support Division, DGSM (Direction Générale du Soutien Militaire, in French). He describes in the article below the characteristics of the support and maintenance contract the company and the French government signed about a year ago regarding the Rafale. The first of its kind to be concluded in France as far as fighter aircrafts are concerned, "Rafale Care" has opened the path to new forms of PPPs (Public-Private Parnerships) in this field.
***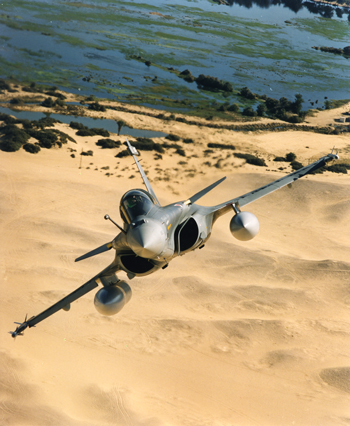 A "Trademark for MCO"?
Having a long-held experience in support and sustainability under its belt, Dassault Aviation currently supports, by an large, about 2,000 military aircrafts owned by approximately fifty customers from thirty different countries. In the case of some of the customers, such a service has been sustained for about fifty years: it is the case for instance of the support we provide for the Mirage III, among other aircrafts. This allows Dassault to enjoy unique and valuable lessons learned regarding the aircrafts the company designed. For half a century, Dassault Aviation, along with its suppliers, has had therefore to find solutions to fix the problems of obsolescence which never failed to arise. In order to deliver such a service in the best manner possible, Dassault Aviation created as early as 1997 a specific division in charge of support and maintenance of military aircrafts, the DGSM for "Direction Générale du Soutien Militaire", which includes nowadays about 500 people.
For about fifteen years, our various customers have become progressively aware of the importance of support. When they purchase a fleet of aircrafts from Dassault Aviation, they are of course looking for operational superiority, but they also seek:
readiness
at the right price
while preserving their independence.
Readiness is not only tied to the airplane and its reliability. Support is also necessary, which involves properly and timely trained personnel, up-to-date documentation in light of the latest standards, etc… Price is, of course, of the utmost importance: one sometimes forget that an aircraft's lifecycle support – including the initial support (purchased along with the airplane at the outset), as well as the functional support (repairs, re-supply, maintenance) – costs over a period of forty years as much as the aircraft itself. Because of its complexity, support is increasingly trusted to professionals via MCO contracts (Maintien en Condition Opérationnelle, in French) – which corresponds in English to the concept of Full In Service Support or FISS – or via outsourcing, so that the clients can fully concentrate on their core mission, i.e. operations.
With this trend, however, comes a risk. Because the term "MCO" has become fashionable, everyone has been producing "MCO" even when what is sold as such is not really MCO: indeed, a trademark for "MCO" should be created! Some decision makers may have believed that the MCO services they were acquiring would act like a magic wand, which was going to solve all their readiness issues. This has not alas always been the case, far from it. MCO does indeed cover many different meanings, some rather easy to implement (such as updating documentation on a yearly basis on a fixed-price basis), others much more complicated (such as outsourcing the full readiness of an entire fleet of fighter aircrafts). All this is indeedcalled MCO, but covers very different means, commitments and costs.
Dassault's Approach: Working Towards "No Headache Contracts"
For Dassault Aviation, MCO is a very useful tool to achieve the best cost/readiness ratio: in particular, in order for MCO to be successful, there must be a vision of success shared between the customer and the manufacturer. It can be helpful to blur the differences between the one giving the orders and the one carrying them out, in order to avoid too much rigidity as far as contractual positions are concerned.
Regarding the support of the Rafale, the company has two different set of arrangements:
regarding exports, Dassault Aviation, along with its partners, Thales and Snecma, cover, within the framework of an integrated structure ("GIE Rafale"), the totality of the services for the aircraft, as well as its support (with the exception of weaponry): some customers have been calling such a solution the "no more headache contracts'.
Regarding the French Rafale, Dassault Aviation initially wanted to adopt a similar strategy, i.e. outsourcing support to the three manufacturers.This has not been entirely possible, because the French government for instance plays a special role with regard to the maintenance of the engines via specialized state-owned facilities within the SIAé (Service industriel aéronautique ). A taylored MCO contract was nevertheless concluded at the end of 2008 between the government and Dassault Aviation regarding all the equipment covered by the company and its OEMs: this contract is known as "Rafale Care" and has been qualified as "groundbreaking" by General Verhaeghe, head of the MoD's Integrated Maintenance Organisation (SIMMAD, which stands for, in French, "Structure Intégrée de Maintien en condition opérationnelle des Matériels Aériens du Ministère de la Défense"), for it opens the path to other manufacturers in this area.
"Rafale Care" can be described according to the two main following characteristics:
A global approach to support
Instead of, on the one hand, multi-contracting case-by-case repairs and, on the other hand, other support services (e.g. databank updates; technical support; etc…), "Rafale Care" is a unique MCO contract covering the support of the Rafale as a whole, as far as all Dassault Aviation equipment is concerned, on a fixed-price basis defined according to the customer's flight hours and for a period of ten years. This contract, born out a strong government will (SIMMAD, of course, along with General Verhaeghe and IGA Armando, but also MMAé, EMAA, EMA, SIAé and DGA ), turned out to be very innovative, as it was the first of its kind in France in the field of fighter aircrafts in regards to three aspects: its coverage; its length; and its flight-hour-based concept.
A Balanced Risk-Sharing Approach
The search for a balanced agreement has led to a risk sharing approach between Dassault Aviation and the French government: on the company's part, the challenge is to give a guarantee on a very high reliability of equipment for the next 10 years; on the state's part, it is to take a long-term – ten years – commitment. The length of the contract, as well as the company's experience in this type of arrangements regarding the MCO of other aircrafts (such as the Falcon), did indeed allow Dassault Aviation to significantly reduce the costs of the overall contract. "Rafale Care" ensures the support of both Air Force and Navy fighter aircrafts [3]. Is covered all Rafale equipment (except for the engine, radar and countermeasures), i.e. a total of some 1,300 parts from 71 OEMs.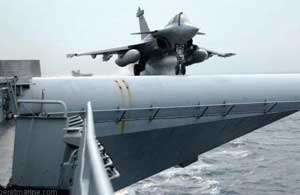 Such a global and coherent approach will be especially welcome, when the time for the implementation of regulations governing airworthiness, currently emerging on the military side (e.g.: FRA 2,1 FRA 145, etc.), comes.
A Promising Outlook: Reaching out to Theaters
One year into "Rafale Care", the balance sheet is extremely positive. The commitments made by Dassault Aviation have all been met and the dynamic that has been generated among the different OEMs seems to be a gauge for success in the future.
Indeed, even if "Rafale Care" has somewhat upstaged the other MCO contracts implemented or proposed by Dassault Aviation to the French Government, it is not absolutely unique, since the company has taken a similar step in regard with other fighter jets, such as the Mirage 2000 [1]. The company has also proposed, in partnership with the SIAé and DCI-Airco, to become fully in charge of the maintenance of the French Alphajet fleet. In another area, one should also recall that the recent construction of Dassault/Thales's simulation facilities (CSR for "Centres de Simulation Rafale") in Saint-Dizier and Landivisiau [2] has been accompanied with similar MCO contracts showing the same characteristics, i.e. a multi-year readiness-based approach.
Another interesting development is the fact that Dassault has been the very first defense industry, along with Thales, to sign the new Convention on Reserves with the French government in October 2009: this new convention (not unlike the British "Sponsored Reserves" concept) provides a legal tool for Dassault to call on volunteers (within Dassault Aviation or not, whether Reserve or not), who will be assigned as reserves and in a position to be deployed in war theaters to assist in MCO tasks, while enjoying the same level of legal protection as military personnel. Such an in-theater outsourcing was till now rather limited, precisely because of the lack of a relevant legal framework in France.
As one can see, the range of services and support offered by Dassault Aviation is at this point rather wide and is only limited by what the customers themselves may choose to leave in the hands of the private sector.
***
Additional references:
[1] Gilles Tuduri, Contrats de maintenance des Mirage 2000 brésiliens, Dassault Magazine, issue # 142, Winter 2008-2009, p. 4.
[2] LV Thomas Letournel, Rafale Simulator: la simulation au service de l'entraînement, Cols Bleus, issue # 2895, January 24th, 2009, pp. 17-23.
[3] See also for instance the ECPAD video showing a series of deck-landing and catapulting by the Rafale and E2-C Hawkeye on the USS Enterprise off the French Coast in 2007.
———-
***Posted February 1st, 2010