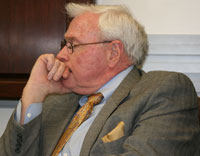 Director, Technology Assessment, International Technology Security (OSD), Jan 03 09:
Responsible for identifying and protecting from espionage US world leading military technology. I am the DOD representative to the National Counterintelligence Executive Committee NCIX (DNI) and principal liaison to FBI in their Government wide "Critical National Asset" project.
Helped established a test at Yuma Proving Ground for Rafael "RecceLight" ISR pod.
Was POC for high level contacts with Japanese Government to assist in their development of Japanese Space Agency to support Japanese national security objectives.
Traveled through out Iraq to catalogue contraband conventional weapons and dual use technology that violated international embargoes. My report is a key document in GWAT
Legislative Branch Positions, 1996-1999:
As a member of the professional staff of the Committee on Rules, U.S. House of Representatives: I was responsible for analyzing all legislation including Programmatic Budget Review for the Department of Defense, and Department of Veterans Affairs.
Assigned as the Rules Committee Investigator on illegal foreign money contributions to political parties.
Staff Secretary to Chairman of Rules Committee when he was Vice-President of the North Atlantic Assembly (the Political Branch of NATO)
Executive Department Service:
Assistant Secretary in the Department of Veterans Affairsin President Bush's '41 Administration ( Senate Confirmed): 1989-1992

Built the first Congressional Affairs Office at the Department of Veterans Affairs (DVA), the first Public Affairs Office at DVA and the first Intergovernmental Affairs staff at DVA.
Senior Government Officer in charge of medical mobilization of the Department of Veterans Affairs during Desert Shield/Desert Storm.
Secretary Derwinski's designated representative to address "Gulf War Illness"
Principal Director of Mobilization Planning and Requirements (1983-1984) in the Office of the Secretary of Defense, Reagan Administration (a political appointment) Responsible for DOD Mobilization Planning and all DOD responsibilities for insuring the Continuity of Government (COG) in the event of an attack on the United States.
Private Sector,
As the Program Manager with a team of investigators at The Analytic Sciences Corporation, I developed a series of classified comprehensive studies of the relative state of modernization of various national military forces, initially focusing on Aviation Technology.
The Director of Net Assessment, Mr. Andrew Marshall OSD, and the Director of Theater Forces Division, CIA sponsored the research.
Military Experience:
Marine Fighter Pilot, and Commanding Officer of VMFA-321, a reserve USMC Fighter Squadron, I graduated from the Senior Officer "Top Gun" course., and Senior Officers Safety Course USNPG School. My initial USMC training was as in Infantry Officer at "The Basic School," Quantico, VA, Vietnam Service Medal (2 stars).
Life member Disabled American Veterans.
Education:
United States Naval Academy, BS
U.S. Naval Aviator, Carrier Qualified Jet Pilot
Cornell University, MBA
Clearance
Top Secret (SCI) based on full Field Investigation
Full Field FBI Investigation to be appointed by the President and Confirmed by the Senate to be awarded the title "The Honorable" for life
Significant Honors and Awards:
Received the Department of Veterans Affairs highest award, the Exceptional Service Award, for creating and fostering strong relations between VA, the White House, and state and local governments.
Received personal Letter from President Bush (41) for ". settling complex questions about the environmental hazards of warfare. You were able to defuse the long-standing controversy surrounding these issues and to put them on a course to final resolution."—I addressed the issue of chemical weapons in Iraq bunkers.
Awarded Polish Government's Medal for coordination of Polish Premier Ignacy Jan Paderewski's State Funeral at Arlington National Cemetery, and then escorted Paderewski's remains to Poland, on the occasion of the fifty-first anniversary of his death. His dying wish was to be returned to a free Poland.
Received DOD Commendation for work as Acquisition Technology and Logistics representative (AT&L) to NSC directed Tsunami Relief Task Force
Co-author of:
Showdown, Why China Wants War with the United States

, Regnery Press, May 2006.
Red Dragon Rising, Communist China's Military Threat to America

, Regnery Press, 1999. (new expanded paperback published April 2002)
Year of the Rat, How Bill Clinton Compromised U.S. Security for Chinese Cash

, Regnery Press, 1998. (New York Times Best Seller, 22 weeks, new expanded paperback published in 2000)
Published in the Naval Institute Proceedings, Naval War College Review, Washington Times, and Washington Post. Human Events, I have appeared on "60 Minutes" twice and been an expert guest on national security for numerous radio and television shows including Fox News, the O'Reilly Factor, The Edge with Paula Zahn, CNN World, Larry King and BBC World in London both Radio and Television.