By Richard Weitz
Russian defense companies are counting on additional weapons sales to India to compensate for the precipitous decline in their military exports to China. India is replacing the PRC as the world's leading arms importer. Until now, Soviet and Russian suppliers have provided about two-thirds of India's military imports. Russia should remain India's largest defense partner for at least several years given that the two countries have already signed arms deals worth over $15 billion in future transactions.  Nonetheless, growing competition from Western companies and the increasing sophistication of India's indigenous defense industry could lead New Delhi to buy fewer Russian weapons over the next decade.
Russian MiG-29 Fulcrum High-Performance Combat Aircraft
(Photo credit: www.airforce-technology.com)

The Indian military started purchasing large quantities of Soviet weapons during the 1960s. Soviet-made aircraft proved an especially popular import. The Indian government has always complimented these purchases with defense imports from European (and later Israeli and American) companies. In the last few years, U.S. and European firms have begun supplying defense products and services to India that New Delhi had previously acquired from Russian suppliers.
In addition, the Indian government has been seeking for years to increase the capacity of their defense firms to manufacture more sophisticated products on their own. As part of this process, Indian officials have successfully required Russian and other foreign firms to rely less on the sale of complete turn-key systems and instead consent to engage in the joint research, development, and manufacture of new defense technologies and systems. Indian negotiators often require that new contracts also stipulate a significant transfer of defense technologies. They also regularly insist that foreign governments agree to allow Indian firms to have a role in producing (under license), maintaining, and repairing the weapons.
Although Russian military exporters worry that improvements in India's defense industries could decrease Indians' interest in buying additional Russian defense products, they have principle to participate in joint R&D projects and share technologies. Unlike in the case of China, Russian defense analysts do not worry about the potential of India's defense industry to present much competition in third-party markets. In fact, some of the recent ventures envisage a Russian-Indian effort to sell their jointly produced products to other foreign buyers. For this reason, Russia has been willing to sell its most sophisticated military hardware and technologies to India, despite Chinese discontent about not being given the same opportunity.
The increasing sophistication of India's own defense industry, which still lags behind that of China let alone Russia and Western companies, has indeed allowed it to manufacture a wider range of indigenous weapons systems. Nonetheless, the Indian military still buys its most advanced weapons systems and technologies from foreign suppliers. The Indian Defense Research & Development Organization (DRDO) has researched and developed innovative weapons, but Indian defense firms have found it difficult to transition from these prototypes to serial production of major indigenous weapons systems such as tanks, submarines, or combat aircraft.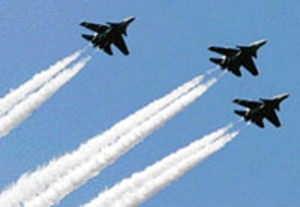 Russia remains a major source of these advanced weapons systems. Starting in the late 1990s, the Indian government subsidized research and development of a unique "Indian" version of the Sukhoi Su-30 (known as the Su-30MKI, multirole, commercial, Indian), specially designed for the Indian Air Force. Between June 2002 and December 2004, India received 32 of these Su-30MKIs. The plane proved so popular with the Indian military that it subsequently bought 40 more Su-30MKIs. Indians also accepted a Russian proposal to pay to exchange 18 of the Su-30Ks Russia had supplied earlier for the more advanced Su-30MKI version.  One of the most prominent Russian-Indian military transactions took place in 1998, when the two governments established the Russian-Indian joint venture BrahMos Aerospace to jointly research, develop, and manufacture supersonic tactical cruise missiles. The BrahMos missiles, which are produced in India, incorporate sophisticated technologies that the Russian government has refused to transfer to another country.  They can fly at speeds up to Mach 2.8. In June 2007, the Indian ground forces began deploying BrahMos-1 missiles on a Tatra truck chassis, while the Indian Navy is working with BrahMos Aerospace to develop a maritime version.
The two governments have also reached other important arms deals in recent years. In October 2007, Sukhoi and India's state-owned Hindustan Aeronautics Limited (HAL) signed an intergovernmental agreement to develop a "fifth-generation" multi-role fighter. They intend the plane to have capabilities resembling those of the U.S. F-22 and F-35.  In December 2007, the Indian government ordered an additional 347 Russian-manufactured T-90S Russian Main Battle Tanks, which are intended as a match for the U.S. Abrams M2.  Indian negotiators are discussing a deal to buy Russia's Mi-17 multi-role military helicopters as well as to secure Russian assistance in modernizing the Mi-24 helicopter gunships currently serving in the Indian military.  They also have agreed to create a 50/50 joint venture to research and develop a medium-lift transport aircraft for both their air forces. HAL and Russia's United Aircraft Cooperation (UAC) will both invest $300 million in the joint effort to create a plane that can carry 18.5 tons of cargo up to 2,500 kilometers. They aim to manufacture their first all-weather medium transport by 2017. The Russian Air Force intends to buy as many as 100 of the new planes. The Indian Air Force expects to purchase at least 35 of the new aircraft. They will replace its aging fleet of AN-32 planes, which Russia is currently upgrading under a separate contract worth almost $400 million.
The large number of weapons Russia has sold India in the past has also given Russian defense firms many opportunities to supply spare parts, maintain existing systems, and modernize some systems. Some of these transactions have proven very lucrative. For instance, in March 2008, the Indian Defense Ministry signed a contract with Russia's MiG Corporation to upgrade some 60-70 MiG-29 fighters, extending their operational lives by several decades. The deal stipulates that MiG will establish service centers, depots, and training facilities in India. The value of these after-sale services amounts to approximately one-third of the contract.  In March 2010, India agreed to purchase an additional 30 MiG-29s for almost $2 billion.
Even so, the Russian-Indian arms relationship has experienced recurring problems, especially Indian criticism regarding the inferior quality of some imported Russian weapons. During the 1990s, Indians complained about shoddy maintenance and insufficient spare parts for their Russian-built aircraft, including the Sukhoi interceptors.  They also have objected to the lengthy time it has taken Russian shipbuilders to deliver some multi-role frigates and to upgrade a diesel submarine for the Indian Navy. More recently, in September 2007, the Indian government suspended payments under a $150 million contract, signed with the Ilyushin design bureau in 2001, to upgrade five Il-38SD anti-submarine patrol aircraft. Indian defense experts concluded from flight tests that the aircraft did not satisfy their technical standards.
The most notorious bilateral defense snafu has involved the Russia-Indian deal to renovate the Soviet-era Admiral Gorshkov and transfer it to the Indian Navy. After the fall of the Soviet Union, this former Soviet aircraft carrier, built in 1978, was berthed at the Sevmash shipyard in northern Russia while Russian officials debated what to do with the ship. The impoverished Russian government did not have sufficient funds to repair and upgrade the vessel. In January 2004, the Indian government negotiated a  comprehensive contract with Russia's state-run arms exporter Rosoboronexport. Under its terms, the Indian Navy agreed to purchase the carrier along with a complement of warplanes for the ship for $1.5 billion.  These include single-seat MiG-29K and two-seat MiG-29KUB fighters as well as Ka-27 Helix-A and Ka-31 Helix-B anti-submarine helicopters.  The carrier could also be equipped with Russian-Indian Bramos missiles as well as other Russian, Indian, or third-party weapons systems.  In effect, the Indians received the hull of the 44,500-ton ship almost for free (priced as scrap metal) in return for purchasing from Russia new planes and helicopters for the carrier and for funding the ship's repair and re-equipping at Sevmash, which was then thought to cost nearly $1 billion.  The Russian government committed to train the ship's Indian crew, provide logistics support, supply any new infrastructure required by the carrier's new home port, and deliver various technical documents about how to sustain and operate the ship.
As things turned out, the Sevmash shipyard could not meet the terms of the original contract, which stipulated delivery in August 2008.  Most Russian analysts now describe the original terms as grossly unrealistic given the magnitude of this difficult project and the ruined debilitated condition of the Russian shipbuilding industry, which had received insufficient government funds during the Yeltsin and early Putin period and had proved unable to attract many foreign orders or substantial foreign investment.  Another complication was that the Soviet Union had built its aircraft carriers in Ukraine. Russian defense firms lost access to these shipyards when the Soviet Union dissolved in 1991.
After months of hard bargaining, Russia and India renegotiated the terms of the contract. When Russian Prime Minister Vladimir Putin visited New Delhi in March 2010, the two governments established the new price for the carrier project and its complement of warplanes estimated at about $2.34 billion.  The aircraft carrier's reconstruction is now supposed to be completed later this year, after which the Russian Navy will conduct 18 months of sea trials before transferring the carrier to the Indian Navy in 2012.  Indian intends to rename the ship the Vikramaditya. It will replace India's British-made INS Viraat carrier, which is barely seaworthy having served in the Indian Navy for 50 years.
Despite India's continuing interest in purchasing the carrier, Russian analysts fear that problems with the ship and other past arms deals will hurt Russia's ability to compete for new Indian government defense orders. In July 2009, Medvedev described the Gorshkov affair as a "very difficult experience" in the Russian-Indian relations. He waned that, "The ship must be finished. Otherwise there will be serious consequences."  A few weeks later, the Indian government's Comptroller and Auditor General concluded that India would have been better off buying an entirely new carrier rather than accepting Russia's "gift" of a free ship. "At best, the Indian navy would be acquiring, belatedly, a second-hand ship with a limited lifespan by paying significantly more than what it would have paid for a new ship," the auditor office stated in its annual report.  Russian arms dealers worry that the difficulties with past defense cooperation deals has harmed Russia's prospects to win the Indian government's massive $11 billion contract for 126 new "fifth-generation" fighter planes to replace the MiG-26, which has served as the mainstay of the Indian Air Force. The conditions of the tender stipulate that 108 of the aircraft will be manufactured in India. American, French, and Swedish firms are vigorously competing with, whose chief candidate is the MiG-35.
———-
***Posted on May 12th, 2010