By Lieutenant General George J. Trautman, III, Deputy Commandant for USMC Aviation
Affordability is the balance of cost and capabilities required to accomplish assigned missions. For over a decade the Marine Corps has avoided the cost of new procurement during a time when the service life of our legacy aircraft were sufficient to meet the missions assigned. However, in the near future, our investment in the capabilities of the F-35B will outweigh the unavoidable legacy aircraft operations and sustainment (O&S) cost increases we will incur with the F/A-18, AV-8B, and EA-6B.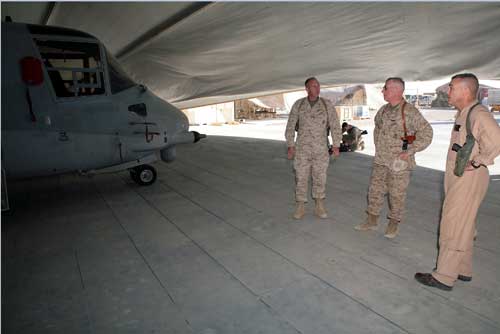 The O&S costs of legacy aircraft across DoD have been increasing at an average rate of 7.8% per year since 2000. The operational lifetimes of legacy aircraft are being extended well beyond their original design limits. As a result, we have been continually engaged in a struggle to maintain operational readiness of our legacy aircraft due largely to the increasing age of the aircraft fleet. Early in an aircraft's life cycle, the principal challenge is primarily attributed to the aging proprietary avionics systems upon which the the user depends for warfighting relevance; later it is maintenance of the airframe and hardware components that are become the O&S cost drivers.
The Marine Corps strategy for the last eleven years has been to forego the procurement new variants of legacy aircraft and continuing a process of trying to sustain old designs that inherit the obsolescence and fatigue life issues of their predecessors. Instead, we opted to transition to a new 5th generation aircraft that takes advantage of technology improvements which generate substantial savings in ownership cost. The capabilities of the F-35B enable the Marine Corps to replace three legacy aircraft types and retain the capability of executing all our missions. This results in tangible O&S cost savings.
A common platform produces a common support and sustainment base. By necking down to one type of aircraft we eliminate a threefold redundancy in manpower, operating materiel, support services, training, maintenance competencies, technical systems management, tools, and aircraft upgrades. For example:
Direct military manpower will be reduced by 30%; approximately 340 officers and 2600 enlisted.
Within the Naval Aviation Enterprise we will reduce the technical management requirements the systems requiring support by 60%.
Peculiar Support Equipment will be reduced by 60%; down from 1,400 to 400 line items.
Simulators and training support systems will be reduced by 80%; five different training systems will neck down to one.
Electronic Attack WRA's will be reduced by 40% and replaced with easier to support state of the art digital electronics.
The Performance Based Logistics construct will nearly eliminate macro and micro avionics repair, and intermediate propulsion support functions.
Airborne Armament Equipment (AAE) will be reduced by over 80% with the incorporation of a multi-use bomb rack.
Compared to historical parametrics we expect our overall O&S costs to decrease by 30%.
The key to enabling these reductions is to evolve our supportability concepts, processes and procedures instead of shackling ourselves to a support infrastructure built for legacy aircraft. We need to be innovative and ensure our sustainment posture keeps pace with technology advancements and global partnering synergies. Working together with industry, the Marine Corps is intently focused on the future as we seek innovative cost effective sustainment strategies that match the game changing operational capabilities resident in the F-35 Litening II.
———-
***Posted on July 7th, 2010