In early June, the SLD team visited the latest National Security Cutter, the WMSL-751 or the USCGC WAESCHE.  The team toured the vessel while it was ported in San Diego for a training and repair mission.  Captain Lance Bardo, the Commanding Officer of the Waesche, who will soon retire, provided an overview on the ship, its con-ops and missions.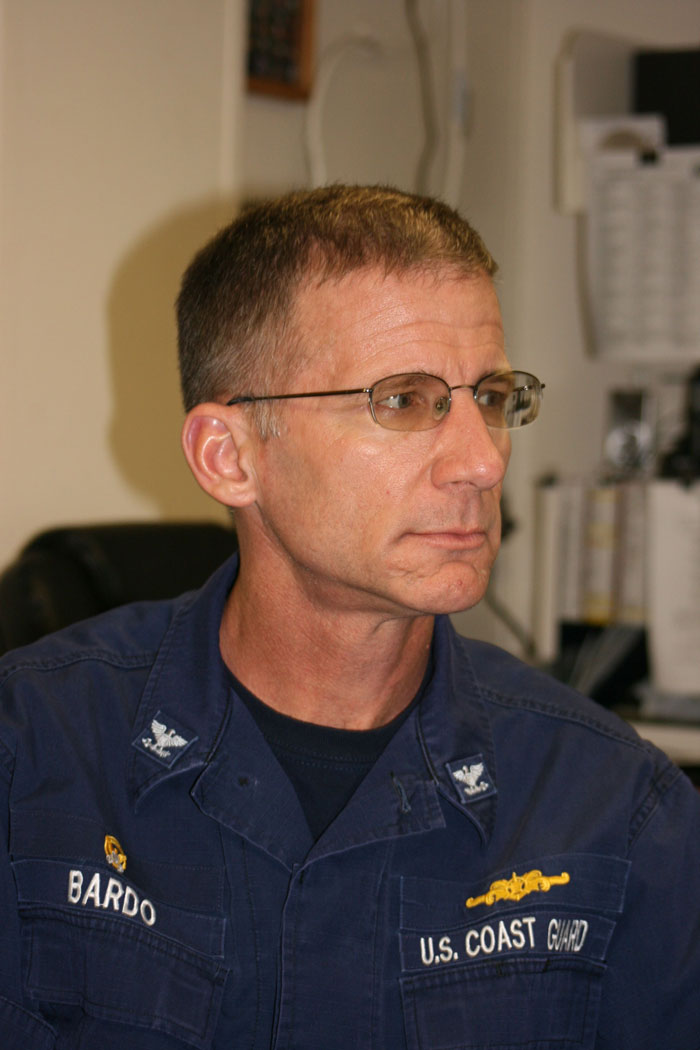 Captain Bardo, a career cutterman, has served aboard eight cutters over 26 years, commanding six prior to CGC WAESCHE.  His seagoing duty has included Fisheries and Search and Rescue in the Northwest Atlantic, Bering Sea and off the California coast, icebreaking on the Great Lakes, as well as extensive counter drug operations in the Caribbean and East Pacific.  Most recently he served as Commanding Officer of CGC MIDGETT (2008), HAMILTON (2007) and BOUTWELL from 2002 – 2004 and led the interdiction of over $1B in contraband in the Eastern Pacific.. These are existing USCG High endurance Cutters – 378 feet long and referred to as 378's in the interview below. 
[slidepress gallery='cutter-slideshow'] 
The new USCG cutter brings to the table significant C4ISR capabilities, digital capabilities for operations and maintenance, an ability to operate much larger helicopters on its decks, an ability to operate remotely piloted vehicles, significant endurance, and an ability to operate for extended periods of time at sea. In crises like Katrina or the Gulf oil spill, the new cutter brings significant command and control capabilities to any task force managing a disruptive event. 
Captain Bardo added further emphasis on the crisis management capability of the new Cutter.  "And this asset is large enough with enough capability built into it actually to manage your response I mean that literally; we have nothing else in the Coast Guard or the Navy for that matter to manage domestic response the way this platform can.  And the Coast Guard has demonstrated over and over again, as recently as the current Deepwater Horizon oil spill and the Haitian earthquake, that we are at our best when we respond to domestic emergencies and a major offshore cutter is often the center of that.  The Navy is a great partner in those emergencies, but it is just not their primary mission." 
SLD: Perhaps from this point of view it should not be called a national security cutter, because it narrows understanding of what it can do and what it can contribute? 
Captain Bardo: Maritime security cutter; maritime management. The "W" for Coast Guard maritime security cutter large was an attempt to kind of communicate its size and contribution to the service and the nation. 
SLD: What are the unique features of the ship you would underscore? 
Captain Bardo: Endurance; if you have endurance; you've got stability; you've got command capabilities; you've got a lot of flexibility inherent in the ship itself and crew and that's what you really want to emphasize.  The platform enables this kind of tool sets or the toolset synergistically interacts with the platform. 
SLD: What other capabilities would you emphasize? 
Captain Bardo: Our flight deck is literally twice as big as our older cutters; four-thousand square feet versus twenty-three hundred on a 378 and I can land a sixty.  I can land all variety of helicopters that a 378 can't. 
When the seas tossing the ship around, I have much stability to allow helos and UAVs to operate. 
On a 378, I had to make really hard decisions by taking saltwater into my fuel tanks; what it did is it added about three days to get rid of that water when you wanted to then fill up the tanks with fuel.  With this ship I don't have the same problem, because I have a segregated tank. 
I don't know what helicopters we will have to operate within the future but, I can tell you this: I can operate with a lot more flexibility than that 378 can.  I always had to manage my fuel on a 378; for aviation I had eight thousand gallons of fuel. I've got a thirty-five-thousand gallons of aviation fuel on this ship so, you can fly those helicopters for a long, long time on four times the amount of fuel; it really gives us a tremendous amount of flexibility; it's not a platform for platform placement for a 378.  It's a tremendous leap ahead in terms of growth capability as well. 
SLD: How would summarize the impact of the new cutter on operations? 
Captain Bardo: We can be fifteen hundred miles from where a crisis is occurring and be there in a matter of two days. We have the ability to talk to anyone anywhere in the world.  We have the ability to organize a lot of different agencies because of the ability to communicate.  We have the ability to put people actually on the scene with boats and aircraft.  We have the ability to remain on station for up to ninety days.  We can make our own water; we make our own electricity; we're essentially a small city and a small commanding tool can be a global command and control platform. 
SLD: We're facing a lot of challenges and many of them are unknown and we're dealing with a lot of potential chaos; and asset like this really allows the Coast Guard to function in a kind of maritime management role for dealing with various future crises.  Can you talk to this point? 
Captain Bardo: We need to look forward in the kinds of threats that we might face; we might encounter and it's hard to see them without a crystal ball to figure out exactly what those might look like but, this ship has got a lot of capability built in it to deal with uncertainty. 
The first thing that you run into in a ship at sea in your people wear out so, things like having a dedicated ballast system; it allows me to ballast the ship down as I use up fuel; gives the ship a little more stable ride; less fatigue on the people. 
The fact that the places where the people live are far more comfortable surroundings for them allows them after three weeks not to be tired of their forty, roommate's; they are in state rooms with four or five roommates. 
From an operational perspective, those same kinds of things apply too.  For example; our ability to recover aircraft; the ability to keep the ship more stable; to have a configuration on the flight deck that makes it easier for pilots to land and to launch; to have enough fuel; to be underway with any variety of aircraft for sixty or ninety days without having to manage the amount of aviation fuel that we have; if we have enough on board gives us a tremendous amount of flexibility in the future for threats that we can even imagine right now. 
———- 
*** Posted on August 8th, 2010