Reshaping and Incorporating New Capabilities
An Interview with Lieutenant-Colonel Applewhite
10/29/2010 – Earlier this summer, Second Line of Defense talked about the most recent USMC logistics game and some of the conclusions that might be drawn from that wargame for USMC approaches to expeditionary logistics.  At the time of the interview, Lt. Col. Applewhite was head of maintenance policy at the Headquarters USMC.
(Credit Image: USMC)
***
SLD:  The USMC's latest logistics game set up to test expeditionary logistics – Mobile Provider – highlighted a number of capabilities and challenges.  One element, which you underscore in the exercise, is something you refer to as logistics intelligence.  What is the role of logistics intelligence in expeditionary operations?
Lt. Col. Applewhite: When we think about logistics intelligence, it actually drives our need to gather the right information in order to make decisions.  How do we transfer information into knowledge in the operational environment? There's a lot of information on the battlefield from a logistics perspective but how do we turn that information into useful knowledge?
One aspect of the problem is getting information from the platforms operating on the battlefield and aggregating that information into useful intelligence. And that's where we look at autonomic logistics, we look at sense and respond, how do we transmit off the platform that data, and then once we have it, how do we put it into a format that we can actually make good decisions?
Looking at the logistics data as part of the entire MAGTF common operational picture, what's the logistics data that commander needs so that he or she can make decisions that are going to affect the operations?  And how do we aggregate that into one common operating picture?
SLD: There are some new technologies and IT capability that enhances the ability to do this.  But the goal clearly is not just to collect information for its own sake, but to make better decisions in the battlefield context.  So can you speak to that in terms of Marine Corps thinking about having the right kind of information as opposed to just collecting information?
Lt. Col. Applewhite: Having the right type of information — predictive type of information — you're looking at trend data on platforms so that we can position an inventory in an expeditionary environment.  You constantly have to overcome distribution constraints by being able to position the inventory at the right location, to make sure that the maintainers have the right toolsets.
The lift is a constraint; everything's a constraint in an expeditionary environment.  So, the decisions that you actually make become more and more important, and you less lead time to react to any changes in the environment.  So, being able to gather that information and make those decisions becomes critical to success.
SLD:    If you could collate this information, have a sense of the lift requirements or the other requirements for sustainment, you can get both tactical and strategic impacts from having this kind of information?
Lt. Col. Applewhite: Most definitely.  For example, from a strategic level, the amount of sustainment needed to be pushed by Transcom is affected. We can adjust our logistics plan to reflect the realities on the battle space.  As our assumptions about fuel levels and about impact of the enemy change, we may not have used as much ammunitions as we thought, for example. We then can start rearranging our transportation assets to bring the required supplies in as opposed to being locked into a fixed plan, which basically pushes in inventory that may not be needed anymore.
SLD: And throughout the report and discussion of the mobile provider exercise, you talk about autonomic logistics and EPLS data infusion.  Talk a little bit about that and how that reinforced some of the discussion earlier about how that's a potential game changer?
Lt. Col. Applewhite: The ability to take the data from the platform where the platform can tell you what's going on with it allows you to take that data, extract that data and then push it out.  For example, we can make a decision about where's the inventory associated to the specific fault repair that's happening with the platform.  We can design our data systems to be able to make those types of calls.
So now, it's basically like getting a call from the platform saying I've got this problem, I need this inventory and I need this type of mechanic to be available within this period of time.  So it gives us a more responsive type of environment, versus run into failure and then having to react to an unknown problem.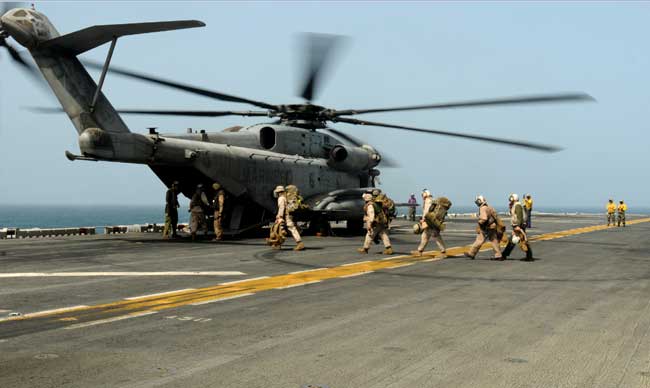 Marines prepare to board a Marine Corps CH-53E Super Stallion
assigned to Helicopter Marine Medium "White Knights" on board USS Peleliu.
This group is the first wave to go ashore in Pakistan to help maintain
the heavy lift aircraft the Navy and Marine Corps are providing
to deliver relief supplies to flood-stricken regions.
(Credit Photo: USN Visual Service, August 12th, 2010)
SLD:    What kind of cultural change does that place on both the maintainers and decision makers in the logistic chain?
Lt. Col. Applewhite: From a cultural aspect, we need to understand the nature of the reliability of a platform.  So that we can make decisions and trust in the decisions that we're making.  If we trust in the reliability of the platform and what the platform is telling us, we have to be able to make decisions based on that information. And that's going to require more planners, more thinkers, more folks who can translate that knowledge into actions.
SLD:    The final question would be to look at the role of the UAVs in the exercise itself. How could the possibility of having an effective UAV logistics vehicle, how could that be a kind of game changer for the ground operator?
Lt. Col. Applewhite: By testing in the game the impact of a logistics UAV vehicle on operations, we can shape acquisition requirements.  One thing it allows us to do, at the same time that we're building the requirements for that platform, we can look at how we're going to employ it and maybe change some of their requirements, add requirements, take requirements away from our original assumptions.  And that's a capability that generally hasn't existed before, because you just go with your assumptions and then when you get that platform, you make the determination of whether or not that's what you really want it, and then you go back to the acquisitions side an suggest your requirements as seen by both operators and logisticians.
SLD:    And that's because of modeling and simulation?
Lt. Col. Applewhite: Correct. We actually have decision makers involved in the planning process.  So, instead of saying well, it can go this far, well, I need to go 20 miles more.  I can go well, you know what?  Maybe the capacity isn't the right capacity.  I can actually help shape the desired capability prior to having built it.
With regard to the cargo lift UAV, we were able to play out the impact of having that capability versus sending a full convoy.  What is the impact of being able to send up just enough resources for accompanying an appropriately sized operation?          I can use a cargo UAV and then send just the inventory that I need without committing other resources that may have other priorities.
The other piece was to take the next logical leap of well, what if we took the cargo aircraft and provided a capability down to the direct support activity, as opposed to the 2,000-lb heavy cargo unmanned aircraft as a general support capability. If we can develop a direct support capability, what would be the impact of having that type of UAV?
SLD:    So a targeted specific smaller UAV able to provided targeted sustainment?
Lt. Col. Applewhite: Yes.  For immediate sustainment. When we're looking at the realities of distribution, and really — being expeditionary is more defined by what you don't have than what you do have — the constraints are mainly distribution.  So, if I send the convoy, and it takes a day to do its turn, then you may not see a resupply for two days.  And I have things in the queue that didn't fit on the first convoy that now become further and further back.
Well, if from a direct support of capability, I have the ability to deliver rapidly within under 20-30 minutes, a critical part—blood plasma or something like that for resupply—then that commander may be able to get a platform up that they thought they were going to take longer; I can get it out more immediately, because the only thing I was waiting on was a part.
So, the further back in the distribution chain that we have to wait for resupply, which is primarily ground, unless it's ammunition or medical-related or critical density for a specific operation.  You're just going to wait until you get it, which could take weeks if not months.
SLD:    And the Marine Corps has the advantage of the F-35Bs, which could work with these unmanned vehicles to give them the unmanned aircraft to give them protection.  Because clearly that's one of your concerns, which is, these are expensive vehicles to bring on the battlefield and certainly valuable to carry these resources, but they're not really useful; they're just targets.  So, the Marine Corps has an advantage here of your air/ground integration to use these air assets with protection.
Lt. Col. Applewhite: Because of their importance to the operation and the nature of what they can provide, the logistics UAVS will be an enemy opportune to target to take that out.  We're saying that that type of aircraft will be used to deliver the most critical immediate resupply.  Then command and control and also protection of those assets are going to be essential.
SLD: One of the interesting aspects of the way you structured the exercise is that you have combat folks dialoguing and a real-time exercise with logistics folks.  And in this UAV case, you're actually trying to think through some of the implications for an acquisition option.  So that triad of combat, logistics, and acquisition could be a game changer itself.
Lt. Col. Applewhite: Well, the better we shape and provide our requirements, the easier it is for the acquisition community to deliver our capabilities.  Even if we also know how we're going to employ it and how we expect to do the maintenance on it really allows us to be able to focus our acquisition community.