By Richard McCormack
01/28/2011 – This article was originally Published in Manufacturing and Technology News, January 19th, 2011
China's steady rise as a telecommunications manufacturing and research powerhouse has "profound" national security and economic ramifications for the United States, according to the United States-China Economic and Security Review Commission.
High-tech equipment produced by Chinese state-owned telecommunications companies is quickly becoming integrated into American and global computing, communications, wireless and next generation networks. U.S. and other foreign telecommunications companies have signed hundreds of joint venture agreements with Chinese firms, providing them with entry into American markets.
Entire equipment supply chains have shifted to China, and include research and development, design, manufacturing and global deployment of technology and systems. The U.S. government has barely acknowledged the ramifications of the shift of the telecommunications industry to China and growing control of Chinese companies over domestic and international networks.
If the United States does not start monitoring the rapid changes in telecommunications technologies and ownership, it could lead to "irrevocable harm" to American national security and economic interests, says the USCC study entitled "The National Security Implications of Investments and Products From the People's Republic of China in the Telecommunications Sector."
U.S. companies continue to provide Chinese state-owned firms with access to technology, advanced research and development, manufacturing know-how, management techniques and markets. "China's technology industry now appears to be a de facto part of the American communications industry landscape," says the study. "Many aspects of the future global telecom and technology markets are now being shaped by Chinese business and government interests. The momentum they are gaining and the way they are applying their advantages are transforming global markets, propelling Chinese telecom and technology ventures toward the leading edge of technology development, manufacturing and standards setting. If current trends continue, China. . . will effectively become the principal market driver in many   sectors, including telecom, on the basis of consumption, production and innovation."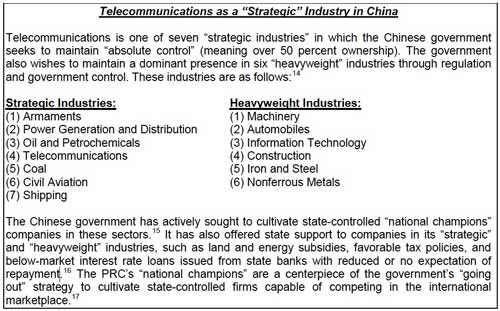 Many of these Chinese telecommunications companies are state-owned enterprises given the mandate by the Chinese government to expand overseas "to include support for [the] People's Republic of China state policies and political goals," according to the report. "Concern over growing Chinese influence in this arena is not unfounded, but should be balanced by a realistic assessment of communications security vulnerabilities as well as by an appreciation of the symbiosis that has developed between the Chinese and western telecommunications industries."
The Chinese government has publicly declared that the telecommunications industry plays a major role in the country's defense strategy. (The publication Xinhua reported that the 2010 "highlights" of Chinese military included "perfecting remote operations; information warfare; breaking traditional geo areas in international cooperation; and sending a clear message on defending sovereignty.")
The Chinese have aggressively pursued new technology and standards, such as developing the Worldwide interoperability for Microwave Access and Long-Term Evaluation standards. "Meanwhile, the United States has been slower to respond to demands for new technology standards," the report notes. U.S. wireless companies are having to deal with increased regulatory pressure to open their networks and make them more interoperable. "This comes on the heels of paying off expensive spectrum auctions purchased in efforts to create more contiguous networks," says the USCC study. "China is poised to become the world's number one end-to-end supplier of telecom, cable and mobile wireless equipment, much like AT&T and IBM dominated technology sectors in the past."
The financial crisis has made American companies more vulnerable to cost and price pressures and has pushed them into deeper financial tie-ups with Chinese companies, according to the report, which describes numerous such deals. It also notes that innovation in the United States appears to be in decline, based on patents and surveys of the world's most innovative companies.
Comparative views of global companies indicate "that innovation in China may be outpacing innovation in the United States and that the patent-seeking environment for multinational and U.S. entities is now dramatically more complicated," according to the report. "While the manufacturing supply chain has shifted to Chinese and overseas markets for a range of communications products, so have design and engineering."
In order for the United States to get back into the game, it must make a new commitment to the development of a scientific and engineering workforce. "Such an effort cannot be modest. It must be a commitment on a grand scale in order to reverse course and regain headway," says the study. "Outsourcing the control of manufacturing and manufacturing processes also has the unintended consequence of making domestic revival of those processes more difficult. If a U.S. enterprise attempts to bring back some outsourced activities — even in an effort to reduce potential vulnerabilities — it may find that the necessary capabilities are difficult to reconstitute, due not just to a loss of physical plant facilities but also to an erosion in relevant skills among the workforce.
Outsourcing can also affect future prospects for technological innovation: As the outsourcing trend continues, it has already been shown that the number of students enrolling in engineering and computer science disciplines in the United States has been declining for several years. This trend will continue as long as the potential job market and pay structures offer fewer job opportunities. Talent will shift to where the leading-edge research and development is taking place."
*** The full report can be found on the USCC website.