By Caroline Mükusch
01/02/2011 – Securing the availability of energy resources – namely oil and gas – in accordance with environmental sustainability is a key challenge of the 21st century.
(See treatment of the issue by the German Minister of Foreign Affairs)
Also, history shows that conflicts over resources are not new.  Whole epochs have been named after key resources:  the Stone Age, Iron Age or Bronze Age.  Wars have been fought about gold and diamonds.  It would be completely unrealistic to expect that shortages of energy or deterioration of energy security would not lead to conflicts of various intensities.
Energy affects the prosperity, social peace and security of states.  But more than that, it is a facilitator of the movement of goods; ideas; services; capital; information and people in all spaces – land; sea; air; space and cyber.  High-tech economies, such as the United States, Germany or Japan, demand a highly reliable energy system to meet their needs.  Only a secure energy supply guarantees the robustness of the nation's economy and along with that its national prosperity and security.
In order to secure energy supply governments have to deal with risks and potential threats.  They have to take precautionary measures to be prepared for uncertainties.  What are these risks and potential threats to from the standpoint of German interests and security requirements?
Dependency
Germany is, in terms of oil and gas, an energy dependent country as it is importing 80 percent of its energy resources.  Almost 50 percent of oil and gas are coming from the Commonwealth of Independent States, primarily Russia; 30 percent from Norway and Great Britain; 15 percent from Africa and 5 percent from the Middle East (see Bundesanstalt für Geowissenschaften und Rohstoffe (2009): Energierohstoffe 2009, Hannover: BGR, p. 34. )
Obviously, a 50 percent dependency on Russia – despite all special relations – is no energy security at all.  While some top political leaders in Germany appear to believe in Germany's special relationship with Russia to secure its energy supply, Russia, most recently at the Munich Security Conference in 2007, made it very clear that it plays according to the rules of geopolitics, interests and power
What happens, if Russia turns its energy supply to Germany off or more likely follows its own interests in determining the most desirable energy partners, in dynamic circumstances?
Vladimir Putin addressing the 43rd Munich Security Conference, 9 to 11 February 2007 (Credit Photo: http://www.securityconference.de/Conference-2007.268.0.html?&L=1)
Competition
The competition for non-renewable energy resources as oil and gas is increasingly exacerbated by the energy needs of emerging countries of Asia has become a key driver in world energy markets.
Being afraid of tight supplies and high prices that may constrain economic growth, China, the world's fastest-growing economy – with an average growth rate of roughly 10 percent throughout the past 30 years – has been establishing a worldwide security network – the "string of pearls" – to ensure its energy needs. These strategic relationships along the sea lanes from the Middle East to the South China Sea are suggesting both a defensive and an offensive positioning to control strategic "chokepoints" protecting China's energy interests. (Click here to see a list of the 12 fastest growing economies in 2010.)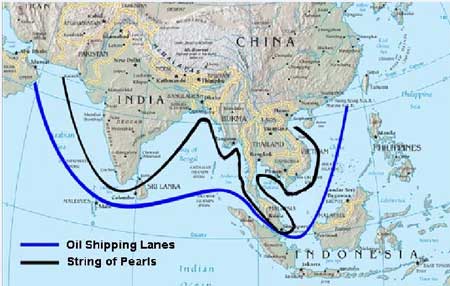 Chinese "String of Pearls Strategy" (Credit Photo: http://www.china-briefing.com/news/2009/03/18/china's-string-of-pearls-strategy.html)
What happens, if Germany is lacking both, a vision and the instruments to deal with this new strategic constellation?  Or if German lacks the proper tools to work with partners and allies to secure the allied flow of energy supplies? Either one has the tools to do it alone or tools to contribute to a coalition, or simply hopes for the best.
Terrorist attack, piracy and natural disaster
Both, international and national energy systems, including energy producing, transporting and distributing systems and facilities, are widely spread, highly interconnected and, therefore, vulnerable to any planned attack or natural disaster.
Hitherto, the possibility of terrorist attacks on the world's energy infrastructure does not generate the same level of attention as potential chemical, biological or nuclear terrorism.  Oil and gas markets are tight, with little spare capacity, and increasing in demand on the customer side. (See this hearing before the U.S. House of Representatives on terrorist threats to energy security.)
Of course, terrorists can strike almost anywhere in the world.  Beyond that, the risk of terrorism by both, state and non-state actors is hard to control.  To this end the increasing intertwining between piracy and terrorism is of particular concern as most of world's oil and gas is shipped through narrow strategic chokepoints.
(See this article on terrorism at sea from Foreign Affairs; see also this Heritage Foundation article on maritime security.)
What is Germany's comprehensive strategy to protect pipelines, global shipping chokepoints and harbors – the vulnerabilities of national and international energy systems – against terrorism, piracy and/or natural disaster?  What happens, if Germany does not have the appropriate capabilities to prevent terrorist attacks against national and international energy infrastructures, reduce the nation's vulnerability to terrorism, accidents and natural disasters, minimize damage and assist in the recovery from such incidents, perform emergency planning for natural and manmade crises?
Wild Cards
Any situation can change at a moment's notice, so can energy security.  Carl von Clausewitz observed in 1830, "everything […] is very simple; but even the simplest thing is difficult".  Frictions can create enormous difficulties for the realization of any plan. (Aron, Raymond (1985): Clausewitz: Philosopher of War, Englewood Cliffs, New Jersey: Prentice-Hall, p. 418.) In fact:  Things do often turn out different than expected.  There are some wildcards for energy security:
Peak Oil:  The arrival of peak oil has been delayed by a couple of years through the economic utilization of unconventional resources.  There is still plenty of oil including:  However this "new oil" is – because unconventional – expensive; and the times of getting oil cheap and easy are running out.
Consequences of technological progress:  New technologies for instance producing energy from a broad scope of unconventional resources such natural gas, coal, biomass or kerogen in oil shale's to liquid fuels or "heavy" oil. And reducing CO2 simultaneously producing energy ("Carbon Dioxide Reduction, Capture and Reuse" Initiative) could shift the global energy system including the role of current key energy players such as Saudi Arabia. (See Hon. Bill Anderson's paper on carbon dioxide.)
Influence from global suppliers:  key energy countries – such as Pakistan, Iran, Azerbaijan etc. – have the potential to either provide a corridor for energy trades or to threaten exactly those energy trades.
Is Germany able to cope with trend-breaking or trend-creating events that are hard or even impossible to anticipate?
Although world's economies ought to be less vulnerable to energy price swings in future than it was in the 1970s, a major disruption in global energy supplies still would have devastating effects on Germany's prosperity and security.  (see page 39 of this CIA document on global trends of 2015)
The Germans have to, as former German president Horst Köhler stated in May 2010, "understand that in certain cases, in an emergency, military operations are necessary to protect our interests".
For the rest of the world, Köhler stated the obvious.  For many Germans, he stated the unthinkable.  Under pressure Köhler resigned and now Germany runs the risk of failing to protect national interests and security.  One thing is for sure:  any inadequate management of the 21st century energy challenges on the national, regional and global level will not only jeopardize Germany's prosperity and security but also its role and influence in world politics.
Therefore, Germany has to accept that energy security is a mix of geopolitics, national interests and power.  Because national security is no longer limited to purposes of national defense – as it was from German perspective between the end of World War II until 1989 – but to national interests, Germany's national security policy needs to be adjusted to this reality.  "Today's security policy must address new and increasingly complex challenges.  Effective security provisions require preventive, efficient, and coherent cooperation at both the national and international levels, to include an effective fight against the root causes" (http://www.cfr.org/publication/11877/white_paper_on_german_security_policy_and_the_future_of_the_bundeswehr_2006.html, p. 5).
As a result, all available instruments have to be integrated in a broader security and defense vision and to shape a more comprehensive set of policy tools in order to ensure economic viability and prosperity within Germany, Europe and with Europe's friends and allies.
Energy security is a cross-section policy area interrelated to several other policy areas such as distribution of energy; energy efficiency; energy facility siting; energy system diversity and redundancy; regional energy policies; emergency management and response; technology policies; cyber-security issues; environmental policies; transportation policies; foreign and security policies as well as financial policies etc.  The government's role in effectively preventing and responding to energy security risks and (potential) threats is crucial.
However, the institutional fragmentation of energy responsibility in Germany causes – due to the policy triangle of security, economy, and sustainability – a national energy trilemma:  Security of supply vs. economy; economy vs. climate protection; climate protection vs. security of supply.  All three issues cannot be resolved simultaneously.
That is why energy security ought to be all three – prevention, planning, and response.  Employing a comprehensive strategy for energy security requires at first conceptual consideration, but beyond that also massive efforts including a supporting national security institution – in Germany a "real" Bundessicherheitsrat – with a corresponding substructure and inter-agency competences completely focused on the clearly defined deliverables of German energy needs.
A comprehensive energy security concept emphasizes most notably the necessity of policy coherence on all levels, comprehensiveness of all instruments of crisis management, coordination in planning and a continuously assessment of the relevance of driving factors on the basis of a encompassing, holistic knowledge base.  The, for autumn this year expected new energy concept for Germany should be based on the following three elements:  Short-term:  Management and coordination of security of energy supply incl. setting the policy course for the medium- to long-term challenges.  Medium-term:  Capabilities to tare asymmetries in the international energy system. Long-term: Capabilities to shape ("design") the governance of the international energy system.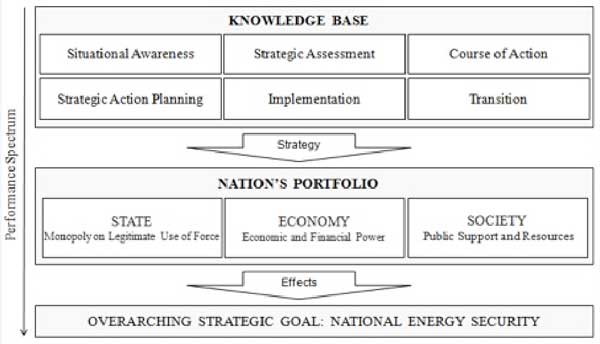 (Credit image: Caroline Mükusch)
One of the most important elements of preparing for the possibility of disruptions is to understand the system's immanent vulnerabilities.  Powerful planning capabilities would support the government's effectiveness in
situational awareness of vulnerabilities including risks and potential threats;
dealing with unexpected strategic disruption;
identifying strategic objectives;
developing tactics achieving predefined goals and milestones;
developing methods of critical analysis and assessing long-term implications;
mobilizing adequate resources.
These capabilities are necessary for both, the implementation of policies appropriate to reduce vulnerabilities as well as risks and (potential) threats, and the enhancement of resilience of national energy security.  Political instability of key energy producing countries, the manipulation of energy supplies, the competition over energy sources, attacks on supply infrastructure, accidents and natural disasters as well as global trends such as climate change, demographic change shape the framework and nature of international and national energy security challenges.  Recognizing and assessing the likelihood of potential energy disruption or shortage will help to establish priorities and set a 21st century appropriate energy policy.  "Clearly, the first task is to gain acceptance of a more reasonable view of the future, one that opens possibilities rather than forecloses them",[1] because the future is not that unexpected und unthinkable some may believe.
Caroline Mükusch has studied political science focused on international security.  Presently she is PhD student at the University of Cologne, Germany, working on energy security issues since 2008.  She is also working as consultant for the IABG Germany in the field of Security Studies of Critical Infrastructures.  She is our new German correspondent.