Providing for Maritime Safety and Security: Going the Extra Mile
An Interview With Rémi Julien, President and CEO of SIGNALIS
(By Murielle Delaporte)
04/01/2011 – At Euronaval in October 2010, Second Line of Defense's Murielle Delaporte interviewed Rémi Julien when he was the CEO of Sofrelog, but the interview focused on the new entity, which has been officially launched on January 10th, 2011.  Julien is now the CEO of SIGNALIS, the joint venture of CASSIDIAN and ATLAS ELEKTRONIK, merging their subsidiaries SOFRELOG and ATLAS MS.  SIGNALIS is co-owned by Cassidian (60%) and Atlas Elektronik (40%) and combines competencies in the security domain, with a special emphasis on maritime safety and security.
In this article, the key themes which were discussed are summarized with the complete interview in French to appear later on the other side of the Second Line of Defense website.
At the crossroads between domestic security and naval defense, maritime safety and security is a growing global market. Until recently, maritime border control had been largely defined as an element of anti-terror policy, which has been requiring a specific military approach especially since 9/11.
This market has mostly emerged via the involvement of small and medium sized companies providing traffic control services, for strategic areas such as maritime straits. Traffic safety systems have been relying on the four following tools:
Radars allowing target detection;
Communication;
Control centers;
Accident monitoring system.
As the EADS presskit for Euronaval underscored:
Since the beginning of the third millennium, mass terrorism, piracy, illegal immigration, smuggling and environmental hazards are on the rampage.  Such rising threats demand higher levels of protection for citizens and the environment but also for economic assets as strategic as offshore oil and gas activities.  Stakeholders have no other option but to show their ability to prevent any major crisis and react rapidly if needed.  To achieve this, they need integrated and interoperable safety and security systems.
Maritime security is a three-dimensional business as it relies on space assets, sea-based platforms as well as land-based systems to provide for security monitoring and control.
Born Out of a Fragmented Market
Besides the new threat requirements, the evolution of technology has drastically revolutionized a market, which before the 90's was rather fragmented. Except for Panama Canal-like customers, the cost barrier was too high for the broader use of maritime security controls.  This was changed by the emergence of digital technologies.  These technologies drove down the cost of acquisition of maritime security devices, which provided for live traffic control via VTS systems (Vessel Traffic Services). Many harbors, such as Calais in France in the early 90s, started to invest in such technologies together with Sofrelog.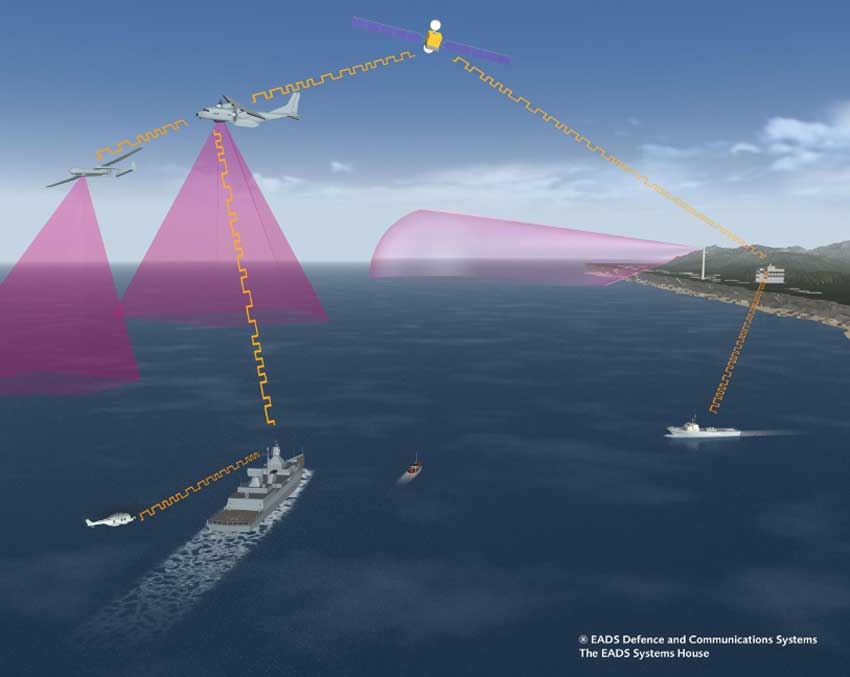 Radar systems, identification systems, equipment for electronic warfare, communication systems and weapon systems are integrated with a combat management system by Cassidian in order to form complete naval combat systems.
(Credit: Cassidian)
Monitoring the straight of Malacca has been one of the first endeavors Sofrelog initiated in 2000.  This system of controls provided capabilities to meet a dual-demand: the domestic military police's requirements on the one hand, and global traffic monitoring, on the other. Implementing such a system over the last decade has been a major factor behind the reduction of piracy in this part of the world.
The beginning of the 21st century witnessed the growth of terrorism and piracy and it became necessary to merge civilian domestic aspects with security and defense considerations. The need for a new organization and a common operating picture based on the synergy of available assets has been more apparent in order to manage the incredible variety and fragmentation of the players involved in maritime safety and security. And the same detection's means apply to a sailboat or a potential threat, even if the actual response to the latter, once identified, is significantly different.
The Naval Surveillance and Target Acquisition Radar is a multimode acquisition radar for surveillance and weapon assignment.
It features automatic detection, track initiation, and tracking of air and sea targets, in particular of small fast low-flying threats and is specially suited for deployment in littoral waters.
Multimode radar TRS-3D – The multimode radar system TRS-3D is specially suited for deployment in littoral waters
and has been deployed successfully on several types of ships of several navies worldwide (pictured here on a Danish patrol boat of the "Stanflex 300" class. (Credit: Cassidian)
CROSSing Over
Another factor, which has revolutionized the maritime security market from SIGNALIS's point of view, has been the upgrade of Spationav (Système naval de surveillance des approches maritimes et des zones sous juridiction nationale) in 2005.
Spationav is a system aimed at federating all the means of the French Ministry of Transportation as well as of the maritime centers called CROSS (Centres régionaux opérationnels de surveillance et de sauvetage).  The system enhances both surveillance of maritime straits and coastal regions along France's thousands of miles of sea borders.
The system was developed in order to deal with the variety of challenges encountered along the coast, whether illegal immigration and trafficking, or environmental issues such as maritime pollution.
Spationav is a multi-phased system whereby radars of two ministries are being networked to provide for integrated capabilities.  Currently, the data collected by 70 radars from the two ministries – Transportation and Customs – as well as Automatic Identification Systems are collected into a common operational picture for four Centers of the French Navy, including the Paris base of the French Navy as well as 5 CROSS and three custom centers.
What Spationav has been pioneering is the notion that maritime security – as well as land border security as a matter of fact – can be managed over a vast amount of territory and able to cover significant distances.  The success of Spationav has led to other contracts to manage territorial security such as with Saudi Arabia, for example.
The demand for comprehensive security has provided a growing marketplace.   As a result, SIGNALIS has been involved in various major international projects driven by a confluence of economic, political and security considerations, such as oil platform security in the Middle East and Schengen immigration control requirements in Europe.
Some of these projects are as follows:
Qatar's National security shield includes not only coastal and EEZ monitoring, but also offshore oil platforms and storage facilities which need full protection from air, sea and land-based threats;
A similar project is underway to protect Saudi Arabia's 2,000 kilometers' coasts, while private oil companies are also in demand for help in this area. Aramco's main oil facility has, for instance, been protected for years via a system of four naval radars capable of identifying low-altitude threats such as helicopters and securing a vast zone;
Enhancing the security in the straight of Ormuz for Oman has also been a major consideration, as Oman's and Iran's territorial waters meet : a SIGNALIS contract addresses such a challenge;
In Spain, assistance to the Guardia Civil has been underway for five years especially in the Canaries and Baleares islands and the Gibraltar straight, one of the major issues addressed being illegal immigration and trafficking;
SIGNALIS is also involved in maritime safety and security in the North and Baltic seas assisting the Danish Navy;
The security of Mayotte island is another challenge being addressed;
Bulgaria is also an interesting example triggered by pure political incentives, i.e. the Schengen treaty and the necessity for EU entry candidates to comply with immigration control minimum requirements: in the case of Bulgaria, border control was actually funded by the European Union itself.
The Ikea of Maritime Security: Shaping a Effective Total Cost of Ownership Approach
"A simple project, i.e. the installation of a few radars aimed at monitoring a hundred kilometer zone, will be implemented over a twelve to eighteen month period from the signing of the contract till the delivery of the system per se," explains Rémi Julien.
"We are in a way the "Ikea of maritime security" in the sense that we build the "kitchen" at the factory as well as the missing parts if need be; we assemble it and then deliver it ready to go. It would indeed be much more expensive to do so on site".
A customized maritime security contract will also typically include the training of future operators in accordance to existing international standards (AIALA; IMO), which can be done over a week.
Even though a 100% readiness is required (missing the deadline for one container delivery translates into the loss of hundreds of thousands of dollars for the Port of Tangiers for instance), maintenance per se is however rather light since the systems are mostly computer and radar-based.
No specific norms exist for maintenance and all options are possible as far as maintenance is concerned.  Basically, readiness is ensured via a redundancy and automatic shift system.
"We have machines which, in the past five years have never stopped once and have demonstrated a high level of reliability even long after they were not covered under guarantees anymore. However, we are extremely concerned to keep it that way and, given our high pace of development, maintenance teams have tripled over the past two years", SIGNALIS CEO underscored.
As far as Spationav is concerned, the acquisition cost is significant, but the total ownership cost is competitive, since maintenance mainly consists in preventive visits.
Every five years, an upgrade is required as far as sensors and software are concerned, but the emergence of new technologies or new missions can also of course trigger evolutions in that regard as well. Enhanced ergonomic and algorithmic development, data management and any decision-making assistance are the usual areas of improvement requested by customers.
From the outset, SIGNALIS has been at cutting edge concerning the development and application of open source software since 2001. Radar integration and signal digitalization are also areas of expertise. The level of sophistication of radars  — usually civilian radars — varies ranging from simple radars for port security to extremely sophisticated systems more adapted to coastal monitoring requirements, like small target detection.
"It is SIGNALIS's mission to fit and anticipate each customer's specific need and to provide an overall approach whenever customers task us to do so," concludes Rémi Julien.