By Richard McCormack
Originally published in Manufacturing News, April 29, 2011
05/16/2011 – The strategy embraced over the past decade by U.S. manufacturing companies to shift production to countries with cheap labor may no longer be appropriate, according to a consulting firm that has been a big promoter of offshore outsourcing.
"Companies are beginning to realize that having offshored much of their manufacturing and supply operations away from their demand locations, they hurt their ability to meet their customers' expectations across a wide spectrum of areas, such as being able to rapidly meet increasing customer desires for unique products, continuing to maintain rapid delivery/response times, as well as maintaining low inventories and competitive total costs," according to Accenture analysts John Ferreira and Mike Heilala, who head the company's North American Manufacturing practice.
Having surveyed 287 manufacturing companies, Accenture found that 61 percent are considering moving some of their manufacturing back to their home market. Ferreira and Heilala describe this as being a "secret shift" and a "quiet trend."
Many manufacturing companies that shifted production offshore "likely did so without a complete understanding of the 'total costs,' and thus, the total cost of offshoring was considerably higher than initially thought," write the two analysts. "Part of the issue is that not all costs of offshoring roll up directly to manufacturing; rather, they impact many areas of the enterprise."
Companies have found that managing their supply operations from afar has weakened their "overall operational planning, forecasting and general flexibility, while in some cases also driving up costs with the need for complex network management," according to Accenture. "In some cases, this situation has limited the companies' competitive advantage causing limitations on growth and revenue."
Almost half of the companies Accenture surveyed said they are facing issues regarding poor cycle and delivery times and product quality due to offshored manufacturing and supply operations. There have also been "dramatic" increases in many of the costs that first enticed them to move their production overseas. "Those seemingly initial cost savings are no longer so big," according to Ferreira and Heilala. "They are, in fact, diminishing as transportation, commodity cost and in-country labor rates rise and exchange rates change."
Seventy-three percent of the companies have seen significant increases in supplier material costs and component prices. Fifty-seven percent have experienced cost increases associated with logistics and transportation; 36 percent have seen price increases for overhead and administrative functions; 31 percent have been impacted by exchange rate differentials; 26 percent have had to build up their inventories as a means to buffer supply chain disruptions; and 25 percent have seen increases in the cost of quality.
Other areas that are increasing in costs include material handling and warehousing; packaging; value-added taxes, customs and duties; product qualifications; customer service costs; procurement staff costs such as broker fees; and increased tooling costs. "These cost pressure issues are arising at a time when customer requirements for agility, speed and capability are becoming more challenging," say the Accenture executives.
Companies have not done a good job of determining the true cost of offshoring. They tend to look only at direct costs, such as logistics, product unit costs, supplier costs, manufacturing overhead, labor, material and packaging costs. But there are many other costs that have not been considered when shifting production to a foreign country, such as local taxes, regulations, customs duties, VAT taxes, the agility and speed of suppliers to respond to customer demand, poor quality inspection and validation, operational risks, inventory, safety stock, broker fees, infrastructure costs, tooling and mold costs, networks needed for plant material handing, training costs, organizational communications costs, local operations staffing, capital amortization, terms and exchange rate fluctuations.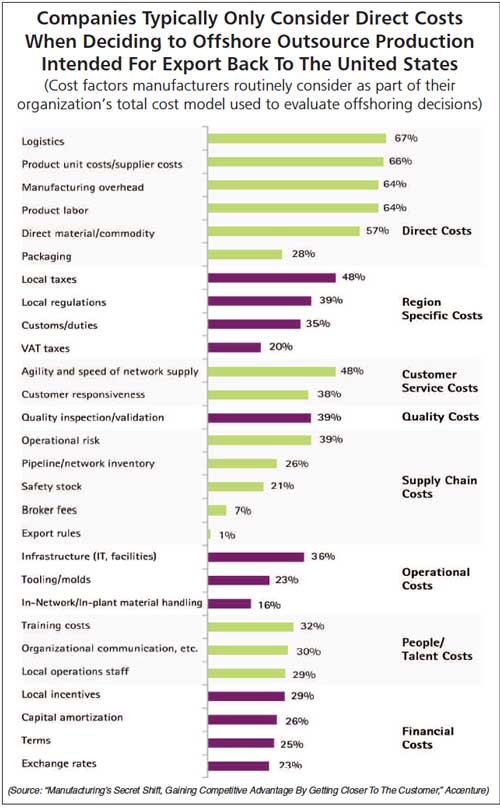 (Credit: Accenture)
"The overreliance on direct costs to the exclusion of other legitimate cost factors distorts the business case for offshoring and likely many decisions to offshore were incorrectly made," say Ferreira and Heilala.
The direct costs upon which the initial decisions were made are also changing. Labor represents only 5 to 10 percent of the total cost of most goods, so it's no longer a driving consideration for moving production. Rising transportation and energy costs and less favorable exchange rates are also working against companies' original calculations for savings.
"It is becoming increasingly clear that the physical location of supply and manufacturing operations can have a significant impact on competitiveness," say the Accenture analysts.
Although bringing production back to the United States may not represent the lowest-cost approach to production, providing customers with their own specific SKUs "in a timely fashion may be more important," says Accenture. Companies like BMW, Siemens Energy, Nissan and Electrolux have all made large production investments in the United States in order to better serve American customers. The moves by these large firms "add more credence to the fact that companies are in fact aggressively rebalancing supply to be closer to customer demand," say Ferreira and Heilala in their report "Manufacturing's Secret Shift, Gaining Competitive Advantage by Moving Closer to the Customer." "
Over the next three years, nearshoring shifts appear poised to continue but different companies will take different directions. Most important, the direction manufacturers take will be highly dependent on both the customers' requirements and on the product itself — more customized products or those with less stable or difficult-to-predict demand patterns will require increasingly better matched supply to demand location."
Here is how Accenture defines offshoring:
"There are many different definitions to offshoring. We define it as the act of separating manufacturing and supply operations away from demand sources — to regionally separate locales. Some have moved operations offshore to support offshore demand; however, this is not really offshoring. It is really an effort to get closer to one's customers and support regional growth. Moving operations offshore only to later import the goods back into a region to fulfill demand is offshoring."
John Ferreira can be reached at john.a.fe[email protected]. Michael Heilala's e-mail address is [email protected].