An Interview With General "Dog" Davis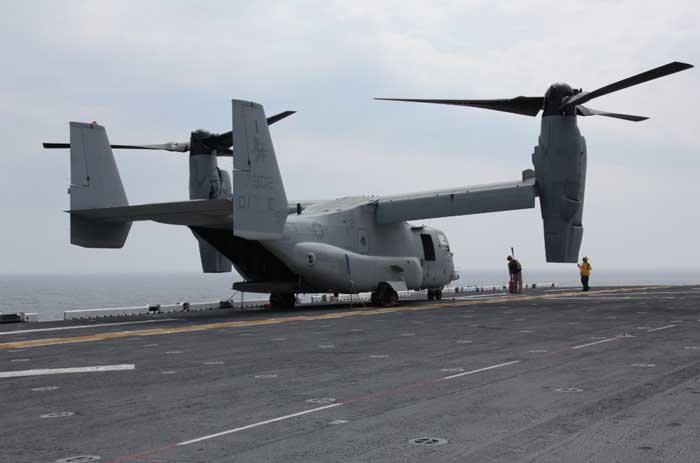 Flight deck crew members prepare an MV-22 Osprey with Marine Medium Tiltrotor Squadron 266, 26th Marine Expeditionary Unit, for take off during flight operations aboard USS Kearsarge, April 23, 2010 (Credit: 26th MEU)
05/02/2011 – Recently, Second Line of Defense looked at the role of the ARG and the evolution of the ARG in the years ahead.  A key point was that the newly empowered ARG with an Osprey, F-35B, and CH-53K helo would become a gamechanger. The flexibility of the ARG was laid out by the former 15th MEU commander, "Ozzie" Osborn.  The evolving role of the ARG was discussed by Vince Martinez. The USMC planning for a newly configured ARG was discussed by Ed Timperlake.  And the capabilities of the newly empowered ARG was introduced by Robbin Laird. We argued that "[the] force can of course secure an airfield for humanitarian airlift; the picket fence of the F-35s replace the AWACs and can guide coalition airpower into Libyan airspace to support agreed upon missions.  The USAF does not need to move a large air operation into place to send combat air; the USN does not need to move a large aircraft carrier battle group into place to prepare to strike Libya.
What the newly equipped ARG does is provide a significant shaping function for the President.  And this shaping function allows significant flexibility and, is in fact, a redefinition of the dichotomy between hard and soft power. The USN-USMC amphibious team can provide for a wide-range of options for the President simply by being offshore, with 5th generation aircraft capability on board which provides 360 situational awareness, deep visibility over the air and ground space, and carrying significant capability on board to empower a full spectrum force as needed."
The evolution of the ARG and its impact on national security policy was discussed during a March 2011 interview with General "Dog" Davis. General Davis is currently the Commander of the 2nd Marine Aircraft Wing at Cherry Point, North Carolina. His last position was in the Pentagon as Deputy Assistant Commandant for Aviation. He has two sons, both currently serving in the USMC.
SLD: How would you describe the changes, which the new aircraft provide to enhance the capabilities of the ARG?
General Davis: I would start with the impact of the Osprey.  The range and speed of the Osprey create a whole different situation in terms of the radius of operational impact of the ARG. Let me give you an example of what I am talking about.
We are still scratching the surface in the art of the possible with MV-22s.  From the deck of an amphibious ship they quadruple the ranges we have been able to fly from those decks at twice the speed we have been accustomed to in the past.   The MV-22 changes all the equations in the Med, the Persian Gulf and will do the same when we start deploying that machine on our MEUs to the Pacific.  For each of our MEUs, we tether 2 KC-130Js and send them overseas whenever the scenario calls for them.
Lately, they have been called for a lot.  Add in a KC-130J, that can lift from a short or austere field and provide fuel for our MV-22s, AV-8s and CH-53Es, and we expand the "reach" of our MEUs exponentially.  We took off last month ago with four V-22s and two C-130s, to practice a self deploy to Central America.
We are looking at trying to train with the Belize military, have our infantry use their Jungle Training Center, and wanted to check the profiles on a training mission.  With the internal fuel load we had on the C-130s and what we had even without even fuel bladders in the V-22s, we could have topped them off once over Key West and flown all the way to Belize and landed in the Jungle Warfare Training Center, dropped off our Marines then binged out to the international airfield (or joined on the tanker for a top off and headed home).   From North Carolina to Belize would have been about a five and a half hour flight.
What is really interesting is on this training mission, we took off with four v-22s, but one had a problem.  It had to turn around after takeoff.  We joined three with the tankers over New River and proceeded south.  The fourth turned around, landed at New River, got another airplane, took off and joined us over Gainesville, Florida, and hit the tankers.
We were all doing about 200/210 miles an hour in behind the tankers going down there, and in this case, about 10,000 feet.  This guy got another airplane, got it turned up, launched and caught us.  You wouldn't be able to do that in a conventional helo.  I had never seen that before in my life. I thought that was pretty special. So if I launch off a ship off the coast of North Carolina, it'd been easy to get the Marines and all their gear for the Jungle Warfare Training Center over 700 miles away.   That's operational reach with potentially strategic impacts.  We did another tanker mission a week later with 7 MV-22s flying non-stop from 29 Palms to New River in about 8 hours time at 17,000'.
SLD: How important will it be to get the larger ship, LPD 17, as the launch deck for the new aircraft?
General Davis: We just finished SPS 11, which is Southern Partnership Station 11, which is Special Purpose MAGTF.  They're getting ready to offload today. We visited this SPMAGTF in Belize, and they did a fantastic job, but they were limited in how much they could do by the fact they didn't have aircraft with them on their ship.   The Gunston Hall is a smaller ship whose flight deck wouldn't accommodate  aircraft at sea for an extended period of time. You could land them on there but you couldn't sustain them.
With the LPD-17, I've got command and control, and I've also got a flight deck where I can take some of the bigger airplanes aboard and go operate.  It is absolutely key to have the LPD-17 in numbers.  It's a fantastic vessel and it offers the nation a capability that is in very short supply (as compared to the demand).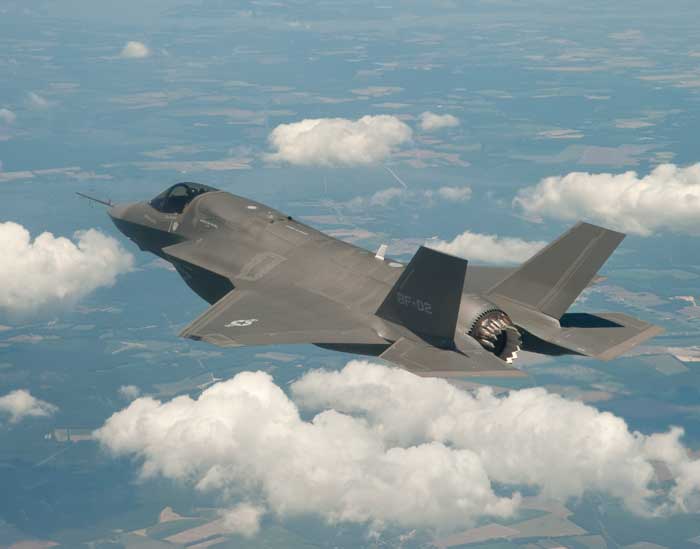 Flight of  BF-2, second F-35B  (Credit: Lockheed Martin)
SLD: Let us look at the Libyan scenario and flash forward to the newly enabled ARG. Could you talk to that a little bit to that scenario?
General Davis: Currently we have C-130s flying in the Libyan situation. If I could pair those C-130s with the F-35Bs, I can provide multi-mission support and be available for other operations. You have an EW capability resident in the F-35 that no one else does that can actually help jam and support those platforms flying from point A to point B.  You put a Next Gen jammer on the F-35B, now you've got a very high end EW/jamming capability.  We can use it for self-protect – but also to protect our assault support assets and grunts on the ground in a way we have never been able to in the past with organic MEU assets.  For many years our MEUs have not had an aviation EW capability.  With the introduction of the F-35B to the FMF, we will now have that capability and it will change the way we view those MEUs and open the aperture into a much wider range of missions, expanding the utility of what is already a very capable and utilitarian force – the MEU.
You've also got a very high-end air defense capability with F-35Bs.   VLO, fantastic radar and SA, and state of the art air to air weaponry – that's a big difference than what we can offer today.  Add in that tethered KC-130J, and you have an even greater capability.
SLD: The ARG is a shaping function force.  How will adversaries look at this role in the future?
General Davis: I'm Muammar Gaddafi.  I'm whoever, and I've got an ARG with this new gear embarked – and I can't help but think its going to change the way I view that force.  That ARG can reach out and touch me from long range, landing high-end infantry forces deep inside my territory, and do so with a speed that twice as fast as anyone else can.   Our MEUs have never been used as effectively as they are today.  These new capabilities are going to make them exponentially more potent and useful to our nation's leadership.
The F-35Bs give the new ARG a very high-end air superiority fighter, that's low observable if I want it to be.  I can roll from Air to Air to Air to Ground quickly and be superior to all comers in both missions.  That's bad news for our adversaries.  I can use the F-35s to escort the V-22s deep into enemy territory.  With those V-22s we can range out to a 400-500-mile radius from the ship without air refueling.  I can go deliver Marines deep in the enemy territory or wherever and do it at 250 miles an hour, so my speed of action, my agility is exponentially increased, and I think if you're a bad guy, that would probably give you a reason to pause.  It's a very different animal that's out there.    We are good now, but will be even more so (by more than a factor of two in the future).
I also have significant mix and match capability.  And this capability can change the impact of the ARG on the evolving situation.  It is a forcing function enabled by variant mixes of capability. If I wanted to strip some V-22s off the deck, to accommodate more F-35s – I could do so easily.  Their long legs allow them to lily pad for a limited period of time — off a much large array of shore FOBs – while still supporting the MEU.   It's much easier to do that in a V-22 than it is a traditional helicopter.
I open up that flight deck, or I can TRANSLANT or PAC additional F-35s.  If I had six on the deck and I want to fly over another six or another four, we could do it rather quickly.  Now the MEU has ten strike platforms.  So if I need to have a TACAIR surge for a period of time, that deck provides a great platform for us.  We've got the maintenance onboard that ship, so we can actually turn that Amphib very quickly from being a heliocentric Amphib to a fast jet Amphib. Conversely, I could also take the F-35s off, send them to a FOB and load it up with V-22s, 53Ks, or AH-1Zs and UH-1Ys.    Flexible machines and flexible ships.  The combination is exceptional.
We will have a very configurable, agile ship to reconfigure almost on a dime based on the situation at hand.  I think the enemy would look at the ARG as something completely different from what we have now. I think we have to change the way we do things a bit in order to allow for that, but I think we will once we get the new air assets. The newly enabled ARG, or newly whichever the term you're using, will force our opponents to look at things very differently.  We will use it differently, and our opponents are going to look at it differently.