By Richard McCormack
Manufacturing News, May 31, 2011
06/06/2011 – China has embarked on a goal of becoming the world's leader in science, technology, invention, innovation and commercialization through a wide range of "techno-nationalistic" policies, spending programs and incentives.
It is receiving help achieving its goal from U.S. multinational corporations and American universities training many of China's top scientists. It is also acquiring Western know-how through "espionage and theft of foreign technologies that are often crucial pieces in the United States' high-tech industrial and military dominance," according to a report from Centra Technology for the U.S. – China Economic and Security Review Commission (USCC).
"U.S. companies have been the leading source of foreign technology for China since the early 1980s."But China risks not achieving its goal of world technology dominance due to issues associated with central planning that are "often at odds with best practices for innovation," according to the assessment.
The analysis notes that U.S. multinational companies setting up shop in China are transferring technologies that are being applied in China's military weapons systems. "Despite arms embargoes and export restrictions, technology collaborations between Western and Chinese firms have significant spillover benefits for Chinese military technology," says the study.
"In terms of military technology, in just the last few years Chinese entities have been implicated in attempts to acquire protected space shuttle technology, missile technology, radar and electronic warfare technology, navel warship data, unmanned aerial vehicle technology, thermal imaging systems and military night vision systems."
China's communist government has substantially increased funding for science and technology "mega projects. "It has boosted research into commercial firms and research institutes and has established technology development and commercialization zones. It has adopted a formal program to "Accelerate the Development of Strategic Emerging Industries" that "intensifies the government's focus on promoting high-technology enterprises more than ever before," according to Centra Technology.
From China's Program for Science and Technology Modernization, 2011
But in many of these well-funded efforts, China "has a mixed record," says the study. "Industrial policy measures could potentially stifle innovation since they involve 'picking winners' and diverting investment to firms and projects that may not have the technological wherewithal to compete effectively."
Nevertheless, China is benefiting from the investment it is making along with the investment from Western companies establishing operations there. "The PRC has positioned itself to reap the benefits of global commercial and scientific networks," says Centra Technology.
China has started the process of incremental innovation based on the transfer of Western technology in the areas of rail transport, civilian nuclear and alternative energy. The United States is also helping China become a technological and scientific powerhouse. It has trained China's top scientists and engineers at American universities and corporations.
"This corps of talent plays an outsized role in China's technological development," says the study.
"A shared American and Chinese interest in challenges related to climate change, energy and health has also propelled government-facilitated cooperative science projects and growing academic collaborations."
Despite all of the good intentions and money being spent, Centra repeatedly states that China may not achieve its potential. "Caught between a tradition of state planning and the need for markets — and between an interest in foreign technology assimilation and the lure of domestically-developed technology — China's innovation system faces an ambiguous future.
From China's Program for Science and Technology Modernization, 2011
China has demonstrated a formidable capacity for technological modernization, but its current system of innovation ultimately imposes limits on China's potential. [T]he Chinese model of science in its present form is unlikely to deliver the types of creative research on which future high-technology leadership will depend.
Bureaucratically driven institutions and programs for science are wasteful. China has yet to show that it can meaningfully use the tools of the state to drive the commercialization of discoveries in research labs in a competitive manner.
And the nation's drive in a techno-nationalist direction could compromise China's enabling international scientific links."
Here's how Centra Technology describes the failure of China's innovation policies: "China's industrial policies, for their part, have succeeded in aiding the growth and expansion of China's corporations, but often fail to incentivize risk-taking to develop and deploy advanced technologies. Central bureaucracies and local governments have long spent heavily to encourage the development of high-tech industries, but lacking scientific support and protected from competition, they often ended up inundating the market with companies that competed at the low ends of the technological value chain. Other policies have protected high-tech industries from competition, reducing their incentives to innovate.
"To support its thesis that China's innovation machine is not working well, the study cites Charles Lindblom who says that China's policies are "all thumbs, no fingers. Lindblom made those comments in 1977, according to a footnote.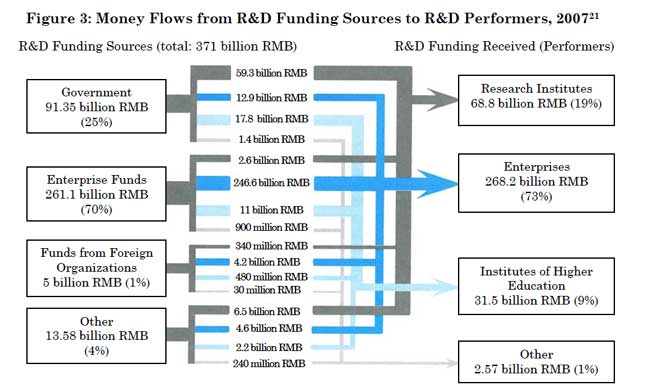 From China's Program for Science and Technology Modernization, 2011
The study concludes on this note: "There is a clear sense of vision about the importance of science and technology for China's future, a clear commitment by the political elite to that vision and a willingness to make resources available for the facilities and people needed to realize it.
It is this vision and commitment that capture the imagination of the foreign observer as China enters the second decade of the 21st century. The China that emerges from the pursuit of the vision in spite of the manifest obstacles to its realization will be a formidable presence in the realms of economy and security."
The study, "China's Program for Science and Technology Modernization: Implications for American Competitiveness is located at http://www.uscc.gov/researchpapers/2011/USCC_REPORT_China's_Program_forScience_and_Technology_Modernization.pdf.
It does not provide any "implications" for American competitiveness but over 142 pages does a commendable job describing China's R&D enterprise with case studies on nuclear power and nanotechnology.
Here is a list of the 16 Chinese "Megaprojects" announced in the "National Medium to Long-Term Plan for the Development of Science and Technology":
Advanced numerically-controlled machine tools and basic manufacturing technology
Control and treatment of AIDS, hepatitis and other major diseases
Core electronic components including high-end chip design and software
Extra large-scale integrated circuit manufacturing
Drug innovation and development
Genetically modified organisms
High-definition earth observation systems
Advanced pressurized water nuclear reactors and high-temperature gas cooled reactors
Large aircraft
Large-scale oil and gas exploration
Manned space including lunar exploration
Next-generation broadband wireless telecommunications
Water pollution control and treatment
Three unannounced projects that are thought to be classified.