Shaping the Tools and Approaches to a Maintainable Force
An Interview with Captain Mike Kelly
06/05/2011 – During a visit in San Diego in late March 2011 to the Naval Air Force, U.S. Pacific Fleet, Second Line of Defense sat down Captain Mike Kelly to learn about the approach of the fleet to global maintenance of the USN-USMC aircraft.  It would be safe to say that the interview was wide-ranging and highlighted not only the broad approach to global maintenance, but also the challenge of managing the transition from older to new aircraft.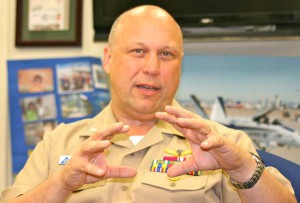 Captain Kelly is the Force Material Officer at Commander Naval Air Forces. He directs a worldwide staff of 240 Civil Service, Military and contractor personnel responsible for the engineering, logistics, planning, budgeting, execution and associated policy necessary to globally deploy and safely operate all 3,000+ Navy and Marine Corps aircraft and associated engines, airborne systems and support equipment.
He is an Aerospace MRO production executive with over 20 years experience in Naval Aviation operations and logistics both afloat and ashore.  He has both airframe and engine experience with fixed-wing jet/prop and rotary wing platforms. And he additionally has functioned as an Information Technology Project manager with significant experience in large-scale IT system development and deployment. He has experience as well in data warehousing, networking, and web application design/development in Unix/Windows/Oracle/Sybase.
The enthusiasm and breadth of Captain Kelly's knowledge about the challenges and approaches of the USN and USMC team to global maintenance was evident throughout the interview.  The goal here is to share some of his insights with our readers.
SLD: Could you provide a baseline understanding of the focus of your shop?
Captain Kelly: Here in our shop, we manage the engineering and configuration management out in the aviation fleet.  We serve as the fleet interface to the Naval Air Systems Command engineering and logistics folks.  We manage the distribution of the aircraft inventory.  We manage the allocation of support equipment.  We manage demand signal for maintenance training and influence the skill sets of our maintainers; we write the Naval Aviation Maintenance Program policy under which all Navy and Marine Corps aircraft operate.  And then, we do the triage on readiness issues as they come in from the fleet, whether it's from a carrier strike group, an expeditionary strike group, or an independently deployed squadron.
For any Naval Aviation unit in the world, we have a readiness desk that gets their information and we triage their issues to try and help out with whatever we need to do to close their readiness gap. We have a staff of about 240 folks between here and Norfolk and we manage basically, all 3,000 or so Navy and Marine Corps aircraft.
For any Naval Aviation unit in the world, we have a readiness desk that gets their information and we triage their issues to try and help out with whatever we need to do to close their readiness gap. We have a staff of about 240 folks between here and Norfolk and we manage basically, all 3,000 or so Navy and Marine Corps aircraft.
An F/A-18C Hornet assigned to the "Ragin Bulls" of Strike Fighter Squadron (VFA) 37
launches from USS Harry S. Truman (CVN 75) during routine flight operations.
(Credit: USN Visual Service, 12/3/10)
SLD: And you work with industry in this context?  How does that work?
Captain Kelly: We'll work with the industry when industry is a piece of the logistics.  For starters, Naval Air Systems Command and the program managers at NAVAIR have the primary responsibility for acquisition and lifecycle sustainment. Once a weapons system is fielded, then it becomes a fleet asset.  And the N42 shop manages the aircraft, engines, and support equipment piece of the system. We manage these items on behalf of Vice Admiral Myers to ensure we resource all the carrier air wings, expeditionary strike groups, and other deployers.  We perform these functions on behalf of both Navy and Marine Corps Aviation, as we are the aircraft-controlling custodians for both Navy and Marine Corps assets. Our responsibility is to make sure that the Navy and Marine squadrons have the airplanes they need, have the support equipment they need and that we put the demand signal in place through the budgeting process for the maintenance training that they need.  And then, we do all the policy work along with a host of other smart people to make sure that our folks are successful out there. To make sure we communicate effectively, we have our class desk for each type/model/series aircraft   function as the primary interface point between the flight line and the acquisition enterprise. They'll reach back into NAVAIR engineering, NAVAIR logistics, etc. And when necessary they'll reach back to the appropriate industry point of contact to resolve whatever issue is impacting the fleet.
Maintenance personnel conduct routine maintenance to a C-2A Greyhound carrier onboard delivery aircraft at U.S. Naval Station Guantanamo Bay, Jan. 18.
 Service members from the Fleet Logistics Support Squadron were supporting Operation Unified Response,
providing humanitarian assistance to Haiti. (Credit: USN Visual Service, 1/19/10)
SLD: You are managing the various classes and variants of aircraft, and have significant data on each aircraft to shape the evolving maintenance regimes.  Could you tell us about that process?
Captain Kelly: The Navy is the most the data obsessive service on earth.  We track flight hours, we track maintenance man-hours, we track consumption of material, we track configuration management through technical directives, we track scheduled inspections, unscheduled maintenance, we track performance through the depots for cycle time and cost, we track training, both formal and on the job training (OJT).
The reason we track such a variety of information is the same as  why anybody else would track metrics– to determine do I have stability?  Am I staying within my control limits; that if I'm seeing a vector I don't like, am I attacking it soon enough to try to reshape the outcome, whether it's a sustainment issue, whether it's a cost issue, whether it's an effectiveness of the repair cycle issue.  We want to get in there early to see how to improve the outcome.
SLD: You're managing the metrics on a fleet basis, basically?
Captain Kelly: We have the data down to each and every bureau number.  So, in other words, for fiscal year '10, I can see the consumption of hours and material against a single bureau number.  I can see it across the squadron, I can see it across the model series, and I can see it across services.
We do that to determine what is driving problems or what is driving success. Is a total population driving it that way, or is that underlying squadron having a tough time.  Or in some cases, a bureau number is having a tough time. We can go all the way down to the bureau number level.
SLD: So you can figure out what the cause of the problem is and target it?
Captain Kelly: You can come up with a list of a hundred smart person questions.  But if you use the data and focus down, then usually, you kind of come down to five or six reasonable person questions to determine what's going on.
Inside a Navy or Marine Corps squadron, you have the maintenance department, which is usually the largest department, because you got all the touch labor from the maintainers.  You have trained NCOs or sergeants, gunny sergeants, master sergeants on the Marine side, or chief petty officers, on the Navy side.  You usually have a 03 lieutenant and Marine Corps captain or maybe a warrant officer that's in there doing what we call a maintenance material control officer function.  They are the on-scene production manager.
And then, that rolls up at each wing level.  And then, those wing maintenance officers are liaisoning with one of our N42 directorates, our N423 readiness group basically reporting macro level readiness issues.
One of the reasons that we started refining our metrics is that we lacked solid connectivity between the metrics we were collecting and the outcomes on the flight line. We spent a pretty good chunk of time in 2001, 2002, and 2003 really refining that part of it.
SLD: And hence the meaning of the metrics.
Captain Kelly: What we're trying to get down to is who owns the problem?  And problem admiration is a global industry, but doing something about it, you know, that's tough sometimes.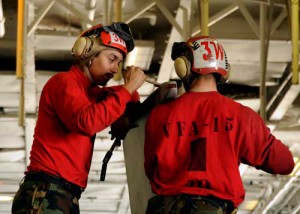 We have tried to set up the metrics so if we're seeing a problem we can work together and determine a solution.  For example, we can see from our information that you're fully manned.  We can see from our information that all of your maintainers went through the appropriate schools.  We can see from our information that you have the required number of aircraft to fly your flight schedule.  We can see from our information that we gave you the financial resources to execute your flight schedule.  Yet we can see that you're struggling.
In a case such as this one it's important to get the unit's perspective—so we know we need to reach out and hear their story because even with the right allocation of resources the unit is still struggling.  On the other hand, if you're having a hard time meeting a flight schedule and we can see that, because you're supposed to have eight airplanes at this point in the cycle, and we can only resource you with five then we understand we have an action to correct the distribution of inventory or other material issue that is driving the deficit.
And we know why and you know why, and we know that's on us.  So now, we've got to go beyond the squadron, because that's not that squadron's issue, that's my issue.  Because we own the inventory and distribution, and we've got to go and figure out what went wrong in the system, that drove the resource imbalance.
Or if we anticipate, we're not going to properly resource them, what's our plan B or our plan C or our plan D?  So, we tried to get out of the blame game about ten years ago, and just try to solve problems together.
SLD:   And presumably, depending on how the metrics are managed, you can take it down to the squad level or you could say it's almost like a car manufacturer have a recall on a particular part.
Captain Kelly: Sometimes there are fleet issues.  Step one is, what is the maintenance plan with this program? And are we executing it appropriately?  It might be that there was a flaw in the training; we missed something.  There was a configuration change and, we didn't pick up on it, so now we haven't been training people effectively.  So, it's not really the item that is poorly reliable, but the sustainment plan for the item is not up-to-date.
Or it might be that there's an issue with a piece of test equipment that's failing to find a particular fault mode.  If it's a piece of automated test equipment, it may have an inability to accurately call out a PCOF or a primary cause of failure.  Sometimes the ambiguity group of the test program set is too broad, so I'm just cycling through subcomponents.
So, step one is, what did we tell ourselves we were going to do?  And can we verify that we're executing the maintenance plan correctly?
If we're verifying that we're executing the maintenance plan correctly and we see that we still have the reliability issue, then we bring in our fleet support team engineers and logisticians– they would've been working with us along the way anyway.  And they're doing the parallel analysis.
And so, they might come back and say that they see a design problem or unanticipated issue and that they've worked with the OEM (Original Equipment Manufacturer), and we're going to cut this change in as a forward fit during a depot overhaul or during manufacture.  And then, the big decision sometimes is, should it be do a forced retro fit or a retro fit through attrition.  This decision depends upon how long we think it'll take, criticality of the system, i.e. safety, and the cost.
But we have our Naval Aviation Enterprise construct, and within the enterprise we have type/model/series teams.  And the type/model/series teams are set up to have all the necessary competencies present.  You'll have fleet people, you'll have the depot enterprise, and the industrial piece, and you'll have the NAVAIR fleet support team with engineers and logisticians.  And so when we run across a problem, we'll set up a subset of the type model series team, and they'll run with it with an integrated analysis and then come up with sort of an integrated conclusion.
In some cases, we can attack the problem with training. In other cases, it may be we really do a need a design change, and here's what it is.
For example, we had a nose landing gear strut problem. We had a title 10, section 2474 public/private partnership with Boeing and our Navy Fleet Readiness Centers in support of the Super Hornet.  For the Super Hornet Boeing has a PBL contract with the USN and then as an adjunct to this PBL Boeing hired the Navy depots as a subcontractor under Title 10.  So when I was at FRC Southwest we were doing touch labor for Boeing.  Great relationship, fun to work with those guys.  One of the things that we overhauled was the nose landing gear strut for the Super Hornet.
Well, by design, the workload standard for the strut overhaul was X, and the material kit was Y, and this package was relatively modest as landing gear struts are pretty straightforward.  But when the retrograde struts were coming in, we found more internal material degradation than there should've been.  Our landing gear artisan in the shop over in building 472 had great observations about what was occurring.
One day when I was visiting the shop to learn more about this problem he said, "See this little floating piston?  This little floating piston shouldn't move around, but it moves around.  And because it moves around, it gets dinged on, and when it gets dinged on, it comes apart in tiny pieces, and these pieces score the piston all over the place inside.  So instead of a relatively inexpensive repair at the depot, it turns into a requirement for much more material to accomplish the overhaul and it's very expensive.  And oh by the way, since that failure mode wasn't accounted for upfront, we don't have the material."
So now, we end up in kind of a snowball of shortages because the item is failing in a way that wasn't accounted for.  Therefore, there's no demand signal through the supply chain to spare for this material.  The guy out in the field, okay, he can't fix this issue; the organizational level technician is not responsible for a design issue on a strut. The next thing is okay, what's the redesign?  And the smart folks on the Hornet industry team came up with the redesign, a 24-stake bearing, which is forward-fit on new production and then we'll work on everything that goes through the intermediate level and the FRC and, we'll kind of catch up.
In short, through forward-fit and attrition replacement, we'll get that problem taken care of probably in the next 12-18 months and our response was accelerated because we had a total team approach to this issue and our experienced Navy maintenance personnel at the depot were part of the early warning network on this item.
In short, through forward-fit and attrition replacement, we'll get that problem taken care of probably in the next 12-18 months and our response was accelerated because we had a total team approach to this issue and our experienced Navy maintenance personnel at the depot were part of the early warning network on this item.
SLD: You clearly target the priority or choke point maintenance problems.  You have organized your metrics and your manpower to try to align your efforts to shape maximal effect and I would assume this is a process in constant motion?
Captain Kelly: You remember when everybody was a kid and we had the JC Whitney catalog.  And you know, you were flipping through the JC Whitley catalog trying to figure out what you're going to do.
The JC Whitney catalog for Naval/Aviation, across those 2,600 airplanes, is about 13,000 repairable parts.  That's it. 13,000 repairable parts that we touch.  Out of those 13,000 repairable parts that we touch, 500 of them consume 67-percent of my budget for repairs.  So, we don't have to go count all the grains of sand on the beach to know where we're spending the taxpayer's money.
If we go to the consumable side– screws, washers, resistors, and nickel/dime stuff–our JC Whitney catalog is about 125,000 items.  The top 10,000 consumes 95-percent of the money budgeted for these type of items.
So we've got a pot of 500 places where we want to go look, and a pot of 10,000 places where we want to go look.  And we've got 100,000 people helping us that are in Naval Aviation.  So we can work this problem.
SLD:   You're defining your sustaining and maintenance plan, on the one hand, you've got the grains of sand over here.  So in a certain sense, you're creating some decision-making tools.
Captain Kelly: Absolutely. And when we look across the enterprise we want to know why is this item costing us something?  Is it costing us because we're consuming a lot of material?  Or is it costing us something because the actual reliability is not matching the planned reliability.  We also have the ability to parcel out the problems to the right organization in the logistics and sustainment enterprise to do something.
Not everybody has to work every problem.
SLD:  Presumably, you have a common IT system throughout?
Captain Kelly: We use the same software across the fleet, which was one of the programs I was on about a decade ago.  We have the same maintenance management software, all Navy and Marine Corps squadrons all around the world.  And it's one of the best products you could ever have.
SLD: What is the biggest maintenance challenge you see facing the USN-USMC aviation team moving forward?
Captain Kelly: Without question, the challenge of managing the transition from the old to the new platforms coming on line in the service is the biggest challenge.
We're changing out 100-percent of our platforms.  At the same time, we're at one of our highest operational tempos.  For instance, we're getting P8s for P3s, we're getting Growlers for Prowlers, and we're getting Super Hornets for Legacy jets.  We're getting E2Ds for E2Cs and we'll get F-35s thrown into the mix.
So, everything's changing out, so from our perspective, we have to work with NAVAIR to make sure that the maintenance plans and the constructs for logistics and sustainment are well grounded for everything that's coming, while we're managing everything that is already here and deployed.  And then, we have to manage to do the swap outs of airplanes and the retraining of personnel in a fashion so that we don't impact the operational schedule.
SLD: And the problem is that when one swap outs, historically, whether it be a commercial fleet or military fleet, it is more expensive in the transition.  You've got to manage the old as you bring in the new.
Captain Kelly: And that's why we're pressurized to do it kind of as quickly as we can, because we don't want to eat cost in two spots at once.