The Planning Piece
An Interview with Major Fuller
06/16/2011 – Major Christopher Fuller of the Tanker Airlift Control Center (TACC) kicked off the roundtable by discussing airlift planning for missions into Iraq, Afghanistan and for humanitarian operations.  A core part of the discussion was the challenge of plans being affected by the chaos of reality.
Major Fuller: I'm the Chief of the Global Readiness Directorate's Central Asia Planning Division. Really what we do is interface with TRANSCOM.  When a user (including all of the COCOMS, various government agencies, etc.) has a need from airlift, their request first goes to TRANSCOM, where the requirement is validated and vetted.  Once TRANSCOM approves the request, the requirement then comes to us in the TACC to plan, task, and execute.
We have feasibility experts in TRANSCOM who are actually located in our fusion center who will look at the requirement first. They'll recommend what they call a 'T' on that requirement that means it is air transportation feasible.  They'll determine if the requirement meets certain criteria to qualify for airlift on one of our gray tail assets.
Once TRANSCOM makes that determination, they'll send it over to us in a news group; we'll then shape that requirement and determine into which airframe it needs to fit. 99% of our airframes are always C-5 or C-17.  On the rarest of occasions, we can task a C-130.  Being a strategic global mobility enterprise we usually operate in larger aircraft lanes.
SLD: The requirements come in to you from TRANSCOM and then you map that up against availability in readiness assets?
Major Fuller: Yes, and that's always a challenge for sure. We try to advertise what capacity is available but we are somewhat at the mercy of what the barrel has available to give us when we put that request in.
The user will give us a window to move with an available to load date to a latest arrival date.  That window is usually no less than three days but it can be longer depending on the size of the movement. Once we have an idea of the user's requested timeline, we'll put in a tail request with the barrel and then the barrel will allocate us aircraft based off of global capacity.
SLD: If you have a shortfall or significant shortfall, does this get communicated back to TRANSCOM?
Major Fuller: It does. We have instituted a process known as a projected closure date and it is based on the availability of assets. And many times that's measured in days, not hours, so we'll say, 'you know right now we're looking at our forecast', and when it looks like we're exceeding what we can move, we'll put a projected closure date out to the customer. We're communicating to the user that, 'yes, I understand that you want it on this date but it looks like due to global demand it's going to be a 7 day wait.'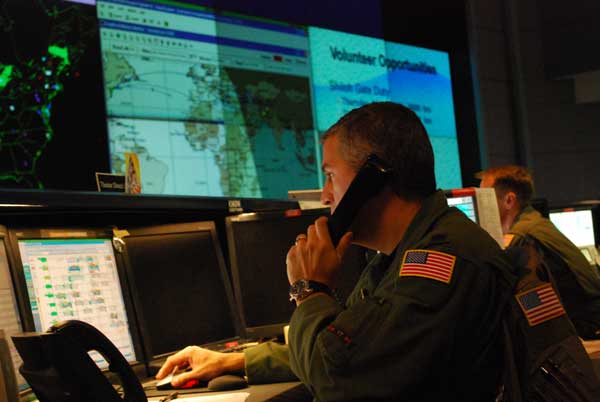 Coordination on TACC Operations Floor (Credit: TACC)
SLD: And presumably you have to have some decent transparency on maintenance and readiness situations because you have a lot of older aircraft so the routine maintenance is one thing, but in-flight maintenance or problems that develop in flight, you've got to address and you're looking for fairly accurate information from folks when that aircraft becomes available.
Major Fuller: That kind of plays into the barrel and maintenance withholds.  For example, the Air Force has so many C-17s, and a certain number are set aside for training purposes, another number are set aside for long-term maintenance, and so on.  So you subtract out those training and maintenance holds and that leaves you with the number of assets we have available day-to-day.
This means that we're always in constant dialogue with TRANSCOM and the users and communicating to them what our capacity looks like and what their particular movement is going to be met and when.