03/02/2014: In this video prepared by the 94th Army Air and Missile Defense Command located at Fort Shafter near Honolulu, the evolving role of ARMY missile defense is highlighted.
The video played during 94th AAMDC Brig. Gen. Daniel Karbler's 2013 AUSA LANPAC Panel discussion that he hosted.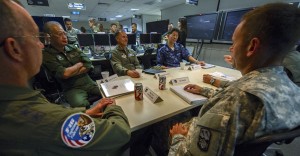 The 94th has theater-wide responsibility for an ADA Brigade, 3 PATRIOT Battalions, 1 THAAD Battery on Guam, and currently one mobile radar detachment (the AN/TPY2 Radar) in Japan with an additional radar coming soon to Japan as well based on an announced agreement last Fall.
This function is the 21t century version of the old Air Defense Artillery role for the US Army, and unlike the significant questioning of the future of the Army after Iraq and Afghanistan, this part of the Army is in high demand from the joint forces and has no need to question its role and significance in the Pacific (or of their compatriots in the Middle East for that matter).
We have an upcoming interview with BG Karbler and his joint partners, an interview conducted in Hawaii in late February 2014.
It should be noted that the 94th is moving closer to PACAF:
The 94th Army Air and Missile Defense Command is slated to move to Joint Base Pearl Harbor Hickam in FY2014.
Early 2013, the Pacific Air Force Commander laid out a vision for an Integrated Air and Missile Defense Center of Excellence, which will enhance cooperation between the 613th Air and Space Operations Center, Pacific Air Forces and the 94th AAMDC.
In response, PACAF and the 94TH AAMDC, requested the relocation and permanent bed down of the 94th at JBPHH to fully help realize commander's integrated vision.
 Credit Video: 94th AAMDC: 4/11/13