08/25/2015: On 13 August 2015 two KC-30 aircraft from RAAF Amberley conducted a Air to Air refueling training sortie.
The Australian Air Force KC-30 aircraft is carrying out an air to air refueling operation using the Airbus Defence and Space Aerial Refueling Boom System (ARBS).
Having an air refuelable tanker, a crew rest area onboard and a large deck, which can be used for a variety of purposes – transport, ISR servers, C2 posts, etc. – is a key advantage of the A330MRTT tanker.
Having a global fleet is highlighted as exchange pilots from Britain and France are involved in the training exercise.
It is clear that the KC-30A is a key platform in shaping a more integrated 21st century combat force as envisaged in the RAAF's Plan Jericho approach to force transformation.
Credit: Australian Ministry of Defence:8/20/15
During the U.S. tanker competition, one journalist made the comment that this was simply a competition about a gas station in the sky. 
This comment revealed only partial understanding of what a modern air tanker can bring to operations.
The A330 MRTT tanker  as a fleet provides the possibility for a network of flying air support systems engaged for a long time in an operational setting.
Much depends on how these assets become configured.
With the fuel carried in the wings, the large deck of the A330 can be used to host a variety of air support capabilities: routers, sensors, communication nodes, etc. Such a configuration along with the fuel re-supply capabilities of the A330 tanker makes this a flying air operational support asset.
If the model selected is similar to the model downselected initially by the USAF, it is refuelable in flight.
With the space available in the aircraft – again because of the fact that the fuel for refueling is carried in the wings – a crew rest area can be provided.
This means that the air tankers can stay aloft for a significant period of time as the refuelers are themselves refueled. This in turn means that the refueling aircraft as a fleet can have a strategic impact.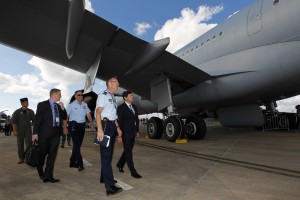 Once the planes are airborne and they have access to refuelers for their own operational autonomy, the fleet can tank a variety of national or coalition partners operating from dispersed or diverse airfields.
And the discretion possible airborne can allow nations to tank a variety of coalition partners, some of whom might not be favorite candidates if seen on the ground.
https://sldinfo.com/the-air-tanker-contribution-to-gulf-security/
According to several interviews conducted in Australia in August 2015, the tanker has been a key part of the combat effort for the RAAF in Operation Okra.
Those interviews will discuss a number of demonstrated capabilities: high reliability rates, a small logistically footprint to maintain the plane, an ability to operate as an integral part of the combat team, positioning the tanker where fighters need to be refused prior to those fighters even requesting the service, and the high potential for a global sustainment system once the ability of the KC-30A to tap into the worldwide system of commercial parts available to world-wide commercial A330s has been validated. 
The Aussies have one KC-30A on station for Operation Okra, which has delivered more than 27 million pounds of fuel in operations with allies and in support of RAAF aircraft, according to Air Vice Marshal McDonald.
They are buying two additional aircraft as well from the Quantas fleet which are being modified for military service, with one in Spain already undergoing modifications.
This will bring their total to seven tankers.
And according to Air Vice Marshal McDonald, the Singaporians spent a good deal of time with the Aussies prior to their downselect of their tanker, and more generally, the lead nation role for the Aussies has led them to work with a number of nations in unlocking the capabilities of the new tanker.
According to the RAAF, the KC-30A is described as follows:
The KC-30A Multi Role Tanker Transport, which is a heavily modified Airbus A330 airliner, enables Air Force to conduct both air-to-air refuelling and provide strategic air lift.

The KC-30A is able to transfer more than 100 tonnes of fuel to Air Force's F/A-18A/B Hornets, F/A-18F Super Hornets, and when fully operational refuel E-7A Wedgetail, C-17A Globemaster III and other KC-30As.

It will be compatible with refuelling the P-8A Poseidon surveillance aircraft and F-35A Lightning II when these aircraft enter service.

Based at RAAF Base Amberley and operated by Number 33 Squadron, the five KC-30As feature advanced mission systems, including military communications and navigation, an electronic warfare self-protection system for protection against threats from surface-to-air missiles.

The KC-30A MRTT is fitted with two forms of air-to-air refuelling systems – an Aerial Refuelling Boom System mounted on the tail of the aircraft, which comprises a 'fly-by-wire' boom refuel system; and a pair of all-electric refuelling pods underneath each wing, which unreel a hose-and-drogue to refuel probe-equipped aircraft.

These systems are controlled by an Air Refuelling Operator in the cockpit, who can view refuelling on 2D and 3D screens.

The KC-30A MRTT has a fuel capacity of more than 100 tonnes, and can remain 1800km from its home base with 50 tonnes of fuel available to offload for up to four hours.

 In its transport role, the KC-30A is capable of carrying 270 passengers, comes with under-floor cargo compartments and will be able to accommodate 34,000 kgs of military and civilian cargo pallets and containers.

The KC-30A has participated in Exercise Northern Shield, Exercise Arnhem Thunder, Exercise Bersama Lima and Operation OKRA.

Advanced mission systems are also fitted.

They include the Link 16 real-time data-link, military communications and navigation suites, and an electronic warfare self-protection system for protection against threats from surface-to-air missiles.