05/02/2016: It is not difficult to see how air intercepts in the Northern European region could escalate.
Nato is working hard to shape an effective air intercept template.
A number of fighter jets from NATO and NATO partner nations have been training together at an airbase in Estonia. Among the skills they practiced was an intercept.
The NATO member countries involved in the exercise were Belgium, Estonia, Lithuania, Poland, Spain and the United States.
The NATO partner nations were Finland and Sweden. The various live scenarios played out were Communication Loss, Search and Rescue, Close Air Support, Dissimilar Air Combat Training, practice diversions to Baltic airports and air-to-air refueling.
But the Russians are challenging the restrained NATO approach. 

Credit:Natochannel:4/20/16
Meanwhile on the Russian side:
A Russian jet fighter has intercepted a US Air Force reconnaissance plane in an "unsafe and unprofessional manner" over the Baltic Sea, the Pentagon says, and CNN reported the Russian pilot did a barrel roll over the US plane.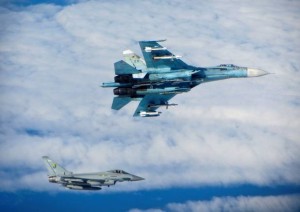 The US Air Force RC-135 plane was flying a routine route in international airspace on Friday when it was intercepted by the Russian SU-27 fighter, the Pentagon said.
The Russian fighter came within about 30 metres of the American plane as it performed the dangerous, high-speed manoeuvre, CNN reported, citing two US defence officials in the Baltic Sea region.
"This unsafe and unprofessional air intercept has the potential to cause serious harm and injury to all aircrews involved," Pentagon spokesman Commander Bill Urban said in a statement.
d"More importantly, the unsafe and unprofessional actions of a single pilot have the potential to unnecessarily escalate tensions between countries," he said.
The incident comes amid increasingly aggressive Russian military behaviour toward Western countries. Russian jets buzzed a US warship in the Baltic Sea earlier this month.
http://www.dailytelegraph.com.au/news/breaking-news/russian-jet-in-barrel-roll-over-us-plane/news-story/d999d718b90893e2a2cbb86332035410