10/30/2016: USS Zumwalt is a unique ship with many powerful technologies.
The US Navy's Pacific Commander focuses on the Zumwalt.
FT. MEADE, MD, UNITED STATES
10/20/2016
All Hands Update
According to a story in Futurism, the DDG 1000 is the largest ever destroyer and is capable of firing rail guns in the future.
The U.S. Navy's largest destroyer ever built, the USS Zumwalt, carried out trial operations last year — and now the high-tech warship has officially entered the fleet. The ship is the most advanced in its class, and the name of its captain, James A. Kirk, makes the futuristic cruiser sound like something out of "Star Trek."
"Today's ceremony marked the culmination of over three years of dedication and hard work by some of the finest sailors I have had the pleasure to lead," said Kirk, according to the U.S. Navy.
It took almost five years and over $3.5 billion to build the USS Zumwalt. The destroyer sports an all-electric propulsion system, a stealthy "tumblehome" design, a vertical missile launcher, and an advanced computerized system.
And it packs 78 MW of power — nearly as much electricity as a nuclear-powered aircraft carrier — thanks to two 45.4-MW Rolls-Royce MT30 gas turbines driving Curtiss-Wright electric generators and two 3.8-MW Rolls-Royce RR4500 turbine generators.
That's enough energy to run the ship and power a small town at the same time, according to the U.S. Navy. This massive front of electricity could also fire the Navy's next-gen beam weapons and railguns. We could one day see Zumwalt-class warships equipped with kinetically-charged railguns capable of launching projectiles as far as 201 km (125 miles) at Mach 6 speeds.
The destroyer's large size can also support its missile launcher and aircraft simultaneously.
"The Zumwalt-class is much larger than today's destroyers with a considerably larger flight deck – enough space to operate host Joint Strike Fighters, MV-22 Ospreys, and unmanned systems and a Vertical Launch System second to none," said Secretary of the Navy Ray Mabus, according to the U.S. Navy.
The USS Zumwalt will make its way to San Diego, where it will install its combat systems and receive final testing before engaging in fleet operations.
In our recent interview with Rear Admiral Manzir, Deputy Chief of Naval Operations for Warfare Systems, we discussed directed energy weapons which the USS Zumwalt will undoubtedly be a key asset in the evolution of this capability. 
Question: Recently, you made a speech on directed energy and discussed the way ahead for the US Navy in this very promising area.
What is your perspective?
Rear Admiral Manazir: Any vehicle which can be a source of space, weight, power and cooling, with enough capability to generate and hold the power needed to employ directed energy weapons can be a useful platform for directed energy in the future fight.
More generally, directed energy weapons are part of our overall transformation in the weapons enterprise. Directed energy weapons are fifth generation weapons. Directed energy weapons, coupled with other new types of weapons, are critical to empowering a distributed force.
We need directed energy weapons as adjuncts to our current kinetic weapon systems in order to turn the cost curve our way. For example, we shoot down cruise missiles that cost a couple hundred thousand dollars with $3 million defensive missiles. 
Our weapons are very effective, but we shoot a $3 million round every time we use them.
We are working to build synergy among electronic attack, directed energy and kinetic weapons to shape an interactive and integrated capability for the distributed force.
We are moving towards funding a directed energy plan which would enable us to move towards implementing interim directed energy laser capability between now and 2020.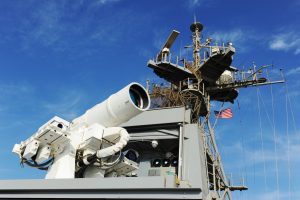 There's a 30-kilowatt laser on USS PONCE right now.
It's in the Arabian Gulf and it works.
It works very well.
As you know, lasers can be used for communications. They can be used for ISR.
They can obviously be used for non-kinetic effects.
In order to have the higher-end kinetic effect, you have to have the space for the weight of the laser itself, the power for it, and then the cooling-wherever the source.
Obviously, with a ship in the water, you have an unlimited source of cooling water.
Then, in order to have a very, very deep magazine for a laser shot, you either have to have a constant source of fairly high electrical power, or you have to have a very large battery.
We are not waiting until we have what many see as the ultimate goal, a one megawatt laser weapon; we would like to build capability incrementally.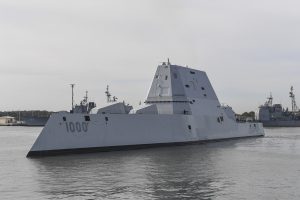 Over time we will be able to field higher and higher power laser weapons.
It is about putting it into the fleet and evolving the capability; it is not about waiting until we have the optimal weapon.
We need not just the weapon, but the training and the tactics shaped by the fleet to provide inputs to how best to integrate the capability into the force.
Question: If we return to the non-platform centric point, this applies to directed energy weapons as well. As you add the tool you adjust the entire fleet to evolving operational capabilities.
How do you view directed energy weapons in this sense?
Rear Admiral Manazir: Directed energy weapons are only a part of this new way of thinking.
The key is continually evolving combinations of capabilities that enhance the defensive and offensive power of the platforms that you put into the kill web.
A key question for the USS Zumwalt: What will be its key role in the evolving kill web?