Northrop Grumman is in the final stages of acquiring ATK, the space company.
But not widely noticed is the key role which ATK plays in composites manufacturing, which is a key part of building 21st century aircraft.
ATK plays a key role in the F-35 program from this point of view.
In article by Jennifer Weaver and published on February 21, 2018, the ATK role in composites within the F-35 program was highlighted.
A celebration took place Tuesday upon the completion of the 5,000th F-35 composite part with a gathering at the Orbital ATK manufacturing facility in Clearfield, Utah.
Orbital ATK manufactures the parts for the F-35 at its 403,000-square-foot Freeport Composite Center. The 5,000 composite parts equate to approximately 430 ship sets that support the United States and international forces, a news release stated.Orbital ATK's Aerospace Structures Division facility currently produces almost 90 percent of the upper and lower wing skins, engine nacelles, access covers and fixed skins for the F-35 Lightning II — an all-weather stealth multirole combat aircraft.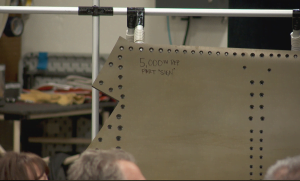 Janicki Industries machines the parts to engineering requirements. The parts are delivered to support the prime contractor, Lockheed Martin, as well as its international suppliers, the news release said,
"This milestone not only reflects our long-term partnership with Lockheed Martin on the F-35 program, it also showcases the growth of composite manufacturing in Utah as Orbital ATK has added over 500 jobs in the past two years and expects to add many more jobs over the next 20 years," said Steve Earl, vice president and general manager of Orbital ATK's Aerospace Structures Division, in a press release. "With the hands-on training and stable future we offer, these positions provide an opportunity to develop high-tech skills to build a long-term career that provides a sustainable living in the aerospace industry."
Orbital ATK was awarded a contract in 2017 to also produce bullnose and blade seals for the F-35.
Clearly, as Northrop develops and then manufactures the new B-21 bomber, manufacturing innovation is a crucial part of the program.
Through both its experience at is highly robotized plant at Palmdale CA where the F-35 central fuselage is built by Northrop Gruman and in the ATK maturity in developing and manufacturing composite materials, Northrop is well positioned to build the new bomber.
Indeed, Northrop was recognized for its assembly line in a 2013 Assembly Plant of the Year award.
According to an article written October 1, 2013 by Austin Weber, the nature of the assembly line and its innovation was highlighted.
For decades, automotive engineers have looked to the aerospace industry for new ideas. Back in the 1930s and 1950s, Detroit was inspired by the sleek designs of innovative airplanes such as the Northrop Alpha and the Grumman F4F Wildcat.
But, the tables turned recently when engineers from Northrop Grumman Corp. paid a visit to several automakers and their automation suppliers. They were looking for fresh insight on ways to streamline military airframe production.
The result is a new assembly line in southern California that may change the way future generations of aerospace engineers approach production, just like Ford's Highland Park plant revolutionized the auto industry a century ago.
Indeed, the Integrated Assembly Line (IAL) represents a significant shift in the way that airframes are assembled. It has enabled Northrop Grumman to achieve a 450 percent increase in throughput.
The IAL is housed in Plant 42, a government-owned facility in Palmdale, CA, operated by Northrop Grumman Aerospace Systems. It's a world-class operation that provides assembly, integration, testing and long-term maintenance capabilities for some of the world's most advanced aircraft. The secretive site in the Antelope Valley of the Mojave Desert is strategically located just a few miles south of Edwards Air Force Base.
The two-year-old IAL produces the center fuselage of the F-35 Lightning II, which will become the backbone of the U.S. military for the next three decades. Once production fully ramps up in a few years, assembly time for the new supersonic stealth aircraft will be less than half that of current-generation fighters. The IAL will play a key role in meeting that target.
"The IAL maximizes robotics and automation, providing additional capacity and assembly capability, while meeting engineering tolerances that are not easily achieved using manual methods," says Brian Chappel, vice president of the F-35 program at Northrop Grumman. "It is central in producing the F-35's center fuselage, as well as increasing the program's affordability, quality and efficiency.
"The IAL design uses a system-engineering approach to integrate tooling and structure transport, system automation, automated drilling cells, and tooling mechanization coordinated across multiple build centers," explains Chappel.
Northrop Grumman's Palmdale facility is the recipient of the 2013 Assembly Plant of the Yearaward sponsored by ASSEMBLY Magazine. The innovative plant was chosen for the 10th annual award because of its ground-breaking approach to airframe assembly.
"Having traveled and visited almost every airframe manufacturing plant worldwide, including China, India and Russia, I believe they set the standard for automation and the application of advanced digital manufacturing on a modern airframe assembly line, commercial or military," says George "Nick" Bullen, an aerospace consultant who recently retired from Northrop Grumman as principal engineer and technical fellow.
"Their design, development and application of automated drill and countersink machines, automated coating application systems, and moving assembly lines have resulted in significant cost reductions, quality improvements and safety enhancements," adds Bullen.
According to Bullen, no major aerospace company has ever contracted to design and build an entire integrated assembly line. "Typically, large aerospace manufacturers are their own integrators, bidding specific parts of the assembly line from different suppliers and then integrating them," he explains. "The IAL is a significant step for the industry."
With the incorporation of ATK within Northrop Grumman, the company sees an opportunity to enhance its capability to develop and manufacture 21st century combat platforms.
This opportunity has been underscored by Northop's recent announced decision to form a new business sedtor focused on new innovative technology.
In an article published on January 29, 2018 and written by Valerie Insinna, this decision was the focus of attention.
As we prepare for integration, we are making good progress in our plans to combine our two outstanding companies after close," said Kathy Warden, Northrop president and chief operating officer, adding that she continues to expect the transaction to close in the first half of 2018.
"We believe that after the transaction has completed, our collective set of market-leading technologies and products, along with very compatible, innovation-focused cultures, will enable us to better serve our customers' current and emerging needs."
The companies plan to launch Northrop Grumman Innovation Systems later this year in the hopes of further driving the creation of new, cutting-edge technologies. That new sector will join Northrop's aerospace systems, mission systems and technology services businesses.
Blake Larson, Orbital ATK's chief operating officer, will lead Innovation Systems, Warden said. Meanwhile, Scott Lehr, Mike Kahn and Frank Culbertson — Orbital's presidents for its flight, defense and space systems businesses, respectively — will retain their current roles.