By D.K. Matai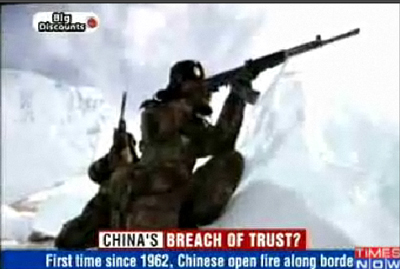 In the latest sign of rising tensions between the two rival Asian powers, the Indian government has informed the world that computers in the Prime Minister's Office were hacked on December 15th. Trojan malware was routed through the United States and Russia and ultimately traced to an IP address in China.
At the same time, synchronized cyber attacks targeted U.S. defense contractors and finance and technology companies, including Google. The malware also briefly penetrated some computers in the Indian National Security Council Secretariat in the Home Ministry before it was detected and dismembered. Beijing has denied involvement in the attacks.
These cyber attacks from China, among other pressing defense matters, are helping to push New Delhi closer to Washington, with the U.S. Secretary of Defense, Robert Gates, having recently conducted an official two-day visit to India. India's economy, with a large and growing technology industry, is vulnerable to cyber-attacks. Considering the timing of the attacks, some key officials in India have suggested that the hackers probably sought to discover India's position ahead of the UN climate change summit in Copenhagen.
Indian Perspective
India's National Security Adviser MK Narayanan confirmed the cyber attack. The NSA plays a critical role in India's Nuclear Command Authority (NCA). He said that:
The attack came in the form of an email with a PDF attachment containing a Trojan virus, which allows a hacker to access and to control a computer remotely and download or delete files; our people seem to be fairly sure it was the Chinese. It is difficult to find the exact source but this main suspicion seems well founded; and India is co-operating with the U.S. and UK to bolster its cyber defenses.
India is particularly anxious to prevent any type of attack from disrupting the Commonwealth Games in New Delhi in October.
This is not the first time Chinese hackers have tried to attack Indian government computers. According to the mi2g Intelligence Unit, Chinese hackers were earlier detected attempting to break into Indian government computers and the computers of the Ministry of External Affairs personnel worldwide.
Many Indian government officials believe that the Chinese hackers are operating as part of a military operation designed to find foreign technology and hunt for Chinese dissidents.
U.S. Perspective
Secretary Gates arrived in India for a two-day visit shortly after the attack. He pushed for expanded co-operation with New Delhi on cyber-security, military technology, and other strategic areas. Gates has already met with top Indian leaders, including Prime Minister Manmohan Singh and India's Foreign Minister, SM Krishna. The trip follows a visit by Singh to Washington in November, the first formal state visit hosted by President Obama.
Both U.S. and Indian officials believe that China is at best an internet mischief-maker, and at worst a potential cyber-adversary. U.S. officials hope that stronger ties with India on internet security issues will benefit the networks of both countries.
A senior official at the U.S. Department of Defense said that the two countries were building a strong relationship on cyber security. Specifically, he said that the U.S. desired to:
– enhance and strengthen technology sharing with India;
– share more information and intelligence with India; and
– develop co-operative programs in maritime, cyberspace, and outer space.
Chinese Perspective
China has officially stated that Chinese law prohibits hacking in any form. A spokesman for the Chinese Foreign Ministry, Ma Zhaoxu, has rejected India's accusations, describing them as groundless. He pointed out that China itself was the biggest victim of hacking activities and the Chinese government is firmly against it. China will deal with relevant cases in accordance with the law.
Geo-Political Consequences
The latest cyber incident is likely to place further strain on China-India relations. The Chinese won the brief war with India over the Himalayan border in 1962. Relations between the two powers had improved significantly over the past decade but took a sudden turn for the worse in 2009 when the border feud reignited. The worsening relations has prompted India to deploy two more army divisions and fighter jets to its eastern border with China.
Underpinning the tensions are India's concerns about China's expanding influence among its neighbors, including Pakistan, Burma, Sri Lanka, and Afghanistan. Furthermore, China has begun to challenge India's naval power in the Indian Ocean.
From China's point of view, Beijing feels threatened by New Delhi's warming relations with Washington. This concern was heightened when the U.S. lifted its ban on the sale of nuclear material and technology to India in 2008. In the coming years, the U.S. is poised to sell billions of dollars worth of defense equipment to India.
———-
***Posted February 20th, 2010