In this final part of the interview, we discussed with General Dubik the way forward in Iraq.  We discussed first the continuing process of transition 2009-2010 and then the question post-2010 of building a longer-term relationship with Iraq as well as the challenges of working with the Iraqis to provide for the territorial defense of Iraq in a dangerous region of the world.
SLD: One of the things I puzzle about is the stockpile of kit that we have in Iraq now. How do we reach judgments about what the Iraqis need for legitimate defense? And how do we help provide equipment either from the stockpile or through some other mechanism?
Lieutenant General Dubik: Well, I'll respond in terms of the process. I'll use our Humvees as an example. In October 2007, General Odinero and I came to the belief that there were a good number of Up-Armored Humvees – the older models – that were going to end up costing more to ship home, refurbish, and then reissue to the force, than it would to just simply refurbish them to sufficient level in Iraq and give them to the Iraqi security forces.
So we negotiated a sufficient price with the Department of the Army and the Department of Defense, and we used the Iraqi Security Force Fund to finance that. It was the fastest way to do that.  We started turning around Humvees for the Iraqis by, I think, March of 2008, to the tune of several hundred a month.
SLD: And so it came out of the Iraqi security funds that you were talking about?
General Dubik: Yeah, and that was an absolute essential move, because these Humvees increased the capability and confidence of the Iraqi Security Force, almost more than any other piece of equipment.  M-16s were the other one that we did, but M-16s were jointly funded, part by the Iraqi Security Force Fund and part by the Iraqi money.
With respect to the Humvees, the Iraqi part was paying for all the spare parts, and they paid for all the maintenance. This is another example of cost sharing that we used to accelerate the growth and capability of the Iraqi Security Forces.
So I expect, to get back to your question, that there will be other pieces of equipment that we draw down like that, where if you do the cost analysis, it's going to cost a heck of a lot more to bring it all the way back, refurbish, and reissue, than it would be to sell it to the Iraqis.  And there will probably be an agreement as to who pays for what and how much.
SLD: As we think beyond internal security, to national defense, what kind of arms equipment policy should we pursue?
General Dubik: That should be transparent to our allies and partners in the region, it shouldn't be anything that is in anyway hidden, and it should be treated as a natural movement – from a military focused on internal defense and counter-insurgency to a military appropriate for self-defense.  For example, they're now starting to purchase M-1's and they may purchase other ground equipment. We want them to purchase airplanes from us, I think anyway.  They're now approaching a point when that should start to happen.
In January 2008, the Iraqi Minister of Defense came to the United States with a plan, a phased plan, to move his forces from internally focused to self-defense focused. And that phased plan included equipping – changing of the equipment of his force. The plan was very well thought out. The Minister's plan had phases in 3 or 4 units year hunks, so that each country – the U.S. and Iraq – in the right interval could come to an agreement whether they wanted to continue to move down those phases or not, whereby at the end of the phases, the Iraqi defense forces were outfitted with mostly American equipment.  During these phases, the Iraqis would also accomplish whatever sizing and reorganizational changes they had to make.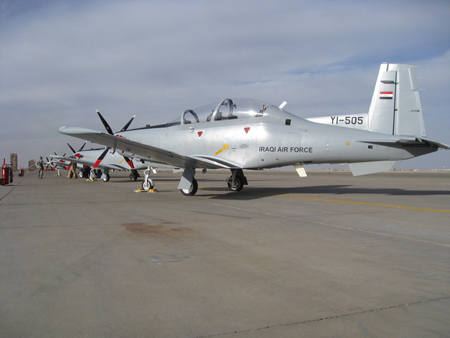 General Dubik: "Aircraft – fixed-wing and rotary-wing – ground vehicles,
weaponry like artillery, and naval shipping, all are going to be necessary
to make the shift from internal defense to self-defense."
(Photo: Iraqi Air Force College to Train With T-6A's,
Bagdad, U.S. Air Forces Central Public Affairs, March 8th, 2010)
Aircraft – fixed-wing and rotary-wing – ground vehicles, weaponry like artillery,  and naval shipping, all are going to be necessary to make the shift from internal defense to self-defense. From the Iraqi standpoint, they're predisposed to outfit their forces with U.S. equipment because they recognize it's the best in the world. On the other side of the coin, U.S. equipment is the best in the world, but it's also the most expensive in the world and the equipment that requires a certain degree of capability to maintain and train on it.  But they understand that, and will demand the proper training – for maintenance and operation – with all the equipment they buy.
The difficulty with executing that plan though is the payment scheme required for that project. Iraq has not been given Dependable Undertaking Status (DUS), which is a category of FMS purchase that allows a country to pay as equipment is delivered, not pay 100% up front.
Currently, the way FMS program works in Iraq is that if they want to buy 100 tanks they have to pay 100% up front. It's moved into the New York bank and then as that equipment is delivered, the bank releases the money to the American company. This is not a good position as far as Iraq is concerned, and in fact such a position is an obstacle for them to buy U.S. equipment.
SLD: Isen't it an inefficacious tool to allow the next phase of the transition?
General Dubik: Right, and it causes Iraq to look to other equipment providers, at least it's one of the reasons they look elsewhere.  It's not the only reason, though.  Certainly Iraq does not want to rely on one nation for all its equipment, no nation would want to do that. And they're looking for the best possible purchase power and value for their money. Every nation should do that. But not having the DUS status is an inhibitor.
SLD: How would you describe the situation now as we face the 2010 transition and the need to shape a post-2010 defense strategy? What do you expect to happen post 2010, what's your sense of a 2011 Iraqi agenda? And then we'll turn to the question of the next 5 years?  What are the building blocks to get to a longer term working relationship and what's possible?
General Dubik: I'm going to begin like I do with every issue: by asking what is the starting point.
Where are we located in history? That point for me in Iraq is that the war is not over. If you think the war is over then you're already in the wrong intellectual space and you're going to make the wrong decisions.
The war is not over; luckily we're in a much better phase now then we were 2007-2008.  The phase of the war we're in now is to consolidate and expand gains and prevent resurgence of violence and the insurgent's ability  to re-shape the situation.   The task in this phase of the war is primarily focused on governance and economics, and less on actual fighting by the security forces.  There will be fighting, but the main task with respect to the security forces will shift to professionalization of both the military and police as well as within the ministerial workforces of defense and interior.
On the governmental side, this is a sovereign nation that is proud of how much it has achieved in a very short time, but it still is an emerging sovereign nation, and the presence of a strong and active U.S. embassy and other embassies from our allies and regions is important to continue the learning of Iraqi governmental leaders.
And I don't mean just within the Prime Minister's office; I mean the set of parliaments and ministers and every one else. Many leaders have spent their entire adult life either under Saddam or as exiles, so as well intentioned and as proficient and desirous to move Iraq forward as they are, they need help in understanding and using the kinds of governmental levers that exist in a democracy. So, I think, we want to continue to engage and expand the legitimacy of the government.
Second, we should be very aggressive in helping Iraq structure the right environment for developing of a private economy. How many years have they had a command economy?  This is something that I think there's a lot of developmental opportunity here.
If we can do that, those 2 things, governance and economy, then insurgency will peter out because the government will be (A) legitimate and (B) people will see that their future is better assured under the government and under the economy that the government has laid out, than under any kind of future that an insurgent can lay out for them.
That's how insurgencies end, they don't end with a signing ceremony or everybody goes home, they just peter out in time.
On the security side the task is to continue to professionalize the force. This is not going to happen by 2010, this is a 2011 and beyond task.   Ultimately they're going to want to separate the military from the police.  They are going to want to do this in terms of military involvement in internal security affairs of the nation.  Part of "normalcy" will be to focus the military on sovereign self-defense.
We'll want to be involved with that because there will be restructuring of the military from the size that it is to a smaller size, from it's equipment that is really primarily focused on dealing with insurgency to equipment that's focused on external defense – from a population protection mode to a self defense mode.  That's a lot of retraining and reorganizing.  We'll also want to be involved – and from my discussions with them, they want us to be involved – in the professional training and education of this set of leaders of certain NCOs. So schools, exchanges, that kind of stuff, will be central.
That's the professionalization on the military side.
On the police side, they're really transforming from a confession-based system to an evidence-based system. This has huge implications for forensics and investigatory development, for literacy development, for rule of law and judicial development.
This is nothing short of a cultural transformation in the police of that country and is a multi-year project; we'll want to be involved with that. Minister Bolani has been very aggressive already in starting these changes.  But he understands more is required and is dedicated to delivering what is needed.
SLD: How do you view the long-term challenges and obligations?
General Dubik: From my standpoint, we want to be involved with that because of the geostrategic location of Iraq.  This is Mesopotamia. This is the conjunction of Iran and Persia on one side and the Arabs on the other, with an important NATO ally to the North.  This area has been historically an important area; it will continue to be important. It has the third and possibly the second largest oil reserve in the world and oil companies are now starting to invest in that production: it is already at 2.2 million barrels a day, and it is going to go easily above that if the investments pan out over the next 5 or 6 years.
So it has strategic importance for the U.S. and the allies for that reason. It has a major port that's in the Persian Gulf and a very important waterway, so it's astride Iran. So there are just a lot of reasons why this is a strategically important country.
We have spent thousands of American lives and countless Iraqi lives helping Iraq get to this point. I think we want to have a long-term friendship with them. The potential, my view anyway, for Iraq to participate in other kinds of operations outside of Iraq ultimately is also very high. The potential to demonstrate that you can have a legitimate, representative government that is tied to its Islamic roots is a very important ideological demonstration in the larger war against al-Qaeda and their affiliates.
So there are geostrategic, ideological, and moral reasons to be there and I think the long-term strategist is going to want to look for ways to stay connected to Iraq.
SLD: Let me ask you just one final question:  Iraq is located in a tough region in the world.  What is expected of the United States with regard to the defense of Iraq?
General Dubik: This is not something that falls just on us, but there is a conjunction of nations who are in a position de facto for some period of time to continue to provide strategic assurance to the Iraq that we helped emerge.  While they build the rest of their security apparatus that is associated with a normal sovereign state, there is a need to provide for defense.
It is the case that parts of a force can be built faster than other parts. If you build an air force in today's world, you build an air force that has pretty high technical capability.  This capability is required in several areas: in its pilots and its maintenance group, its command control structure, with English as it's primary language and integration across complicated systems. That takes a long time to develop.
Can you get some pilots in an airplane that moves fast? Yes, very quickly. But will they do anything? No. So if you're building an air defense capability for that nation that takes a long time.
Back to General Powell's comment about "you break it you own it."  We have some obligation to the re-emerging Iraq. In my opinion, the U.S. will want to shape common agreements with Iraq to our mutual self-interest.  This might well entail providing assurance of air security, for example, as a part of the post-2010 national agreement.  There may be other specific security issues that it would be to our mutual self-interest to stay involved with.  And there are the longer-term developmental issues that we talked about earlier – these are all real possibilities that may be included in a post-2010 U.S.-Iraq agreement.
———-
***Posted March 15th, 2010