Designing New Platforms for Enhanced Maintainability: The A400M Case
An Interview with Richard Thompson
At the Farnborough Air Show last July (2010), Second Line of Defense sat down with Richard Thompson, Senior Vice President for Customer Services from Military Airbus to discuss how the design and development process enables greater maintainability and reliability for the A400M. A key impact of building and buying new systems for the US and allied militaries is rooted in the increased prominence which maintenance considerations receive in the design and build process for the new products.  In addition, Thompson highlights the impact of the Airbus commercial heritage for the design and development process as well.

A400M Flying at the Farnbourough Air Show with Full Load of Test Equipment Onboard
(Credit photo: SLD, July 2010)
SLD: one of the things that a lot of folks don't recognize is that when we design things today, we're trying to design products with an eye to sustainably more than we historically did.  Could you describe how this has worked with regard to the A400M?
Richard Thompson: With every new generation of aircraft, one of the key drivers is to reduce the maintenance burden.  The cost associated with maintenance and the downtime that the platform will suffer throughout its life in terms of periods dedicated to scheduled or for that matter unscheduled maintenance are important considerations when developing a new aircraft.
The concept of integrating logistic support essentially means that when you start to design the aircraft to meet an operational requirement, you have sitting alongside the designer's maintainability engineers who are also contributing to that design.  They are contributing with a view to ensure that you can have easy access to that particular part of the plane that you can remove the component or check the component easily, replace it with another one easily, and that you can have access to certain parts of the plane that need to have access to.
A product like A400M not only benefits from that approach, but also benefits from the fact that it's based on an architecture of an advanced commercial aircraft.  The A400M is largely derived from the A380 in terms of avionics and systems architecture which supports the objective to  enter service with higher levels of maturity, and therefore, reliability compared to past military airlift programs.
That is the objective and that what's we're contractually obliged to demonstrate.  As part of the flight test program, we have a maintainability demonstration milestone required as part of the contract. We're required to demonstrate maintainability metrics of a certain standard as part of the contract.
SLD: Could you elaborate on the impact of the A380 architecture on the A400M?
Richard Thompson: If you go into an A380 and you go then into an A400 you will notice that the two cockpits are very similar, to take one very visible example. And that is because when we started to design the A400M cockpit, and the man/machine interface, we started with an A380 cockpit.  And that represented at the time, the state-of-the-art of Airbus cockpit man/machine interface development, and that was a point of departure for the A400M.
For a period of about two years, we formed several working groups to address the development of the aircraft. We had four working groups that we constituted jointly with our customers.  We sat down with representatives of our European customer air forces in those four working groups; one of the working groups was what we call the cockpit working group.  The other one was the cargo-handling working group.  The third was the defensive aides system working group.  And the fourth one was the ILS working group, the supportability working group.
And we sat down with our experts and experts from the nation's flying the aircraft, over a period of about two years, we designed or defined, rather, jointly what the customer really wanted in terms of those systems.  With regard to the cockpit working group, for example, we started with the A380 civil cockpit and jointly define exactly how the customer wanted us to migrate that baseline and take it to the military configuration that we have today onboard the aircraft.
An obvious example of changes associated with a military migration would be the need for night vision goggle compatibility.  Other examples would be the management of radios, data links, navigation, particularly accommodating low-level and tactical flight requirements.  Yet even with all the deltas that you'll find in the A400M cockpit compared to an A380, the basic architecture is an A380 architecture.
And therefore, you're also migrating the reliability criteria that maintainability criteria associated with a commercial civil program. We're required to obtain very high levels of dispatch reliability, and mission success.  And we are contracted to provide, not the same, but very similar degrees of reliability.  And those are the metrics that we have to demonstrate as part of this milestone.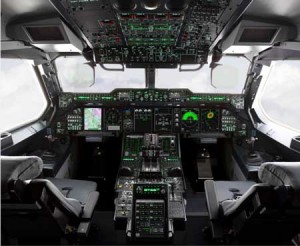 SLD:  The key point is that because Airbus has designed the aircraft in close consultation with the customer, you are able to migrate the Airbus commercial experience in a number of areas to the A400M. Presumably, leveraging the commercial design team is also useful in shaping a more realistic agenda on the military side with what is possible from a design point of view?
Richard Thompson: That's an interesting point, because in fact, there is a self correcting process at work here, almost like a safety valve, because of the natural constraint imposed upon the design teams of having to work with an Airbus process, which as you know, is rooted in over 30 years of design philosophy for the commercial market.  The A400M has been developed by leveraging the technology from a strong product family concept.
SLD:    Like the cockpit.
Richard Thompson: It is a design pedigree developed over years.  It's very difficult for somebody to come along and to say to these guys, these engineers, I want you to design something completely off-the-wall for me, something that's never been tried before, because they won't know where to begin.
And some people might turn around and say well, that's a disadvantage, surely.  But I think you picked up on the point that it is in fact an advantage, because you have guys with a lot of experience in the civil/commercial world being put together with people in the military world saying, "This is what I would like this to do." And the civil guy coming back and saying, "That's great, but you realize that if you go down that road, it's going to cost a lot more and be too risky.  We recommend that you stick with this instead, that we develop this further, but that we stick to the basic concept and architecture, which is proven, tested, reliable, works, and which will achieve certification a lot easier and will anyway deliver 95% or more of what you want."
SLD:    That's a good point.
Richard Thompson: And remember that we are going, first of all, through a civil certification path, which we will get to, which is reliable, it is known; it is trustworthy and is backed by an internationally recognized legal framework. We will deliver that path, which is known to our engineers, it's known to our flight-test people, and which will guarantee us that we will reach a "safe for flight point" a lot quicker than if we went down some different purely military certification road, where there's no legally binding consensus, there's no single authority, there's no single body.  It's much more difficult to get everybody to agree on a common set of criteria.
What constitutes safe for flight?  If you go down the civil certification route, you can establish what is "safe for flight" a lot quicker, with a far greater degree of certainty and confidence.  Having done that, then you can work on the military delta, with what we call the CQC, which is the certification and qualification committee, which is constituted by an international agreement and includes members from each of the different countries' military certification authorities.
They will then take what the European Aviation Safety Agency (EASA) does in terms of civil certification, and they will add the military delta. We will demonstrate specific military functions in the technical spec of the contract, which are not covered by EASA.
SLD: What is the challenge of juggling civil certification and shaping military specific requirements as well?
Richard Thompson: In practice, the two processes will be done in parallel. Civil certification, of course, has its disadvantages as well. There are some systems onboard the aircraft which are purely military specific.  One of them, for example, is something called the military mission management computer.
This is a computer that integrates all other systems on board the airplane; it's the gateway between what we call the 'civil' systems and the purely military ones.  It's the thing that talks to both and on which you plan and manage your mission.
That is something which is specific for the A400M, and it's something which has been designed by people who have always designed mission computers for military aircraft.  It's a military piece of kit.  Now, they're having to design a military piece of kit that will have to be civil certified.
These people initially found it quite hard coming from a military background to design a computer that could be civil certified – it's basically what you are and are not used to.  So, it's got its advantages, but I think it's got more advantages than disadvantages, and it provides a very well trodden path to achieving certification of the product quicker overall than would otherwise be possible.
Now that in itself adds or will add to the in-service reliability of the product, and will also mean that costs will be kept down.
———-
***Posted on September 13th, 2010