Light Attack Aircraft Can Alter the Course of a War
By Ed Timperlake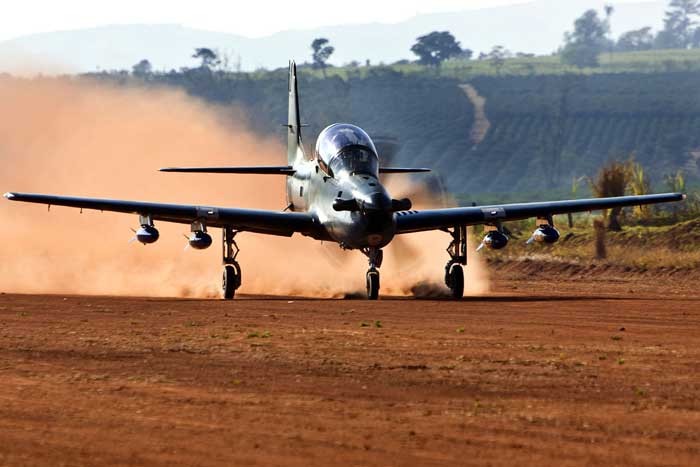 September 24th, 2010 – The world has taken notice of an important and successful military attack in a nasty war raging in Colombia, South America. The event has a lesson for the American Military especially in Afghanistan.
Recently, Colombia has killed a key FARC leader with a strike task force. As reported by AFP on September 24th, 2010:
The military said that 72 warplanes, including 30 helicopters, low-flying Super Tucano attack planes and Israeli-built Kfir jets, were involved in the attack, dubbed "Operation Sodom." Also killed were three senior rebel leaders, including a member of the FARC directorate, a regional military commander, and the head of the group's urban militias, according to the military.
Second Line of Defense is fortunate to have recently interviewed Colonel William Buckey USMCR (ret), now Vice-President of North America for Embraer, the maker of the Super Tucano, as well as the Embraer Brazilian leadership team. These interviews will appear soon on SLD. Willam Buckey's interview is important because his last assignment before retiring was serving as the senior Marine Aviator building out Kandahar for the President's surging of troops into combat. He and his NATO Team were nominated for the prestigious Collier Trophy for their efforts, and the airfield at Kandahar is now the largest and busiest single runway operation in the world. Colonel Buckey has provided his insights into the combat need for a light attack aircraft and recent events in South America have just shown that the combat effectiveness of such an approach can alter events for winning in a very dramatic way.
As the French news report about a successful operation to schwack some very bad individuals, it shows the Super Tucano has yet again demonstrated its world class reputation as an extremely capable combat tested light attack aircraft. In the U.S. Military, three very capable American combat Generals know of the Super Tucano: General Mattis, General McCrystal, and General Petraeus. All have to be "platform agnostic" in support of the concept of operations in a program called Imminent Fury II. All three men are warriors who want fielded capability to help win in Afghanistan. Unfortunately, Congress delayed or permanently ended IF II and that is not good.
General Mattis then Commanding Joint Forces Command (JFCOM) testified about a special forces effort called operation Imminent Fury II. The Department of Defense supported the effort and sent a request to Congress to act. The entire action from testinomy to request took just a month, which is relative light speed. But nothing occured. Then a letter was made public in the Washington Times by Bill Gertz that showed General McCrystal solidly behind the rapid fielding of Imminent Fury II. General Petraeus in the chain-of-command as then CG Central Command forwarded the letter to the Chairman. But nothing happened.
It turns out that, unlike the recent combat success in Colombia, Imminent Fury II was stopped by Congressional Action. An immediate request for a combat program was not approved by Congress because IF II was going to use the Super Tucano. The ST is in direct competition with the attempt by the Hawker Beech to convert their T-6 Texan trainer into a combat aircraft–the AT-6. The T-6 Texan trainer (the basis for the proposed AT-6) is manufactured in Kansas by Hawker Beach a Canadian-owned firm currently in dire financial straits. There have been reports that, in order to stave off disaster, management has been considering moving some production lines to Mexico.
It now appears, looking at the Congressional reporting, that stoping IF II was part of a bigger effort to give time, so a combat version of the T-6 could be developed and tested. Unfortunately the Afghan War goes on and time is short. Congress has earmarked millions to try and get the T-6 Texan, a US Air Force trainer aircraft, up to combat standards ahead of a pending fly-off competition for equipping the emerging Afghan National Army Air Corps. This fly off will be a competitive test of ready-to-fly, non-developmental tactical light attack planes that are currently available. The "AT-6B" version of the trainer is not yet ready. The non-combat certified AT-6B's competitor is Brazil's Embraer A-29 Super Tucano, the FARC killer that has been operational for several years. including several combat missions schwacking FARC guerillas in the dead of night.
Colonel Buckey and Embraer have a good story to tell to appear soon on our website.