07/20/2011 – The second of many F-35s (they are several on the line in Fort Worth getting ready to go with 10, 11, 12, 13 likely to be delivered this month) arrived today at Eglin AFB. Maj. Joseph T. "OD" Bachmann (Marine Corps) piloted the aircraft, known as AF-8, to Eglin Air Force Base where it arrived at 11:50 a.m. CDT.
A Marine flying the F-35 A is a joint point.  According to Col. Tomassetti, the vice commander of the 33rd Fighter Wing:  "This is a joint training facility and this flight underscores the point."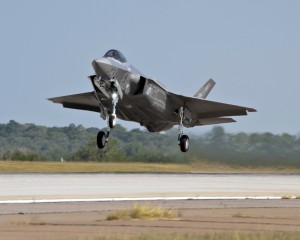 Tomassetti added:
I think it highlights our plan and desire to use the best tool and resource at our disposal to perform our mission.  Maj. Bachmann was qualified as one of our first two 33 FW F-35 pilots because of his background with the aircraft as a test pilot at Pax River.  We are leveraging his unique background and experience to safely and efficiently stand up operations of the Wing.  The 33 FW continues to take an integrated approach to finding the optimal solution from the resources we are provided.  We strive to provide an environment that honors unique Service culture, tradition, and requirements while at the same time finding ways to utilize best practices and best resources wherever possible in our integrated environment.
The jets are being used as part of the maintenance and pilot training program and the Eglin F-35 facility.
But this is a day to remember for now Col. but then Major Tomassetti.  On this date in 2001, "During his "Mission X" flight, Maj. Arthur Tomassetti (USMC) took off from Edwards AFB in the X-35B at 100 knots in STOVL mode, converted to conventional flight at about 180 knots, and accelerated to Mach 1.05 at 25,000 feet. He then returned to Edwards AFB and converted to the STOVL mode to complete a vertical landing. This marked the first time that either of the JSF demonstrators had achieved both extremes of speed during a single flight."
Our hats off to Turbo.