12/24/2011 by Ed Timperlake
Aerospace Daily has just reported breaking news that the GAO dismissed a bid protest by Hawker Beechcraft on their submission of the AT-6 for the light air support aircraft program–known as the LAS acquisition.  This GAO finding  is a  tribute to the USAF LAS Acquisition Team —a Navy term "Bravo Zulu" to the Air Force  for "Job well done" is called for.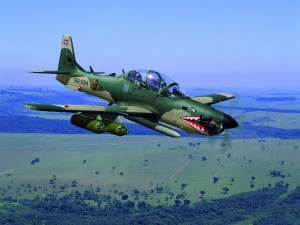 After the Tanker debacle  and the Administration's misguided political fight over the F-22, which was a significantly bad political decision against the USAF,  it is good to see an Acquisition process left alone politically and allowed to make decisions on the merits. The LAS acquisition process will be a case study in integrity at work, AND also enough of ugly and ignorant Brazil bashing especially since the F/A-18 is currently a very worthy aircraft  in consideration for the Brazilian AF.
For the GAO decision go here
http://www.gao.gov/decisions/bidpro/406170.htm
Excerpts from Aerospace Daily Dec 26th, 2011
The GAO ruling also provides insight into the Air Force's decision-making over the light air support (LAS) competition to provide 20 light-attack/advanced-trainer aircraft to the Afghan air force — namely, that the service found the company's AT-6 proposal insufficient.
According to the ruling, the Air Force concluded that Hawker had not adequately corrected deficiencies in its proposal and that "multiple deficiencies and significant weaknesses found in [Hawker's] proposal make it technically unacceptable and results in unacceptable mission capability risk….."
The Air Force decision appeared to leave Embraer's Super Tucano as the only offering for the contract…. Even though other companies showed interest in the light-attack requirement when it first emerged, only the AT-6 and Super Tucano were evaluated by the Air Force in a flyoff conducted in January as part of the LAS competition.
Merry Christmas and Happy New Year to all our readers, from the editor of the Second Line of Defense Forum