01/04/2012 By Ed Timperlake
There is tremendous news for the American/NATO war effort in Afghanistan. With the selection of the Super Tucano, the Afghan Army Air Force can now begin to develop a combat capable air fleet for the Afghan Air Force.
Doing so is part of the process of reducing US and allied presence and having a key element for cooperation after the substantial ground forces of the US and its allies leave.  This is a core task, not a peripheral one. This is not a procurement game; this is a capability and transition building block central to the future.
"Department of Justice Attorneys Say Air Force Awarded Light Air Support Contract Last Week;
WICHITA, Kan., Dec. 30, 2011 /PRNewswire/ — Hawker Beechcraft learned during this week's initial status conference at the Court of Federal Claims that the U.S. Air Force awarded the Light Air Support (LAS) contract to the Sierra Nevada Corporation and its Brazilian manufacturer Embraer last week." (From December 30, 2011, HBC Press Release)
This added capability will give the Afghan Army and Police forces on the ground a significant battle tipping asset. The Super Tucano has already been instrumental in killing some very nasty and deadly warriors.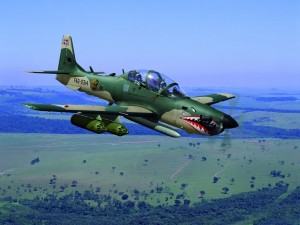 As Second Line of Defense has been informing the readers over the past few months, the Super Tucano has been a FARC killing aircraft that in all weather conditions, day or night the SuperT has been validating the tactical and strategic value of airpower in a very nasty war in Colombia.
https://sldinfo.com/light-attack-aircraft-can-alter-the-course-of-a-war/
https://sldinfo.com/guns-guns-guns/
In addition, closer to America the Dominican Republic Air Force is flying the Super T and is working with the 12th AF "Doolittle's Raiders." That team has swept their skies of aircraft being flown by drug smugglers.
https://sldinfo.com/an-unheralded-victory/
So it is time to reflect on some very good news, the Super Tucano is a proven killer and will be a welcome addition to the fight against the Taliban. .
Unfortunately, there are lingering efforts to block this needed procurement.
Notably, the integrity and professional judgment of BOTH the US Air Force and the GAO have been called into question by the Hawker Beechcraft Corporation in federal lawsuit.
On the Second Line of Defense Forum (http://www.sldforum.com) has already expressed with some dismay that the U.S. lost more than a year in starting a program that would help us in disengaging and leave behind in Afghanistan a combat force of great value-both symbolically and practically.
http://www.sldforum.com/2011/12/super-tucano-vs-at-6%e2%80%94the-never-ending-story/
Tragically, the HBC Civil Suit now has the potential to yet again slow down support to US and Allied troops in combat.
It is no longer the time to be kind to HBC, since they initiated the action, they should be prepared to face any adverse consequences as evidence for the suit is acquired by the USG in defending the AF and GAO
Hopefully, the lawsuit will be addressed quickly, forcefully and in a very direct way and dismissed with prejudice and America and NATO allies can continue to fight and win in Afghanistan with an added resource "cleared in hot" flying into the fight.
Procedurally "The Dog Ate My Homework" defense by HBC is both weak and ridiculous especially being made by an Aviation Manufacturing Firm woes corporate ethics should have a profound understanding that procedures being followed correctly are literally a matter of life or death in all things aviation..
http://definitions.uslegal.com/d/dismissed-with-prejudice/
However, if the lawsuit proceeds then "who knew what when" on design defects of the prototype AT-6 becomes a critical question.
After reading the GAO determination W.W (Bill) Boisture Chairman and CEO characterized the issues as "minor", and in their Dec 30 Press Release went so far as to publicly challenged the integrity of the process and their longstanding customer.
With this development, it now seems even clearer that the Air Force intended to award the contract to Embraer from early in this process.
If the lawsuit is allowed to go forward then all American taxpayers have the right to know ALL the facts. Was it HBC's intention from the start to try and win this source selection using PR to focus on jobs and also Brazil bash as it appears they are now trying to influence the court case in public.
The initial requirement was clear:
BACKGROUND AND REQUIREMENTS: LAS aircraft must be a non-developmental item (NDI) that is production-ready. No development or testing funds are available. " Introduction of LAS Solicitation FA8615-10-R-6088"
Might the FBI open a "Preliminary Inquiry," (PI) to determine what HBC knew about the prototype AT-6 on the day of submission?
The facts of the case on the technological performance and capabilities of the AT-6 on the day it was entered into the LAS competition can be develop with an easily understood starting point the AF and GAO analysis.
After reviewing HBDC's responses to issues raised during discussions, the Air Force concluded that HBDC had not adequately corrected deficiencies in its proposal. In this regard, the agency concluded "multiple deficiencies and significant weaknesses found in HBDC's proposal make it technically unacceptable and results in unacceptable mission capability risk.
http://www.gao.gov/decisions/bidpro/406170.htm
ALL the facts will eventually come out.  An official USG request (subpoenas) for all HBC, communications and meeting notes -electronic and paper, along with interviews with HBC principals would quickly show what HBC Management knew or thought they knew about their AT-6 prototype with "multiple deficiencies and significant weaknesses" that make "it technically unacceptable and results in unacceptable mission capability risk" prior to submission.
http://www.hawkerbeechcraft.com/about_us/
http://www.hawkerbeechcraft.com/investor_relations/board_of_directors/
Collecting evidence and producing all the facts for the American taxpayer can show "intent."
Did HBC Management with full knowledge submit a "production ready" airplane-when it was not? If so, then this is the foundation for a fraud case.
Or was it just a bad business decision?  If so then, flailing about in a public way and simply making bad business decisions is an issue for the capital markets.
Finally, taken in the context of the reported HBC emerging dire corporate earnings financial situation, it is a very strange strategy to turn their legal guns on the judgment and integrity of an honorable customer especially in a time of war.
Either way, the system worked with honor and integrity on the part of the USAF-Aim High is not just about flying it is also ethics.