SLD Coverage of Jamestown's PLA Conference (Part 1)
By Richard Weitz
The Jamestown Foundation held its Second Annual China Defense and Security Conference on February 16. In his opening remarks, Glen E. Howard, President of The Jamestown Foundation, rightly noted the importance of China defense developments for the United States and other countries as well as the value of this conference, which brings together some of the world's leading China watchers.
http://www.jamestown.org/regions/chinaasiapacific/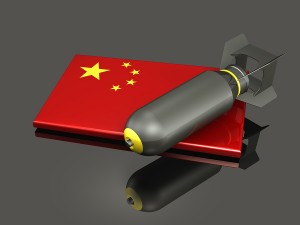 The conference began with a presentation by Admiral Timothy Keating, USN (Ret.) who is a former Commander of the U.S. Pacific Command. Keating said he has encountered two dominant themes in his dealings with Asians.
First, they do not want the United States military, or its civilians for that matter, to go away. They see the United States as their indispensable partner. They sometimes state this explicitly in public, but even more often in private sessions. They identify multiple roles with the United States—that of ally, partner, hedge, insurance policy, and trainer. Above all, they count on the United States to preserve regional stability and open access to the seas. They want the U.S. Navy to operate in  their region periodically, visit their ports, trains their forces, and respond to humanitarian disasters. Even the Chinese say they value how PACOM ships help preserve maritime freedom of navigation including through regional chokepoints.
On the other hand, Keating argued that Asians made it clear they want the United States to remain "over the horizon." Most Asians want the U.S. military to visit their countries but not establish bases there. They want to choose when the U.S. Navy comes and goes. Their ideal model is how we helped enhance security through the Strait of Milaca. Rather than establish permanent U.S. military bases or fleets, we provided equipment and training to the littoral countries to enable them to maintain safe passage through the Strait.
Keating said he was "cautiously optimistic" regarding China's military evolution. He argued that even retired U.S. aircraft carriers were in better shape than the single refitted conventionally powered carrier the Chinese have begun to use. The ship employs ski jumps and has yet to deploy far from China's shores. He expected the PLA to make further progress, but stressed that the United States had vast qualitative and quantitative superiority over the PLA. Keating observed that, while China's economy is strong, the country faces severe demographic and other problems.
In the case of Taiwan, Keating added that, while the Cross-Strait military balance had long been against Taiwan, the PRC has not threatened Taiwan with military force for more than a decade due to Beijing's recognition that the use of force would harm China's reputation and economy, PRC fears that the U.S. Navy would intervene on Taiwan's behalf, and President Ma's moderate policies designed to avoid provocative actions.
Keating noted some concerns regarding tensions over the South China Sea, but also said that the Chinese have always backed down whenever the United States stood up to defend its reconnaissance ships in these contested waters. Keating denied that the U.S. Airland Battle concept was designed to counter China, but acknowledged that the Pentagon, which recently established an AirLand Battle office, wants the Chinese to pay attention to the enhanced U.S. ability to preserve its global access and freedom of the seas.
Keating's main concern was about China's growing cyber capabilities. He believed that the Chinese might have used computer penetration to steal the information they needed to design their first stealth fighter. In addition, the PLA was seeking to apply these improving capabilities to accomplish its missions in a process known as "informization."
The first panel addressed the regional implications of China's rising economic and military power. Moderator L.C. Russell Hsiao, a Senior Research Fellow at the Project 2049 Institute, noted that the World Bank expects China to surpass the US in a few years in terms of purchasing power parity, but the PRC has some problems that mean its rise is not inevitable. These challenges include China's internal security problems, its slowing growth rates, its massive bank debts, and the growing threat of social instability. In addition, unlike China, the United States has strong democratic allies in the region, including Japan, Taiwan, and South Korea.
Willy Lam, a Senior Fellow at The Jamestown Foundation, spoke about China's Leadership Succession and Its Impact on Chinese Security Policy. Lam expected Vice Premier Xi and his team to rule the PRC during the next decade as the fifth-generation of leaders barring any major changes. Xi was selected as a compromise candidate who held moderate policies and did not belong to any major faction. Some of these are "princlings," children of current or former PRC leaders. They have had considerable influence in the Chinese military and less in the party and state.
Although the political leadership is divided into factions with different views of reform, Lam sees them all as Chinese nationalists who want China's rise relative to the United States to continue. He also expected that the new leaders will continue the policy of allowing the Communist Party to rule as the only legal political party. In addition, they will continue the policy of state capitalism in which the largest hundred corporations will remain under the governments control as state-owned enterprises (SOEs).
Lam sees the PLA seeking to enhance its position on PRC leadership bodies. Military leaders already have two Politburo seats, and appear to be seeking a third. Xi may need to accommodate some of their hawkish views. China's military is also playing a greater role in maintaining domestic stability, as in Tibet. In terms of the intra-service factions, Navy and Air Force officers are making inroads over the ground force leaders in key decision-making bodies, such as the Central Military Commission (CMC), which used to be dominated by Army officers. There has also been a revival of Maoist military thought among the military. Mao's dictum and statements are typically of a harder line than those of more recent Chinese leaders.
Lam thought we me see changes soon in the military's command and control structures, including streamlined procurement and R&D, a larger and more sophisticated logistics component, and a stress on improving officer qualifications (such as having more PhDs in engineering). The PLA might even seek foreign military bases and is recruiting heavily among Western-trained experts to enhance its cyber capabilities. Lam offered several explanations as to why senior PLA generals were making such hostile comments regarding Obama's Asia Pivot and other U.S. policies. He believed they could be seeking to boost their budgets of they could be playing bad cop to the civilians' good cop. The problem is that no one among China's civilian leaders is currently seeking to reign them in.
Edward I-hsin Chen, a Professor at the Graduate Institute of the Americas at Tamkang University, offered his assessment of  how China's rise was affecting Taiwan. I will combine his comments with some information and assessments I received as background information from some Taiwanese sources in another posting.
John Park, Senior Program Officer for Northeast Asia at the U.S. Institute of Peace, discussed what he called China's "Sunshine Policy" toward North Korea, a play on the South Korean policy toward the DPRK a few years ago that used that term. Park believed that China's main principles and policies regarding North Korea had remained fairly consistent even as the specific policies changed with the circumstances. One principle was "non-intervention in North Korea's internal affairs," which means respecting the political choices of China's leaders. Adherence to this principle has meant that Beijing has supported former DPRK leader Kim Jong-il's controversial policy of transferring political power to his young and inexperienced son.
China also opposes the proliferation of nuclear weapons states in Asia. In order to try to roll back North Korea's nuclear weapons program through exclusively peaceful means, as well as to prevent other countries from seeking their own nuclear weapons, the PRC has taken the unusual step of pursuing a very active and risky diplomatic leadership role and created in 2003 and has since led the Six Party Talks process seeking the Korea's de-nuclearization. Park noted that this stance was an anomaly. Before 2003, Chinese diplomacy regarding the DPRK's nuclear weapons program was much more passive. Since then, China has still pursued low-profile diplomatic stances concerning most other regional disputes.
To promote an exclusively peaceful dialogue, Beijing has regularly warned Washington and its allies not to use or threaten to use force and to eschew any provocative actions regarding North Korea. For example, Park related that after Kim Jong-il died, the Chinese government, concerned about the new DPRK leadership, called in the ambassadors of governments involved in the Six Party Talks and told them not to provoke the new Kim Jung-un leadership at this delicate time. PRC representatives believe that some DPRK security concerns are valid not a negotiating ploy. For example, they defend North Korea's right to security guarantees and the PRC rarely enforces sanctions against North Korea and even allows DPRK companies to operate on Chinese territory, which would make it hard to apply financial sanctions to them.
Furthermore, the PRC has undertaken a massive campaign to preserve stability in North Koreas since the nadir of their bilateral relationship in 1992, when DPRK leaders denounced the PRC for moving closer to South Korea. Park reviewed how the PRC has undertaken a massive operation during the last two decades to help the DPRK recover from its disastrous famine which, along with other policies, almost resulted in its becoming a failed state. The PRC has supplied significant aid and devoted much PRC leadership attention to rescuing North Korea. The PRC has quickly gave up on the DPRK's introducing Chinese-style reforms soon and instead began to build the stronger institutions the DPRK needed to make major economic reforms.
For example, while deemphasizing food aid and other one-way transfers, Chinese SOEs have helped the DPRK develop its natural resource and mining sector by investing large sums of money, equipment, and other resources in North Korea but also engaging in the extensive training of local DPRK workers and managers. Park noted that no Western or even Russian company was likely to undertake a similar effort since it was so expensive and the operations typically lost money at first. He compared the Chinese operation to that of a NATO-like Provincial Reconstruction Team (PRT), which also seeks to do nation-building at a local level. Now the PRC secures lots of coal, iron ore, and other minerals from North Korea at prices lower than those on most global markets, which might look like exploitation if one did not appreciate the background. This institution building has also occurred at the level of the party, state, and now looks to occur on a military-to-military basis since the DPRK's military runs much of the country. For example, generals head large DPRK companies, which explains why Kim-Jung il made his son a general in his twenties.
Nonetheless, many of these operations involve Chinese provincial and municipal entities. And at some point the Chinese leadership may need to choose between bolstering the DPRK's economy and securing its natural resources for the PRC's growth at bargain prices. The PRC-DPRK relationship is no longer based on ideology but relies on a combination of shared national interest and mutual economic ties.
Meanwhile, the South Koreans are undergoing a debate over "who lost Pyongyang." The conservatives blame China for supply the DPRK with all the assistance it needs to resist international pressure to change its policies. They suspect that Beijing is seeking to use its economic and institutional building to establish an enduring dominant presence in the north. In contrast, South Korean leftists blame the conservative ROK government for abandoning the ROK's own Sunshine Policy and therefore giving the PRC an opening to exploit the DPRK's alienation from Seoul and need for foreign assistance from some source.
For related SLD postings see
https://sldinfo.com/special-report-on-crafting-a-new-pacific-strategy/
https://sldinfo.com/reactions-to-the-reactions-of-the-j-20/
https://sldinfo.com/the-chinese-challenge/
https://sldinfo.com/the-evolution-of-prc-air-power-an-overview-from-retired-ltg-deptula/
https://sldinfo.com/templates-for-framing-the-chinese-challenge/
https://sldinfo.com/the-evolution-of-chinese-science-and-technology-investments-meeting-the-chinese-challenge/