The UAE is in a dangerous neighborhood.  With the opening of an air operations center, the UAE seeks to enhance the efficiencies of its combat forces.  A key element for the UAE to shape greater capability is to project its air power in the region to deal with various threats in the Gulf.  The UAE's tanker program is coming close to operational deployment.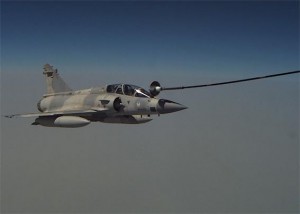 According to Airbus Military:
Airbus Military has successfully completed receiver qualification of the two primary aircraft-types that the UAE Air Force will refuel from the three A330 MRTT multi role tanker transports that it currently has on order.
In an extensive series of flight tests in Abu Dhabi, the compatibility of the new generation A330 MRTT with UAE Air Force Mirage 2000 and F-16 Block 60 fighters was fully demonstrated.
Operating from Al Dhafra airbase, the aircraft performed air-to-air refuelling at speeds throughout the refuelling flight envelope, at a range of altitudes, and in turns, climbs and descents as well as level flight.
Other versions of the F-16 have already been qualified with the A330 MRTT, but the trials added the Block 60 variant used by the UAE which features large conformal fuel tanks on the fuselage. The F-16 was refuelled using the A330 MRTT's Airbus Refuelling Boom System (ARBS).
The Mirage 2000 was successfully tested in different configurations including the twin-seat version carrying two drop-tanks and two air-to-air missiles, and the single-seat version carrying six missiles and a centreline drop-tank. To refuel the Mirage 2000, the A330 MRTT used its two underwing refuelling pods, including demonstrations of refuelling two fighters simultaneously.
Crew training with UAE pilots is currently underway in Spain and the first two A330 MRTTs for the UAE, including the one that took part in the trials, are due to be delivered before the end of the year.
For a look at the evolving UAE marketspace in security and defense see
https://www.sldinfo.com/products/the-uae-defense-industry-n-market-opportunities-and-entry-strategies-analyses-and-forecasts-to-2016/
https://www.sldinfo.com/products/homeland-security-expenditure-in-uae-to-2016-market-review/