5/29/12: By Robbin Laird
During the Airbus Military Trade Media event, I had a chance to talk with Vikramjit S. Chopra, Managing Editor of Vayu Aerospace and Defense Review about the Indian fighter competition.
http://www.vayuaerospace.in/images1/IAF_Strike_Mirage_2000s.pdf
I asked my colleague: why did India pick the Rafale over the other Europeans and the American competition?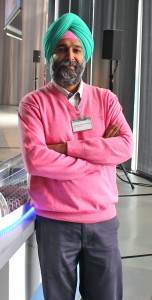 According to Chopra:  "Basically the Indians and the Indian Air Force absolutely love Dassault as a company.  They love the Mirage 2000s and is our best aircraft.  The technical ability of the plane and the way it has performed in the Indian Air Force has been a plus.
During the competition the Indian Air Force flew all of the planes in that competition.  The F-16 was an excellent aircraft, but because Pakistan had the aircraft it was at a disadvantage.  The F-16 on offer was considered much better than the Pakistani aircraft, but in the Indian mindset Pakistan and F-16 became synonymous.
And IAF found little about the F-18 that made sense for India.  It is an excellent plane but really did not fit into the Indian approach.
The second preferred aircraft was the Eurofighter, but at the end of the day the IAF preferred Dassault and Rafale."
When asked to explain how the historical experience of working with Dassault and the French played into the downselect, Chopra added:
"There is a history of buying a lot of kit from the French, whether it is nuclear reactors, submarines or ships or missiles or helicopters.  We've never had a serious problem with them."
And the question of support going forward, particularly if the going gets tough dealing with Pakistan and/or China was a consideration as well in the Rafale choice.
"The French have always been on India's side, have always supported us, and we are very grateful to the French for a lot of things.
But besides sentimentality and historical experience, the plane is a good plane.  It suits our requirements.  It maybe expensive but we would rather have that than something that is cheaper and does not work as well."
Compared to Eurofighter, what was the advantage of the Rafale for India?
"The Eurofighter was still not really configured for ground attack, which is a key element of what we were looking for."
How will the introduction into service of Rafale affect IAF operations?
"The plane will replace several aircraft.  It will replace all of the Mig-21s, and Mig-27s.  And it eventually will replace the Jaguar as well.  It will fulfill the role of the decommissioned Mig-23s as well.
So as a multi-role aircraft, Rafale will replace 200-300 aircraft and maybe as many as 400."