by Robbin Laird
In a series of articles for AOL Defense, I am going to look at several elements of re-shaping U.S. forces to enable an Asian pivot.  And intend to look at several neglected aspects of a sustainable power projection force for the 21st century.
The U.S. can afford to build a 21st century power projection force able to provide a lynchpin for Asian security.  But it will not be able to do so, if we don't take advantage of new con-ops, new technologies and new approaches.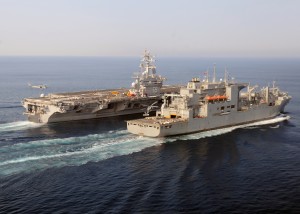 A key element for deploying a forward presence force is sustainability.  There is probably no subject less discussed in the strategic debates than logistics and sustainment.  As a version of the old adage goes Amateurs discuss strategy; Professionals think logistics."
This could not be truer when it comes to the Military Sealift Command.
The Military Sealift Command is not the most visible element of the USN-USMC team, unless you are at sea and need their support.
Whether support is coming from underway replenishment, from ships at sea or air assets, the more than 100 MSC ships are the lifeblood of the fleet.
And in an era of tight budgets and challenges to ship numbers, the ships of MSC are part of the solution to provide for enhanced fleet performance.  Indeed, the recent landing of a V-22 Osprey on a T-AKE MSC ship during Bold Alligator 2012 was an eye opener of how the roles of these ships can change, as the air assets change.
The intersection between the air and surface assets was highlighted once again with regard to the dynamics of change.
The MSC provides the support for 21st century operations.  The shift from well-organized carrier battle groups to a more dispersed presence force is underway.  The dispersed fleet is occurring through LCS deployments, the evolution of the Amphibious Ready Group-Marine Expeditionary Group or Expeditionary Strike Group.  The need to connect such dispersed assets logistically goes up and with it demand placed on the MSC fleet.
Indeed, the demand upon the fleet has gone up significantly over time.
As Admiral Buzby has put it:
MSC and its predecessor Military Sea Transportation Service came about in 1949 when four different shipping agencies, if you will, were put together post-war. All of those were put together to form military sea transportation service, which in those days was troop ships, and point-to-point tankers.  They weren't servicing the fleet; they were hauling from point A to point B.
And then, in 1972, when the first fleet replenishment oiler was given to MSC – USS TALUGA (AO 62), the Navy decided to experiment with the MSC, in effect.  The great experiment was to see if civilian mariners could pump fuel across 120 feet of water without spilling any or bumping into the ship there alongside. And sure enough, not only could they do it; they were doing it more efficiently and for a fraction of the cost.
From those humble beginnings, other ships were added.  Oilers were joined over time by cable layers, range tracking ships, tugs, ammo ships, fast combat store ships, ocean surveillance ships, hospital ships, prepositioning ships, survey ships, and the list has now gone to 20 missions.  That's 20 missions for the Navy that used to be operated by Blue Jackets.
And we're getting additional missions all the time.
https://www.sldinfo.com/admiral-"buz"-buzby-on-the-military-sealift-command-providing-global-support-for-forward-deployment/
There are a number of notable aspects of MSC as the U.S. builds its fleet out into the future for the long distances, which comprise the Pacific.
First, the mariners for the MSC are civilians.  Indeed, they are among the hardest working civilians in the U.S. government, or in the private sector for that matter.  They are at sea on average of 9 months of each year during their career.
And the personnel costs of these civilian mariners are substantially less than if they were blue suitors.
Second, the Command has a very flexible contracting system, which allows the command to achieve cost effective results and breath taking acquisition outcomes in short periods of time.
A very impressive recent example illustrates this capability in action. When the Secretary of Defense decided he needed to develop and deploy a sea base to support counter mine operations in the Gulf and focused on putting the USS Ponce back to sea, the USN turned to MSC to get the job done in about 90 days. The RFP was published in mid-January and by mid-April the ship was being readied for deployment.
As Admiral Buzby noted:
On April 16th, we will put into commission an interim forward staging base or AFSB. A former Navy LPD, the USS PONCE, which was about to be decommissioned after 41 years of service, a fine asset of the Naval Surface Force Atlantic is being turned over to MSC to operate.  The ship will still be a USS with a Navy Captain 06 in command, but she has 149 Mariners on there doing the vast majority of the work with 49 Navy sailors onboard to do those things that by law only Navy sailors can do, such as fire weapons and perform the offensive missions.
The Command contracts out for services to support the world wide operatons of the USN-USMC team.  The core supply ship – the T-AKE – ship – has a good sized flight deck on which either USN or commercial helicopters can operate.  Indeed, Pumas land frequently in support of the MSC fleet and in support underway via Vertical Replenishment to the USN-USMC fleet.
https://www.sldinfo.com/admiral-"buz"-buzby-on-the-military-sealift-command-providing-global-support-for-forward-deployment/
An ongoing example is the new supply ship – the T-AKE.  The ship can be built in 12 months or less at a cost of $450 million.  The last ones are being built, but to this analyst more of these ships for a diversified, forward deployed fleet make a great deal of sense.
The ship provides fuel, ammunition, and supplies and can support a contingent of military forces afloat.
As Captain Little of the USNS Robert E. Peary, the T-AKE ship involved in Bold Alligator 2012 commented:
When I go into what the Navy deems dangerous or high-risk area, I'll embark a military Embarked Security Team.  The decision by the military security team to use force against hostile or potentially hostile forces rests with the members of the security team in accordance with their Rules of Engagement.  There is berthing for 60 but normally we would take a 10-12 man team.
https://www.sldinfo.com/tak-ing-the-supply-ship-to-a-whole-other-level/

And as the U.S. shapes its con-ops for forward deployment, there are real opportunities to pair this ship with other combat or security vessels to create appropriate deployment packages.
For example, Admiral Buzby discussed a potential pairing of a USCG National Security Cutter with a T-AKE ship.
The national security cutters have an embarked helicopter, some firepower and some good command-and-control. Pair it up with a T-AKE, and you can have presence and staying power for a regional security mission.
With the NSC-T-AKE pairing you have sustainment for the security cutter. You've given it legs because it's got a million gallons of fuel sitting across the way there.  It's got more supplies than they'll ever use in their world, and plus ammo and storage and everything else.  Plus, if you're not carrying a whole hold full of ammo, there's three or four decks worth of magazine space up there in that hold as well.
And let us just say you wanted to carry some light-combat vehicles for the operation, you could put easily probably 30 vehicles on that deck.  Plus, you could probably store below another at least 15 using the elevators.
Plus you have onboard cranes to offload them pier-side if you needed to, or off onto a lighter.  You got ten-ton cranes on both sides of the deck area. And if you were operating in such a way that you had helo lift or V-22, you could lift the vehicles off the deck and put them ashore someplace.  Or go pier-side and self unload.
You could put a couple platoons of marines onboard there easily.  More if you wanted to stretch it out a little bit. There's room to put them down below.  It's got a good comms suite on the NSC and it's got the legs to stay out there for a long time and sustain itself in that configuration.
So, all of a sudden you've got a pretty big footprint that's pretty self-sustainable that can make a significant impact in a lot of different ways.
In other words, the MSC is an integral part of what the USN-USMC team can do worldwide, and in the difficult and vast domain of the Pacific you want viable sea fairing assets and capabilities to support that team.
https://www.sldinfo.com/admiral-"buz"-buzby-on-the-military-sealift-command-providing-global-support-for-forward-deployment/
Three potential lessons, which could be learned moving forward, thinking about the future, can come from considering the MSC and its role.
First, the MSC has very useful flight decks that can work with USN-USMC-USCG flight elements. These decks function as lily pads for the fleet and provide a significant part of the sustainable presence punch essential to maritime forces, whether for military or security missions.
Second, the Secretary of the Navy is a keen proponent of environmental security. His commitment could be demonstrated by getting the MSC fleet out of single hull tankers and into double hull tankers as quickly as possible.
In today's commercial environment, operating a single hull tanker would be difficult.  But as too often the case, we ask our forces to operate in ways that we would not accept in our personal or commercial lives.
There is a plan to do this over time.  But I think the time is now.
Third, the MSC and the logistics infrastructure it embodies reminds one that low cost is in the eye of the beholder.  We are told that we should acquire the LCS in large part because of the IOC cost.
The ship represents the classic approach of focusing on a platform without looking profoundly at the context of operational and sustainment approaches. the LCS is so relatively small that it is has VERY limited organic support.
This means that the already challenged Military Sealift Command will have to be able to support the "surging" LCS fleet and if the fleet is disaggregated this will put significant stress on an already challenged fleet.
In short, the MSC provides a key element for sustained forward deployment.  And folding this into the discussion about what is needed for the Asian pivot is part of what professionals need to do, not what amateurs talk about.
A version of this article first appeared on AOL Defense.
http://defense.aol.com/2012/06/07/military-sealift-command-a-key-to-the-asia-strategy/