2012-07-27  By Richard Weitz
The Iraqi Security Forces (ISF) have achieved the capacity for internal defense against guerrillas and terrorists, but they still lack the essential capabilities and equipment needed to combat a foreign military.
The ISF need more combat air power, sophisticated intelligence, mobilization capacity as well as vital combat support and combat service support.
At almost every level of command, from company to division, Iraqi Forces are vulnerable due to their lack of air defense, anti-armor capabilities, artillery, chemical weapons defenses, and other key capabilities.
The weak air force, which lacks a modern jet fighter, cannot guarantee national air sovereignty or defend against air attacks. The underdeveloped navy cannot protect the country's offshore oil platforms or the oil wells located in border regions. The ISF's ability to conduct integrated combined arms operations is rudimentary. The absence of strategic mobility—the capacity to project substantial combat power rapidly to the country's borders—also renders the Iraqi military incapable of defending against major foreign incursions.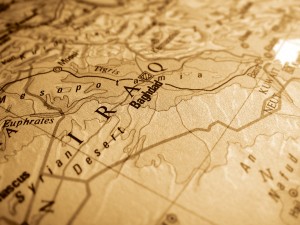 Iraq's Ministry of Defense (MOD) has also not yet developed capabilities and cadres for defense budgeting, military planning, leadership training, acquisition management, and the other skills needed to run a modern defense establishment. The fall in oil revenue in recent years has resulted in major cuts in procurement as well as operations & maintenance, resulting in a potential hollow army. Absenteeism and even non-existent "ghost soldiers" are widespread, while the number of non-commissioned officers is inadequate.
ISF units vary tremendously in effectiveness.
For example, the Special Operations Forces are well-trained and disciplined, while the Facility Protection Service is poorly trained and inadequately equipped. The Iraqi army has some divisions drawn from certain localities. These units can be more loyal to the dominant ethnic or religious group of that region than they are to the central government in Baghdad. For example, the 10th Division in Basra, a Shiite-dominated city, was unwilling to fight against the Mehdi army in 2008, while the mostly Kurdish 2nd Division in northern Iraq is considered to be more loyal to the Kurdish Regional Government than to the Iraqi government in Baghdad.
During the occupation, the U.S.-led training of the Iraqi armed forces concentrated on developing their counterinsurgency skills at the expense of those qualifications needed to defend Iraq against foreign militaries and other external threats.
For example, although the Iraqi government is buying U.S. F-16s, the Iraqi Air Force presently only possesses Unmanned Aerial Vehicles (UAVs) and spotter craft, optimized for surveying large areas for insurgent activity, as well as helicopters, transport planes, and T-6 Texans trainer aircraft. The Iraqi forces need new U.S. tanks and artillery—and then the Iraqi forces will need to be trained how to use them since the former Iraqi military relied heavily on Soviet bloc weapons and tactics.
The MOD lacks an effective and efficient logistical system to supply and coordinate forces in the field, operating on a "pull" system, in which units must request supplies, as opposed to a U.S.-style "push" system, in which logisticians try to anticipate units' needs and send supplies even before they are requested. The current system clashes with the equipment needs of Iraqi units in the field and would cause coordination problems in the event that the Iraqi military engages in conventional operations against a foreign adversary.
Even for less taxing missions, Iraq's military logistics system can only intermittently sustain small numbers of local forces with simple weapons. The system suffers from such problems as underfunding, corruption, and pilferage. Ammunition and fuel shortages are common. Iraq's logistics system needs to service military units equipped with a mixture of Soviet-era weapons inherited from the Saddam period and NATO-type weapons provided by the United States and its allies. Efforts to rationalize the types of military equipment have made some progress but further reductions are needed. The Iraqi support system is in no position to maintain the latest-generation tanks, aircraft, or sensors, or to transport forces and supplies great distances across Iraq's challenging terrain.
The MOD is seeking to develop better leaders, advanced operational skills, and expanded capabilities.
During the U.S. military occupation, the Multi-National Security Transition Command (MNSTC-I) was responsible for organizing, training, equipping, and developing the ISF. Through the U.S. Foreign Military Sales (FMS) program, the United States provided the ISF with more than 100 M1A1 Tanks, more than 55,000 M16 and M4 assault rifles, and AC-208 Hellfire missiles. The MOD Force Generation and Modernization plan calls for more arms purchases, including up to 36 F-16 fighter jets, additional M1A1 Abrams tanks, tactical truck support vehicles, military attack helicopters, light armored vehicles, Humvees and small arms, as well as the construction of military facilities to store and maintain all this equipment.
The MOD is also making small strides in acquiring its own equipment through means other than the FMS and the MNSCT-I, but it has a long way to go for self-sufficiency. An overly centralized decision-making process, belated or curtailed funding, poor information technology and other issues have all compounded the problem of equipment acquisition.
As the MOD has sought to purchase more arms and negotiate more deals by itself, these problems are becoming more evident. In mid-2008, a $833-million secret arms deals between Serbia and Iraq came to light. Not only had Iraqi officials sidestepped normal bidding processes and their protocols for purchasing international arms, but they also failed to notify any member of the U.S. military or civilian diplomatic corps normally involved in these types of purchases. The deal included planes, armored personnel carriers, mortar systems, machine guns, body armor, military uniforms and other equipment. Much of the equipment turned out to be of inferior quality or inappropriate for the ISF's mission.
Other MOD problems reduce the efficiency and effectiveness of ISF activities. Staff members often lack qualifications and fail to use automated processes to increase efficiency. In 2009, severe budget shortfalls due to the decline in oil revenues led to a hiring freeze and curtailed equipment acquisition across the MOD. Meanwhile, in addition to impeding acquisitions, the MOD's highly centralized decision-making process obstructs systematic development of plans and policies.
Despite all these obstacles, several causes for optimism exist.
The MOD is slowly incorporating electronic databases, such as the Human Resources Information Management System, to facilitate personnel identification and store information. Early assessments of the Iraqi army warned of poor troop discipline, sectarian tensions and general incompetence, but training of new Iraqi army forces has been improving with time. Institutions such as the Iraqi Counterinsurgency School and the new Iraqi Field Artillery School, in particular, are helping to improve training, and both the navy and air force also have similar large schools around the country.
Quality small-unit leadership is essential in fighting shadowy enemies that operate in small groups. To this end, the Iraqi army continues to make progress in developing competent junior and noncommissioned officers who take initiative and show sound judgment. The Iraqi-run Counterinsurgency School established its Tactical Leader's Course modeled after U.S. programs at Fort Leavenworth, which trains cycles of brigade and battalion commanders in operational and command techniques.
The long-delayed NCO Education System is now fully functional and aims to field a professional NCO corps. The combined effect of these improvements has had an impact on Iraqi perceptions of their national army, with polls indicating that Iraqis feel more secure when the Iraqi army operates in their neighborhood. That, in turn, makes community-based intelligence gathering easier.
Even so, the Iraqi political infighting made it difficult to achieve further progress. The ISF now number more than 700,000 people, of which some 250,000 personnel are active duty soldiers while the remained are various police and paramilitary personnel. Terrorist bombings and shootings persist, especially in the big cities. Multiple groups have plausibly been accused of the killings, ranging from Sunnis linked to al-Qaeda in Iraq seeking to warn al-Maliki against further repressive measures, to Shiite militants trying to induce the government to become even more repressive, to foreign-sponsored agents (variously linked to Iran, Israel, and Saudi Arabia) hoping to keep Iraqis weak, divided, and unable to resist external penetration. The latter goal is not difficult, since the ISF is manifestly unable to defend Iraqi territory or air space from foreign encroachments.
The United States still needs to bolster the capacity of Iraq's military to counter external threats, which could take a decade or more of rebuilding. Until then, the United States, supported by other friendly governments, will need to help safeguard Iraq's territorial integrity as well as continue training and equipping Iraq's armed forces.
Given the general exclusion of U.S. combat forces from Iraq since 2011, the United States will need, at least initially, to help defend Iraq from a distance
This security backstopping will likely include combat air support from bases in other Persian Gulf states as well as from aircraft carriers, missile defense from the BMD network the United States is constructing in the Middle East, maritime security from U.S. Navy forces in the Gulf, and additional intelligence and logical support.
Even in the absence of U.S. combat forces, the U.S.-Iraq Strategic Framework Agreement, signed in November 2008, could help sustain important diplomatic, economic, and social interactions between the two countries. The Strategic Framework is an essential complement to the U.S.-Iraq Security Agreement. It addresses primarily the non-military, post-2011 dimensions of the relationship by specifying how the two governments will interact in the diplomatic, economic, and social spheres.
The agreement established Joint Coordinating Committees for seven agreed-upon areas of cooperation (defense and security, education and cultural affairs, energy, law enforcement and judicial cooperation, politics and diplomacy, services, and trade and finance) and some two dozen Implementation Working Groups. The U.S.-Iraq Higher Coordinating Committee oversees their work as well as general implementation of the strategic framework agreement.
When in Iraq in December 2011, Biden commented on the importance of the strategic framework agreement in defining Iraqi-U.S. ties in the future: It "will be the cornerstone of bilateral relationship … and … includes political, economic, commercial, cultural and scientific sectors that will boost bilateral relations towards greater cooperation and understanding in future."  Unlike the SOFA security agreement, the framework agreement does not expire.
Unfortunately, because the agreement gives Iraq the initiative in defining the relationship, so far its implementation has been disrupted by the political paralysis in Baghdad, which has made Iraqi officials reluctant to commit to long-term policies toward anything. The inaugural meeting of the Defense and Security Joint Coordinating Committee did not occur until May 22-24, 2012.
In July, al-Maliki complained to CENTCOM Commander General James Mattis that the United States needed to accelerate its weapons deliveries, but another problem is that some Kurdistan leaders are warning that the Baghdad government might use these weapons to suppress their autonomous region rather than defend Iraq from external threats.
Even enhancing Iraq's external defense requires resolving its internal political disputes.