2012-08-22 By Robbin Laird
Throughout the competition for the USAF aircraft to supply a light attack aircraft to the Afghans, HB has focused on getting its trainer to grow into an attack aircraft.  And among its bag of tricks has been a clear sense of the U.S. Company against a "foreign" company Embraer that provides the core product, which its prime contractor in the United States, Sierra Nevada would provide.
As Sydney J. Freeberg, Jr. of AOL Defense has put it:
Hawker Beechcraft has set up a website touting the all-American-ness of its airplane, complete with a "take action" tab where you can click to send a pre-written letter of protest to your congressman.
This is a tried and true card played by among others Boeing in the tanker competition.
But rallying around the flag for companies, which are prime contractors, relying on global supply chains is an anomaly that deserves further examination.
So let us take a look at Hawker Beechcraft, the Made in the USA, airplane.
First, we learn that although taking the gloves off with Embraer that "Hawker Beechcraft is Focused on Brazil."
With an eye on Brazil as "a key market for the entire Hawker Beechcraft line," the Wichita, Kan.-based aircraft manufacturer is a major presence at LABACE this year, bringing six of its most popular aircraft.
In cooperation with its regional distributor, Lider Aviação, the manufacturer brought to the static line the super-midsize Hawker 4000, the midsize Hawker 900XP, three King Air models (the 350ER, 250 and C90GTx) and the Beech Baron G58.
"Brazil has become a key market for the entire Hawker Beechcraft product line, and is now the company's second-largest market in terms of sales outside the United States," said Richard Emery, HBC president for the Americas. "LABACE is an important event in world aviation and has gained increasing importance in our company's strategy in the Latin America region."
Hum!  So a US company can focus on the home market of its competitor and succeed but the turnabout is not far play?
But let us dig a little deeper.
So where did these HB planes come from?
According to Pilatus, that all-American company based in Switzerland,
Under a 2004 agreement, Hawker Beechcraft (then Raytheon Aircraft) was granted the exclusive right to manufacture and market the trainer or derivative aircraft based on the design of a modified Pilatus PC-9 single turboprop. That aircraft, Pilatus says, "contain[s] the intellectual property of Pilatus."
The trainer has been used as the platform for the U.S. Air Force/Navy Joint Primary Aircraft Training System (JPATS) contract, along with a number of international programs. The aircraft is also Hawker Beechcraft's platform for the U.S. Air Force's Light Air Support program competition.
Pilatus argues that without the agreement, Hawker Beechcraft would have "no product that would have permitted it to enter into such contracts, and the trainer/attack segment of the debtors' business would not exist."
Pilatus says Hawker Beechcraft stopped making royalty payments after it entered bankruptcy protection, even though it continues to produce the aircraft and accept payments for its sale.
This quote was taken from a story by Kerry Lynch on the Aviation Week website and posted August 16, 2012.
HB is contesting this claim in bankruptcy court.
And about bankruptcy court and selling the company, the all-American company is being sold to a Chinese company, although HB claims that the defense side will be spun out and "only" the commercial side sold to China.
But they will have to demonstrate this to U.S. authorities, and to shape a line in the U.S. including planes and mission systems.  It is necessary to modify airframes to do mission systems; this is not a separate process.  All defense contractors in the United States know this, and this necessity is rooted in the fact that modifications are necessary on airframes as they are mated to mission systems.
And as Secretary Wynne has noted: "The U.S. government requires certitude on this point, and any sale of a commercial company making products for the U.S. military needs to do so in a secure facility where both airframe and missions systems are mated."
Waving flags in a global business is a difficult art.
As the HB website pictures it: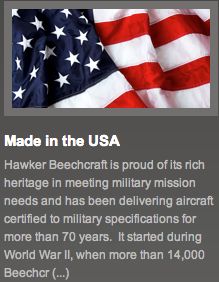 But as a visitor to the recent Oshkosh airshow viewed it: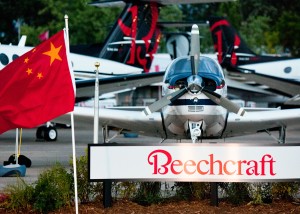 In a reality show that seems to have no end, the Chinese company involved has hired a prominent lobbying firm with close ties to senior Democrats.
Locke Lord's government affairs unit in Washington has disclosed to Congress that it is lobbying for a Chinese company that is looking to acquire the civilian aviation business of Kansas aircraft-manufacturer Hawker Beechcraft Inc.

Superior Aviation Beijing Co. Ltd. is using Locke Lord Strategies to represent it on "aviation issues," according to a lobbying registration report filed with the U.S. House of Representatives on Friday. Locke Lord also is providing legal advice to Superior as it works to finalize a $1.79 billion deal that would make it the owner of Hawker Beechcraft's civilian aircraft operations.

But obstacles remain if Superior and Hawker Beechcraft reach a definitive agreement. The deal must receive the approval of the U.S. Treasury Department's Committee on Foreign Investment in the United States, and other U.S. regulators, to proceed. The agreement also could be scuttled if another potential buyer prevails in a mandatory competitive auction overseen by the U.S. Bankruptcy Court for the Southern District of New York, which is handling Hawker Beechcraft's bankruptcy proceedings. The company filed for bankruptcy protection in May.

Locke Lord partners Phil Rivers, Mark Siegel and Shane Doucet, as well as senior policy adviser Walter Smith Jr., are handling the account.
And lest you wonder who these folks are, let us take Mark Siegel as a case in point.
After serving as Assistant Professor of Political Science at Loyola University, Mr. Siegel became Legislative Assistant for Domestic Affairs for Senator Hubert H. Humphrey (D-MN). He then served as Executive Director of the Democratic National Committee under Chairman Robert S. Strauss, and Deputy Assistant to the President in the Carter White House. He was the National Coordinator of the Draft Kennedy movement in 1979-1980.

Serving on three party reform commissions of the national Democratic Party, Mr. Siegel was the principal drafter of the delegate selection rules under which Democratic Presidential candidates are nominated. He was an elected at-large member of the Democratic National Committee for ten years, and twice was the Director of the Party's International Visitor Program at Democratic National Conventions.

Siegel served on the Board of the National Democratic Institute for International Affairs for 15 years where he directed the Institute's programs in Asia.

After heading two prominent lobbying firms for over 25 years, Siegel became Senior Vice President for Governmental Affairs of New Century Financial, and then served for three years as Chief of Staff to Congressman Steve Israel (D-NY), the current chairman of the Democratic National Campaign Committee.