2012-09-22 by Richard Weitz
At the 2012 Moscow Nonproliferation Conference, organized by the Center for Energy and Security Studies (CENESS),Nikolai Spassky, Deputy Director-General of the State Corporation on Atomic Energy 'Rosatom', enlightened us attendees as to the civil nuclear energy plans of the Russian Federation.
Although Spassy was perhaps too nonchalant about the probable negative effects of last year's nuclear accident in Japan on the global nuclear energy rennaissance sought by Moscow as well as the U.S. nuclear industry, he did identify important reasons why nuclear power will remain a viable energy option for many countries as well as the measures the international community should take to keep it that way.
According to Spassky, Russia expects to continue expanding its use of nuclear power despite last year's disaster at the Fukushima Daiichi nuclear power plant, which led the Japanese government last week to announce that it intends to stop using nuclear power by the 2030s Russia also had its own experience with a nuclear disaster, with the 1986 nuclear meltdown at Chernobyl, in the Ukrainian SSR.
Spassky urged the audience to keep the disaster in Japan in perspective.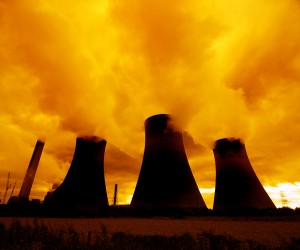 He professed to be most impressed by how effectively the nuclear industry and technology avoided a major disaster. There was no large-scale radiation leaks, no explosions that spewed nuclear material into the atmosphere, and the reactors shut down as soon as the earthquake occured. In his assessment, nobody has died from the radiation leaked from the Daiichi plant.
Spassky said that Russia still expects a growing international market for its nuclear power services.
He noted that nuclear power could help countries control climate change and pursue a green economy. It also could reduce vulnerability to disrupted oil and gas imports from volatile energy-exporting regions such as the Persian Gulf.
Spassky listed several competitive advantages that Russia would have in the global competition for foreign nuclear sales. For example, he claimed that Russia has excellent experience with nuclear energy and only sells thoroughly tested technologies.
In addition, Russia does not employ a simple "turn-key" approach of building a reactor for another country and then leaving. It takes responsibility for the plant's success and that the plant adheres to all safety and security rules. Rosatom insists on training local personnel in nuclear security and ncuelar safety.
Russia's comprehensive nuclear package also guarantees fuel supplies for any reactor it builds. In Iran, for instance, Rosatom manufactures the fuel in Russia, delivers it to the Russian-built nuclear plant at Busher, and then takes back the fuel after it has been used for long for long-term storage in Russia.
Rosatom only needs an intergovernmental framework agreement between Russia and the foreign country to pursue nuclear cooperation with that country. The agreement defines such items as civil liability and iIntellectual property protection. With these guarantees, Rosatom can negotiate specific deals with that country's public and private energy corporations.
Spassky spent some time discussing Rosatom's nuclear energy deal with Turkey.
He argued that the comprehensive agreement would bind the two countries in friendship for generations. Under its terms, Russia would construct the facility, fuel it, and eventually dismantle it. Although the deal has a covering intergovernmental framework agreement, the agreement is basically a deal between private companies.
During Medvedev's May 2010 visit to Ankara, the two governments signed an unprecedented $20-billion nuclear energy deal. Under its terms, the Russian consortium led by Atomstroyexport will construct Turkey's first nuclear power plant in the southern Mediterranean coastal province of Mersin, near the town of Akkuyu. The plant's four reactors, which will be built in pairs, will have a planned total capacity of 4,800 megawatts, which would make it one of the largest in the world. It will take about seven years to complete the plant's construction, which would begin following ratification of the deal by both national parliaments,
Rosatom's formation of a subsidiary to build the plant, and the securing of all the necessary construction permits—steps that might take several years to complete. What also makes the nuclear agreement unique is that the Russian firms under Rosatom will have a controlling stake in the plant, with only a minority of the shares being acquired by Turkish companies and other foreign energy investors from the originally wholly owned Russian consortium.
In the other countries where Rosatom has built nuclear plants—China, India, and Iran—the company has not obtained an ownership or management role.
"This will be the first case in which Russia not only builds a power plant, as we have in Iran and India, but will also owns it," Rosatom head Sergei Kiriyenko told reporters in Ankara.
To overcome Turkey's problem of not having $20 billion at hand to pay for the plant's construction, the Turkish electricity company Tetas has committed to purchasing half of its electricity for at least 15 years at a fixed price. This arrangement, which will go into effect when the plant enters into commercial operation around 2016-2019, will allow Turkey to pay for its construction in installments and for Russia to secure a loan using these guaranteed payments as collateral. Rosatom intends to sell the remaining output on the unregulated electricity market. EUAS, a Turkish government company that generates electricity, will provide the land for the project free of charge.
According to Russian President Vladimir Putin, offering "this range of services allows us to charge reasonable rates, well below what our competitors demand." Nonetheless, Russia's nuclear energy industry could earn enormous sums through such a deal. Energy Minister Sergei Shmatko earlier estimated that the costs of building a nuclear plant in Turkey could amount to $20 billion, while he valued the 15-year Russian uranium fuel supply contract, then under negotiation, at potentially $60 billion.
In Spassky's view, the international community could take some steps to strengthen the prospects for global nuclear power.
For example, it could create more effective crisis management procedures as well as international coordination mechanisms. It could also provide enhanced technical assistance to countries launching new nuclear programs.
Although Russia did not challenge the longstanding principle that each country is responsible for the safety and security of its own nuclear programs, Spassky argued that the international community should try to make sure that all existing plants are safe through stress tests and related measures. In particular, it was important that national regulations and requirements are no weaker than the minimum standard required by the International Atomic Energy Agency (IAEA).
Spassky also stressed the need to avoid gaps between operators, regulators, and the government. These three bodies needed to achieve a high level of coordination to ensure there are no safety or security gaps and that they do not work at cros purposes.
Looking forward, Spassky wanted to see an accelerated transition to Generation III+ reactors, which have enhanced safety procedures compared to the ealrier model plants at Chernobyl and Japan.
He called on all countries to adopt adoption the IAEA Additional Protocol, which gives the agency enhanced monitoring and inspection powers to detect illicit nuclear activities and undeclared sites. Without it, the agency can only monitor those sites with nuclear activity that the host country has formally declared to the agency.
Spassky also noted the importance of the recently adopted Russian-US civil nuclear cooperation agreement (a so-called 123 agreement). Indeed, the agreement could have more impact on Russia-US security relations than the New START Treaty that was ratified at about the same time. Whereas the New START treaty looks backward and addresses the Soviet-US Cold War legacy, the 123 agreement looks forward and creates a foundation for future bilateral civil nuclear cooperation. The new business opportunities will expand the currently narrow constituencies in both countries that support deeper engagement between Russia and the United States.