2012-10-05 In a discussion with Phil Klendworth, head of site activation for the F-35 at Lockheed Martin, we focused on the new infrastructure being built to house the F-35.
Site activation is an important part of any new program, especially so for the F-35 with its new hangers being built appropriately for an 5th generation electronic warfare combat aircraft.
When we visited Yuma Air Station last year, we talked with the team building the F-35 infrastructure there and saw the facilities starting to emerge for the first F-35 squadron, which is to be based at Yuma.  The first hanger is now done at Yuma – Hanger 80 – and accepted by the USMC and the second will be done and accepted shortly.
During our visit to MAWTS, Second Line of Defense had an opportunity to talk to the SEABEE led construction team at Yuma Air Station.  There was considerable enthusiasm in the team and progress was evident throughout the base.
Among the core elements for a new infrastructure being built at Yuma are the following: 2 Aircraft Maintenance Hangers, an Intermediate Maintenance Activity Facility, a Communications Infrastructure Upgrade, a Simulator Facility and a Utilities Infrastructure Upgrade.
There is considerable cross-fertilization among the various infrastructure construction efforts.  An advantage of having a global common fleet is that as new infrastructure is crafted, a lesson learned process is generated whereby next iterations of an infrastructure roll out become progressively more productive and cost effective.
As one participant in the roundtable on Yuma construction underscored: "There is a branch in the USMC for lessons learned.  And each of these guys here has put together point papers for lessons learned.  We are in the process of disseminating our lessons learned through all of the services.  This is the advantage of this being born joint.  As we roll out our first new hanger, we learned how to build these new secure facilities better.  And we stay in constant dialogue with Eglin regarding their experience as well."
Klendworth as the man in charge of site activation development for the F-35 was able to expand on our initial understanding and discuss the global approach for the program.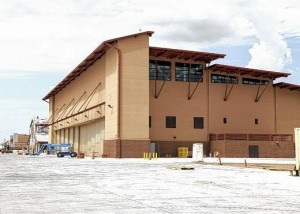 SLD: Could you describe your background, your position and what you and your team do?
Klendworth: I'm a retired Marine. I spent 24 years in the Marine Corps. I started out as an enlisted maintainer. I did 11 years as an enlisted maintenance representative on various fixed and rotary wing platforms. At the 11 year service mark, I was selected as a Warrant Officer in the aircraft maintenance field and spent just over 12 years as a Warrant / Limited Duty Officer working with various Marine Corps aircraft that will all be replaced by the Joint Strike Fighter. I retired in June 2001 and came directly to work for Lockheed Martin on the Joint Strike Fighter Program in July of 2001 just prior to the down select.
I am currently the site activation lead for the Joint Strike Fighter Program in Fort Worth. I have an extended team of 20 subject matter experts in various disciplines that work with each US Service / Partner Country basing locations that the Joint Strike Fighters will be stationed at in the future. We have a site activation process that starts almost seven years prior to the planned aircraft's first arrival. In Yuma's case, we've been working with them since about 2006 getting their base up and ready to accept JSF.
SLD: Since Yuma will be the first operational F-35 base, could you describe the process and progress at Yuma?
Klendworth: In regards to Yuma, we initially did a site activation survey of that base back in 2008. During that Site Survey, we realized the infrastructure and facilities at Yuma were already 30 to 35 years old and being utilized at capacity. The JSF Team conducted a business case analysis and came to realization that it was more cost effective to not take any of the existing facilities out of service at this point and build new. The new construction will have all the JSF facility requirements incorporated to support 270 VDC electrical systems. The older facilities will be renovated or replaced when the AV-8 Harrier aircraft is retired.
During the Site Activation process we look for gaps and shortfalls in current design and develop a Site Specific Activation Plan that will improve maintenance efficiencies in the new or renovated facilities. The overall requirement is to effectively bed down the Joint Strike Fighter at Yuma.
We ensure we look at the total number of JSF squadrons they will support and we recommend a Long Range Plan that details the number and type of facilities they will require once they reach full JSF strength.
The primary facility we focused on was the maintenance hangar. The hangar will be configured with internal aircraft electrical power, cooling air and a secure Autonomic Logistics Information System (ALIS) infrastructure that is compatible with the JSF Air System to minimize the need for support equipment and stove piped computer systems. The ALIS infrastructure communicates across the base, Marine Corps and JSF Enterprise to manage the JSF Fleet.
The second facility we focused on was the aircraft simulator training facility that will house the JSF Full Mission Simulators. The FMS will provide realistic multi-aircraft tactical training to maintain pilot currency and minimize the number hours required in a real JSF. This saves operations and maintenance cost and reduces risk.
As part of the Site Activation process we also identify the appropriate staffing needed to support the JSF Squadron and meet pilot training throughput. The manpower includes maintainers to support on/off Aircraft tasks, training, and quality support functions.
Once the plan is formalized the Marine Corps identifies an engineering firm to work the final facility drawings. During this phase the JSF Team continues to provide subject matter experts to assist with design engineering and drawing inspections. The projects go through multiple reviews (30%, 60% and 90%) that culminate in a package that is ready for construction.
The first new JSF hangar (#80) is 100% complete and the Marine Corps has taken possession.
Team JSF is now outfitting this facility with the hardware and infrastructure that was defined in the site activation plan. The Marine Corps will build three additional hangars in the out years utilizing the same design which will help reduce cost in the future. The second hangar is at about 75% complete and the government will take possession of that facility at the end of 2012 giving the Marine Corps two operational squadron hangars available to start receiving JSF aircraft this year.
SLD: There is a generic problem in that the age of the infrastructure at some of these bases is quite old, so the new build facilities for the F-35 is necessary to support the future of military aviation in any case.
Klendworth: Very much so. Many of the JSF basing locations facilities are reaching their life expectancy and would require replacement with or without the new JSF.
Across the globe the JSF is being assigned to facilities that are extremely old.
And for those facilities to last the life of the JSF program there's going to have to be a replacement or refurbishment at some point in time and the majority of the services have elected to make some improvements up front so that they can capture all Life Cycle Cost opportunities and provide an integrated set of facility that is compatible with the 5th generation JSF.
We could've utilized the old facilities with large amounts of support equipment and work around but to meet the security requirements of the JSF there still would have to be significant facilities modifications. The Life Cycle Cost benefit analysis says it is better to invest at this point in time rather than put a band-aid on what I call a Sucking Chest Wound.
SLD: Because you are shaping a standard package for the worldwide basing for the F-35, there is a significant opportunity for cross-base learning and cost savings in the construction process as well.
Klendworth: Very true. We went into the JSF facilities at Eglin Air Force Base six months after they started operations and capture many lessons learned that we have no incorporated into our current designs. We were able to identify many improvements that we have incorporate that will save tax payers money, provide a proven design to our international partners and allow for common JSF facilities globally.
All JSF basing locations can take the lessons learned and build them into their design process.
And to even expound on that a little more, the Navy has a Unified Facility Code (UFC) that says, "We're going to take these common hangar designs and adapt them for other aircraft construction to minimize cost across the entire U.S. military service." They are looking to put together a joint service document that includes the JSF requirements and all the other aircraft requirements. This UFC design can be used at various basing locations and accommodate many types of aircraft at the minimum cost.
SLD: Could you discuss the advantage of getting a common design when you come to construction and how that saves money and increase efficiency realistically? What's the real advantage?
Klendworth: Savings and advantages are recognized in many different ways. Design packages take less time to build, the design inspection goes faster because the basic requirements are being electronically brought over and the construction cost can be lower when you have actual cost from like facilities to challenge with. For the squadron person he or she can walk into any JSF hangar and find common services (power, air, ALIS), shops and offices that are similar to their own facilities and operations.
It also allows for industry to compete on JSF projects across the United States much easier and capitalize on economy of scale.
Having a basic design makes it easy to estimate around the country and globe because there is standard labor and material cost factor that can be applied based on regional areas to give you a rough order of magnitude cost estimate for long range financial budget planning.
SLD: Have you already seen cost savings from the replication process?
Klendworth: It has already been realized at Yuma.
The cost estimate for the second hangar was less than the first. The span time to construct has been reduced significantly and we have been able to capture functionality improvements from the Lesson Learned database in the second hangar design.
SLD: My understanding is that a lot of the legacy equipment used in a hanger to support an aircraft has been eliminated by the F-35. Is that correct?
Klendworth: That has been the JSF approach. It's more cost effective to put permanent installed systems that are support three or four stations compared to having three or four replicated sets of support equipment in a hangar.
SLD: The next USMC F-35 facility will be built on the East Coast, at Beaufort Air Station.  Have you seen cross learning between Yuma and Beaufort?
Klendworth: The facility infrastructure at Beaufort is very similar to the construction of the facilities in Yuma. The hangar that is being constructed at Beaufort right now has a mission planning area that is very similar to Yuma and other basing locations.
We took the basic common solution set for Yuma, laid it into Beaufort and we're also laying it into a third location for the Marine Corps.
In general, we've established the core knowledge base for building the infrastructure and we are exchanging that information with our government counterparts at the Joint Program Office and so we have a collaborative team of both government and contractor personnel that take these designs and advertise and implement them at multiple basing locations throughout the world.
We currently have 22 different basing locations spread throughout the world that are using the basic core set of designs for hangars, training facilities, and off aircraft shop type of support.
And from a Yuma Sun article published in May 2012:
Marine Corps Air Station Yuma is bustling with activity as it prepares for the November or December arrival of the first F-35B Joint Strike Fighter jets that will be based here.

The first six projects are nearing completion, and work is starting on three more this year, for a total investment of almost $400 million at MCAS. It's an investment that also has been a boon to local businesses, from hotels to subcontractors and suppliers.

While details of the dynamic effort are changing daily, "the future of Yuma is a lot closer than people may believe or hear," Lt. Col. Dwight De Jong, overseer of the massive effort at MCAS, told those attending the Greater Yuma Economic Development Corp.'s quarterly luncheon Tuesday.

"And there are so many zeros behind the dollar value," he added.

Asked how secure the future of MCAS and the F-35 might be, De Jong responded that he's encouraged by three things.

First, Lockheed Martin, builder of the F-35, is a "savvy" company, he said, and has operations in every state so there would be a lot of support for it. Second, several countries have the same scenario as the U.S.: aging aircraft and nothing to replace them except the F-35. Third is the $400 million investment in MCAS Yuma.

MCAS Yuma is slated to be home to five F-35 squadrons of 16 planes each, along with an operational test and evaluation squadron of eight aircraft. The first squadron will be VMFA 121, expected by December. The total transition from old aircraft to new aircraft and personnel for the F-35 squadrons is scheduled by 2020.

To be ready, construction of new state-of-the-art hangars and replacement of aging infrastructure are on an aggressive schedule.

"Controlled chaos" is how De Jong described the activity. He's the director of the Site Activation Task Force to ensure MCAS is ready for the introduction of the F-35. He's also the officer in charge of the F-35 Fleet Introduction Team responsible for the activation of F-35 squadrons for the Marine Corps.

"We gave the contractors some ridiculous time frames," he said.

That they're meeting them, with only one minor injury to date, is a tribute to the team effort, he said. "It's been nothing short of impressive."

Projects totaling nearly $200 million were awarded to contractors in June 2011. One hangar is expected to be completed by mid-May and a second by October. A new simulator facility will be completed in June, while a new utility communications facility is scheduled for completion by August and a new maintenance facility by November. The work also includes demolition of older facilities.

Fiscal year 2012 projects total another $160 million. They include two more hangars, with the contract awarded in April and scheduled for completion by spring of 2014.

An auxiliary landing field is to be built on the Barry M. Goldwater Range, to be awarded in late June with anticipated completion by July 2013. The new facility will simulate the deck of an amphibious assault ship where pilots can practice their carrier landings.

Yet another project, to be awarded this fall for scheduled completion in February 2014, would be an additional hangar that hopefully will attract another squadron to MCAS, De Jong said.

All of this activity is having a positive impact on the community, noted Doug Nicholls, chairman of the GYEDC board.

Evan Fuller, general manager of the Radisson Hotel, told the gathering that he has seen a 30 percent increase in government guests in the first quarter of the year over the previous year. Many of them are with Lockheed Martin and other defense contractors.

Don Peterson, owner of DPE, said his company was awarded $25 million in contracts at MCAS from concrete to electrical work. That has enabled him to nearly double his work force from 95 last year to 189 today, with many of the hirees people he had been forced to lay off with the economic downturn. He also has purchased millions of dollars in materials from other local businesses.

Peterson's grateful for the work he has at MCAS and is "excited to hear about the upcoming work. I hope to be a part of that, too."

Joyce Lobeck can be reached at [email protected]