2012-11-04 Australia is a major buyer of the Airbus Military 330 tanker.
It has benefited significantly from the development of the tanker for the USAF, and unlike the USAF, will benefit from the result.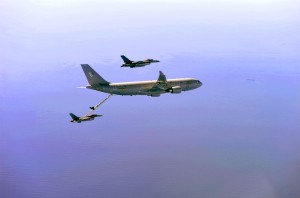 Australia has ordered 5 tankers/lifters to date, with 4 already accepted by the Aussies.  It is anticipated that initial operating capacity will be declared by the end of the year.
In a detailed piece by Nigel Pittaway in The Weekend Australian, a detailed update on the status of the aircraft and its performance to date was provided.
(Airbus Tanker Proves Its Worth, by Nigel Pittaway in The Weekend Australian, October 27-28 2012).
The article provided several details on the program for Australia, but even more interesting to an outsider were some judgments made by Australian officers about the overall performance of the aircraft.
For example, Commodore Gary Martin, commander Air Lift Group, noted "This aircraft can take six fighters from Australia to the mainland United States happily.  Its loiter time and offload is almost TWICE that of a US Air Force KC-10A Extender."
Some of the details provided in the update were as follows:
The fifth aircraft is in Spain being fitted with a new advanced Aerial Refueling boom System that allows the KC-30A to refuel Australia's Wedgetail, C-17As and JSFs;
The aircraft will probably receive IOC status in November 2012;
According to Commodore Martin: "The KC-30A has participated in exercises Pitch Black, Arnhem Thunder, Kakadu and High Sierra in the last 4 ½ months, almost and exercise a month, and in September we flew 71 sorties with two of the three aircraft delivered, over half of which were air to air refueling missions."
The tanker is involved in further testing with the F-18 hornets, to certify the hose and drogue system during full day and night operations as well as the crossover times during dawn and dusk.  They are also testing the Hornet's ability to receive fuel at different weights and armament loads.
Feedback from the operators is very positive.  According to Commodore Martin: "It is such a big aeroplane and the feedback is that it's the easiest aeroplane they'ever connected to.  Out of the 50 per cent of the 71 sorties we fles last month, the AAR missions, we didn't have a single aircraft turn away from us."
The Aussies are working with Airbus Military to sort out any problems with the boom and the focus is upon developing upgraded software and hardware adjustments to deal with any problems.  According to Commodore Martin: The new system will be tested "in 2013 after Airbus Military has installed and trialled the new hardware and software in Spain."