2012-12-11 By Robbin Laird
We recently interviewed General Jacoby the dual hatted NORTHCOM and NORAD Commander.  This inteview will be published in the near future, and focuses upon the Arctic as a strategic challenge and opportunity.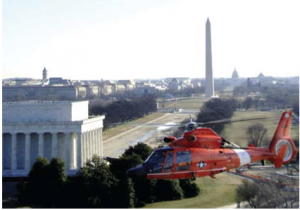 But  recent article in Air Force Magazine highlighted the role of one USAF unit in working with NORAD, which provides for the defense of the capital airspace.
As one who was in the Pentagon on 9/11, I certainly appreciate the efforts to protect our airspace from intruders.
http://defense.aol.com/2011/09/11/one-mans-account-of-911-at-the-pentagon/
The complexity of doing so is significant and involves both USAF guard units as well as USCG units as well.We discussed the USCG role in an earlier interview with Admiral Lee.As Admiral Lee, at the time Commander of the 5th District, headquartered in Portsmouth, VA, commented:
I do however have a unique mission up in the National Capital Region; a mission which none of the others have – Rotary Wing Air Intercept. In this capacity, I play a supporting role to the Northern Command (Northcom) by providing our MH-65D helos to intercept low and slow airborne intruders in the restricted air space around Washington DC. In short, we are part of the layered defense in the region, and we are extremely proud to be part of the interagency team that makes this all happen.
http://www.piersystem.com/go/doc/786/134359/
http://www.cgaalumni.org/s/1043/images/editor_documents/Bulletin/Apr-07/Bulletin_ServiceNews_Apr07.pdf
The Air Force Magazine article by Aaron M. U. Church highlights the role of the 121st Fighter Squadron, District of Columbia Air National Guard.
Today, the 121st Fighter Squadron boasts what is by far the busiest aerospace control alert (ACA) section in the United States. It scrambles, on average, more than once a day—more than 3,800 times since the 9/11 attacks.

Andrews is just one of 16 alert sites in the continental United States. However, the fighter force based there scrambles twice as often as all the other air defense units combined, said Lt. Col. Christopher Hardgrave, 121st FS alert commander.

The alert F-16s are just the most obvious layer of the National Capital Region (NCR) Integrated Air Defense System. This network also features radars, command and control systems, Coast Guard helicopters, laser warning elements, surveillance cameras, and Army surface-to-air missiles.

Because the airspace around Washington, D.C., is so crowded and critical to national security, reliance on this defense setup is a high-stakes affair. Making good use of it requires close interagency cooperation. That takes constant exercising and rehearsal.

Alert pilots routinely exercise every kind of relevant activity, from individual tactics to mass coordination of fighter operations.

Frequent practice scrambles have served to minimize response times. Since fighters normally go aloft in two-ship formations, they can skirmish with each other often to gain valuable experience in intercepting flying targets.In the real world, however, most unauthorized intrusions into restricted D.C. airspace are carried out accidentally by "low and slow" light civil aircraft. These are not easily simulated with fast fighter aircraft.

For more realistic training, the F-16s regularly fly against light aircraft, usually single-engine prop-driven Cessna 182s flown by pilots of the Civil Air Patrol. These Fertile Keynote exercises are staged twice each month. Ground controllers from the Eastern Air Defense Sector of NORAD guide the fighters to intercept. The activity also requires fighter coordination with the local civilian air traffic control system.

Brave-02 pulls alongside to escort the Cessna to an airfield safely outside the simulated flight-restricted zone during a Fertile Keynote over Patuxent River, Md. (Photo by Arie Church)

Each month NORAD hosts Falcon Virgo, a dead-of-night, live-fly exercise against multiple targets over Washington, D.C., and its environs. These exercises draw together the full command cast: the NCR Coordination Center, Joint Air Defense Operations Center, NORAD's Eastern Air Defense Sector controllers, and more.

Falcon Virgo allows fighter pilots to practice their roles in complex scenarios—for example, the receiving of intercept handoffs from Coast Guard MH-65 helicopters or the interception of jet targets with the aid of night vision goggles.

Explained Lt. Col. Timothy Madden, 113th Operations Group commander: "It's a building block approach. From the practice scrambles, to the Fertile Keynotes, to the Falcon Virgos, … each layer brings more players in. … [and] stresses different parts of the system."

The goal is to make sure coordination will be close and seamless. "It's a no-fail mission, so we have to make sure we're ready," he said.
For the rest of the article see the following:
http://www.airforce-magazine.com/MagazineArchive/Pages/2012/December%202012/1212defenders.aspx