2012-12-21 by Richard McCormack
A substantial percentage of companies that specialize in the space industry are on the brink of extinction. 
According to the initial findings of an industry survey conducted by the federal government of 1,087 companies in the space supply chain, 38 percent said they would be insolvent if the govern­ment's space budget declines precipitously.
Forty­ six percent of the companies that are doing work for the space programs run by the National Reconnaissance Office said they would go out of business if there was a deep cut in that agency's budget.
Federal agencies that have space programs are vulnerable to the loss of important technologies and ser­vices. Those who responded to the survey identified 2,667 unique criti­cal suppliers that supported key manufactured goods and services for the U.S. space industry. Of these, 37 percent were either from sole source suppliers (14 percent) or single­ source suppliers (23 percent).
The detailed survey conducted by the Commerce Department's Bu­reau of Industry and Security in col­laboration with the U.S. Air Force, NASA and the National Reconnais­sance Office will provide agencies with pinpoint accuracy of what is happening down at least five tiers in the space supply chain.
We can see what is currently going on with these companies with their financial health and expenditures and potential im­pacts if there are programmatic or budget cuts," says a Commerce De­partment official involved in the analysis. "What we are trying to say to our partner agencies is you have 203 respondents that might lose their solvency or viability. You need to start looking at who they are and what they make, what suppliers sup­port them and who they support in the industrial base to find these criti­cal nodes, these potential weak points in the industrial base, not just for particular programs but the agency interdependency.
Already, 19 percent of the compa­nies responding to the Commerce Department survey (206 out of 1,087) said they have already been somewhat or significantly impacted by declining demand from the U.S. government for space­ related prod­ucts and services.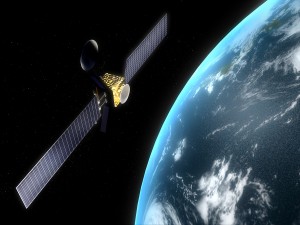 One small com­pany said cuts to government space programs have "fundamentally changed the outlook for several of our clients and just as important it has significantly impacted several potential clients resulting in a drasti­cally reduced demand for services we provide."
Sales of space goods and services are on a downward trajectory. 
For the 1,087 companies filling out the survey, sales have declined from $19 billion in 2009 to $16.6 billion in 2012. Sales to non­defense U.S. gov­ernment space customers have plummeted from $7.7 billion in 2009 to $5.9 billion in 2012.
The Bureau of Industry and Secu­rity surveyed 5,000 companies in the  U.S. space supply chain. 
Its initial re­view of the data involves the first 1,087 companies that have returned the mandatory survey. Companies selling basic raw materials up through the entire supply chain in­cluding semiconductors, printed cir­cuit boards and full space systems, along with those providing services such as R&D, IT, maintenance, in­spection and quality control, were required to complete the survey.
The results will be used by the space agencies in the government to look at how suppliers overlap between programs, so that no one agency has to be alone in attempting to main­tain key parts of the industrial base.
There are a lot of agencies in­volved in space, including NASA, the Air Force, Navy and Army, National Oceanic and Atmospheric Adminis­tration, FAA, National Security Agency, NRO, Missile Defense Agency and the CIA, among others. 
Companies were asked about ex­porting their products and how U.S. export controls impacted their busi­ness.
The government got a tongue lashing, compiling the largest num­ber of comments from industry ever assembled about the export control system.
It found that 37.5 percent of re­spondents avoided exporting space­ related products or services that were subject to the State Depart­ment's ITAR (International Traffic in Arms Regulations) controls. 
Thirty ­one percent of the respondents said export controls provided foreign companies with incentives to avoid buying U.S. ­made space products and services. Thirteen percent said the controls "caused the abandon­ment or alteration of space ­related business lines."
Companies "don't understand the difference between the control lists and where they would fall," said the Commerce Department official.
"They tend to take a pessimistic view of the burden and the potential is­sues required in exporting under a license."
Said one executive at a small company: "In gauging which prospects to follow up with, if there is a likelihood of needing an export license, we usually drop the transac­tion and send the prospect to look for a solution somewhere else." 
An­other executive with a small space supplier said, "ITAR was one of the considerations for us to leave [the] R&D business."
And one executive from a medium ­sized company had this condemnation: "ITAR regula­tion of our space products has been very successful in creating a global network of companies making com­peting products while ensuring U.S. companies cannot compete." 
To view the initial analysis of the survey data, set your browser to
http://beta-www.bis.doc.gov/index.php/space-deep-dive-results
This article is re-printed from Manufacturing News, December 18, 2012.
To subscribe to Manufacturing News got the following link:
http://www.manufacturingnews.com/