2012-12-15 By Richard Weitz
North Korea's successful December 13 satellite launch surprised many observers by the rapidity of its progress, repeating the unpleasant surprise in 1998, when the DPRK first sought to launch a long-run missile.
What is remarkable is how well this launch performed compared to the spectacular failure in April.
One reason for the surprising success may have been the extensive missile cooperation that occurs between North Korea and Iran. Their technology exchanges and other pooling of resources might explain why Iran, which like North Korea is under heavy international sanctions designed to limits its missile activities, is also making steady progress in its missile capabilities.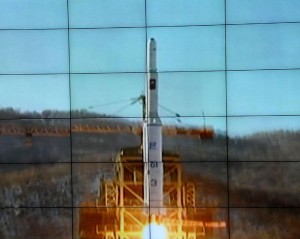 Until recently, Iran was considered to be in the lead since it had been the first to develop and use solid-propellant missiles, which offer advantages over liquid-fuelled propellants such as being easier to store, harder to detect, and able to be rapidly launched without a lengthy fueling process that can be observed by foreign spy satellites. But now the DPRK has moved into the lead in terms of being able to launch a three-staged proto-ICBM.
Perhaps analysts should consider their missile activities as two branches of the same program.
One expert has termed the Unha rocket "a joint development project between the two countries."
The Unha's first stage looks like the Iran's Simorgh rocket, while the Unha's third stage is similar to the third stage of Iran's Safir rocket, which launched Iran's own Omid satellite into orbit.
Many media reports claim that Iranian engineers and other experts have frequently observed and perhaps assisted North Korea's missile launches, such as the 2006 launch.
The firms associated with Iran's Aerospace Industries Organization, such as the Shahid Hemmat Industrial Group, have supplied North Korea with missile technology in the past. Twelve representatives from the Shahid Hemmat Industrial Group were reportedly present at the April 2012 Unha test launch. There have been similar reports that North Korea invited Iranian technicians to assist the DPRK after its failed April launch and that Iranian observers were in the DPRK for the most recent North Korean missile launch.
The Iranian government has always denied that such cooperation occurs. For example, two days before this week's DPRK launch, Iranian Foreign Ministry spokesman Ramin Mehmanparast, while acknowledging cooperation during the Iran-Iraq War in the 1980s, called accusations of recent Iranian assistance to the DPRK space and missile programs "completely baseless."
Yet, in June 2009, Lt. Gen. Patrick O'Reilly, head of the U.S. Missile Defense Agency, said that  Iran and North Korea have formed an information-sharing "coalition" to exchange technical data regarding avionics, propulsion systems, and other missile components.
In May 2011 a U.N. panel of experts reported that Iran and North Korea were suspected of exchanging ballistic missile technology and components, in violation of UN sanctions on both countries, by using regular scheduled Air Koryo and Iran Air flights.
The success of the Iranian missile program and the speed of its development would be hard to explain without extensive foreign assistance from countries like North Korea, Russia, and China.
Many of Iran's missiles have come directly from the DPRK, either in the form of components or finished missiles. During the Iran-Iraq War, North Korea furnished the basic building blocks for Iran's liquid fuel, Scud-type missile effort. Iran received both complete missiles and the facilities to manufacture them from the DPRK. More recently, North Korean engines, or their knock-offs, power both Iran's Musudan intermediate-range ballistic missile the Shahab-3 rocket.
Indeed, Iran's Shahab-3 and Shahab-4 closely resembles North Korea's Nodong missile, while Iran's Safir space launch vehicle is based on the same North Korean ballistic technology used for the Taepodong. And the warhead on North Korea's Nodong missile resembles that on the Shahab-3.
In effect, North Korea has served as Iran's off-shore missile development site.
According to a 2012 report to Congress by the Director of National Intelligence, Iran still depends on foreign suppliers for obtaining important missile components.
Interestingly, there is little indication of uranium enrichment cooperation between North Korea and Iran. Both countries use different centrifuge models. In addition, and North Korea is capable of manufacturing high-strength steel that Iran has been unable to acquire, forcing Iran to rely on carbon fiber materials that are less reliable.
Even so, along with Libya, North Korea and Iran were the two states that probably received the most nuclear-weapons-related supplies and technology sold and bartered by the Pakistani technician A.Q. Khan.
The offerings ranged from uranium centrifuges to warhead designs.
In addition, on September 1, 2012, the two countries signed a comprehensive two-way science and technology cooperation agreement. The no. 2 DPRK leader, Kim Yong Nam, went to Tehran for the event, which included North Korea's Foreign Minister Pak Ui-chun, Iranian President Mahmoud Ahmadinejad, the head of Iran's Atomic Energy Organization, and Iran's minister of Defense and Armed Forces Logistics.
Ahmadinejad said that the visit and agreements would have a "great impact on strengthening bilateral ties, expanding co-operation and boosting the anti-hegemonic front."
During the same visit, Iran's Supreme Leader Ayatollah Ali Khamenei told Kim, president of the Presidium of the Supreme People's Assembly, that the two countries have "common enemies" since "arrogant powers don't tolerate independent governments." Khamenei added that, "In the march towards great goals, one should be serious, and pressures, sanctions and threats should not cause any crack in determination."
There is also a report that, following the signing of this agreement, four missile experts from Iran's military-industrial complex are now permanently stationed at a DPRK military facility, presumably to facilitate the bilateral exchange of missile technologies, with Iran seeking help with the airborne separation of rocket stages and warhead miniaturization, while North Korea receives Iranian help in the civil engineering sector.
A natural evolution of this partnership would be for Iran to provide money and oil to the DPRK in return for North Korea's dual-use nuclear technology, which Pyongyang could describe as for non-military purposes such as civilian energy production.
These include technologies for uranium mining, uranium hexafluoride production, uranium metallurgy and explosive testing for making highly-enriched uranium weapons, and technologies for making weapons from plutonium derived from spent uranium fuel or Iran's planned heavy water reactor.
For the right price, North Korea might even decide to simply sell some of its plutonium to Iran, allowing Iran to jump through its HEU red lines almost overnight.
Editor: I provided analytical support to a Commission which looked at the impact of the proliferation of knowledge systems which allowed breakout of technologies.  The approach and many of the findings remain valid.
http://www.fas.org/irp/threat/bm-threat.htm
http://www.fas.org/irp/threat/missile/rumsfeld/toc-3.htm