2012-12-03 Airbus military has delivered the last of its tankers under contract to the RAAF.
An update on the Aussie tanker was recently discussed by a senior RAAF officer.
https://sldinfo.com/an-update-on-the-a330-tanker-from-down-under/
Commodore Gary Martin, commander Air Lift Group, noted "This aircraft can take six fighters from Australia to the mainland United States happily. 
Its loiter time and offload is almost TWICE that of a US Air Force KC-10A Extender.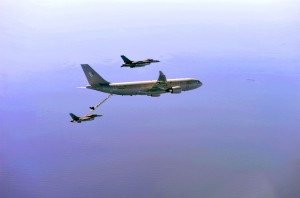 According to an Airbus Military press release concerning the delivery of the final tanker:
Airbus Military has formally delivered the fifth and final new generation A330 MRTT multi-role tanker transport ordered by the Royal Australian Air Force (RAAF).

The handover of the aircraft, the world´s most advanced air-to-air tanker, marks a major milestone for the A330 MRTT program and confirms the RAAF´s global leadership role in developing modern tanker/transport operations.

Designated the KC-30A by the RAAF, it was converted from an Airbus A330 commercial passenger jet by Qantas Defence Services in Brisbane, and will serve with No. 33 Squadron at RAAF Base Amberley.

Airbus Military Vice President Derivative Programmes, Antonio Caramazana said: "It is an enormous pleasure to make this landmark delivery which confirms the reality of the A330 MRTT as the world´s only certified and flying new generation tanker/transport. We greatly appreciate the cooperative role of the RAAF in bringing this aircraft from development into service and we look forward to the declaration of Initial Operating Capability (IOC) of the KC-30A in the very near future."

Air Commodore Gary Martin, RAAF Commander Air Lift Group said: "We are very pleased with the in-service testing of the KC-30A and we expect to declare IOC before the end of the year. RAAF F/A-18A and B aircraft now conduct routine refuelling missions with the KC-30A, and the pilots are happy with the KC-30A tanking experience. The KC-30A makes a tremendous contribution to Australia's need to move large numbers of personnel and cargo over long distances, both domestically and throughout the Asia Pacific region."

In RAAF service the A330 MRTT is equipped with two underwing refueling pods, the fly-by-wire Airbus Military Aerial Refueling Boom System (ARBS), and a Universal Aerial Refueling Receptacle Slipway Installation (UARRSI) enabling it to be refueled from another tanker. Powered by two General Electric CF6-80E engines, the aircraft equipped with a comprehensive defensive aids suite (DAS) and fitted with 270 passenger seats.

For an update on the program provided in May of this year during the Airbus Military Trade Media Day see the following:

For a look at how the tanker might help enable a new defense strategy in the Pacific  see the following:

https://sldinfo.com/shaping-an-attack-and-defense-enterprise-for-the-pacific/