2013-01-23 When we visited Eglin to talk with pilots and maintainers of the F-35 at the Training Facility last August, we passed by the area where the USN is getting ready for its variant of the F-35.
https://www.sldinfo.com/an-update-on-the-f-35-integrated-training-center-at-eglin-afb/
It is expected to come to the facility later this year, and see the Navy join the joint team preparing for the F-35 transition.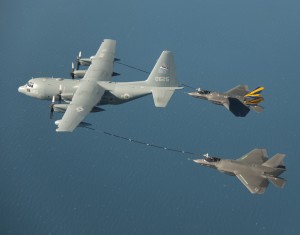 According to a recent Lockheed Martin press release:
January 22, 2013. For the first time, two F-35C Lightning II carrier variant test aircraft refueled together with a Lockheed Martin KC-130 Hercules in the sky above Patuxent River, Md. recently.

The CV aircraft, known as CF-1 and CF-2, completed the milestone as part of an F-35 flight test program that will accomplish more than 1,000 flights in 2013.
Here Col. Tomasetti, Deputy Commander of the 33rd Fighter Wing discusses the Training Center at Eglin.