2013-02-20 by Col Bradley E. Weisz (USMC)
Humanitarian assistance/disaster relief (HA/DR) operations are a core element, which the US military is tasked to do.  It is also a key part of exercising forward presence and for shaping the kind of domain knowledge essential to global operations.
In the last 5 years, III MEF and its major subordinate commands have deployed thousands of personnel and associated equipment throughout the U.S Pacific Command's (USPaCom's) area of responsibility in support of HA/DR missions.
Although the official name of these types of operations is foreign humanitarian assistance, I will use HA/DR due to its worldwide recognition.
Two of these HA/DR operations that deserve special attention are Operation UNIFIED ASSISTANCE (OUA) conducted from December 2004 through February 2005 and the Philippines HA/DR mission conducted during the September-October 2009 period.
Operation Unified Assistance
On 26 December 2004, a massive 9.0 magnitude undersea earthquake occurred off the west coast of Indonesia's northwestern Sumatra Island, triggering tsunamis that devastated the countries of Sri Lanka, India, Indonesia, Thailand, Malaysia, Myanmar, Maldives, Bangladesh, Somalia, Tanzania, and Kenya.[ref] Blackman, LtGen Rusty R., "Command Chronology in Support of Operation UNIFIED ASSISTANCE," CSF–536, U-Tapao Royal Thai Naval Airbase, Thailand, 12 February 2005, p.6.[/ref]
The tsunamis killed more than 230,000 people and devastated coastal communities with waves up to 100 feet high.  It was one of the deadliest natural disasters in recorded history.[ref]Ibid.[/ref]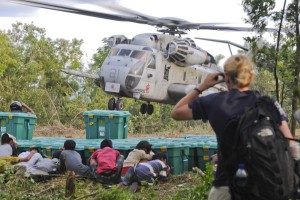 On 27 September 2009, Tropical Storm Ketsana released 1 months' worth of rain in a single day on the greater Manila area of the Philippines.
Following closely behind Ketsana, Typhoon Parma struck the Philippines and stalled in the northern Luzon region for 5 days, continuing to release tremendous amounts of rain, well above the monthly average.  In the end Tropical Storm Ketsana and Typhoon Parma caused severe flooding that left over 800 people dead and forced hundreds of thousands from their homes.
When natural disasters occur, foreign nations frequently look to the United States for immediate assistance and support.  This has become the norm as the U.S. military contains expert planners, unparalleled mobility assets, robust logistics capabilities, and redundant communications networks.
Historically, the U.S. military has been viewed by the international community as the "quickest and most capable responder" that is able to react to and support crisis/disaster areas.    
Examples of the U.S. capability to arrive on the scene quickly included the USS ABRAHAM LINCOLN Carrier Strike Group (CSG) and the USS BONHOMME RICHARD Expeditionary Strike Group (ESG) that supported OUA.  The ABRAHAM LINCOLN CSG sortied out of Hong Kong on 28 December and arrived off the coast of Banda Aceh, Indonesia, on 1 January 2005, while the BONHOMME RICHARD ESG bypassed Guam on 28 December and arrived off the coast of Medan, Indonesia, on 3 January 2005.
These naval expeditionary capabilities performed critical lifesaving functions as afloat forward staging bases in the delivery of food, water, and emergency medical supplies.  
Combined with our maritime prepositioning squadron assets and high-speed vessels, a highly capable life support system was quickly established in the relief areas.  When the ABRAHAM LINCOLN CSG departed Indonesian waters after approximately 30 days on station, the USNS MERCY hospital ship arrived off the coast of Banda Aceh to continue long-term U.S. relief efforts.
Although all HA/DR operations are different, one theme remains constant; establishing a combined coordination center (CCC) from the very beginning is essential for successful operations.  
Some operations, such as OUA, required an extremely large, robust staff to plan and coordinate the delivery of relief supplies to a large number of countries/locations affected.
Countries like Australia, Canada, France, Germany, India, Indonesia, Japan, Korea, Singapore, Thailand, and the United Kingdom provided liaison and staff officers to the CCC. 
The 2009 Philippines HA/DR mission 
Other humanitarian efforts, such as the Philippines HA/DR mission, only required a small but decisive staff, able to make rapid, informed decisions on the scene.
To ensure that necessary planning and coordination was conducted, every Service of the Armed Forces of the Philippines was appropriately represented in the CCC; officers and enlisted personnel alike from the Philippine Army, Navy, Air Force, and Marine Corps participated.
Critical billets within the CCC included subject matter experts from weather, medical, public affairs, information management, engineering, and fiscal — many high-demand/low-density jobs.
Integrating and coordinating interagency organizations, such as the Office of Foreign Disaster Assistance, U.S. Agency for International Development, is also a must for successful HA/DR efforts; these organizations bring significant long-term logistics and life support relief capabilities to the mission. United Nations (UN) relief agencies, international organizations, and other nongovernmental organizations must also be effectively integrated into the CCC.
Continuous theater security cooperation and engagement with USPACOM countries have proven to be extremely beneficial, especially when a natural disaster occurs and U.S. military support is anticipated. Habitual relationships that have been established by U.S. military forces through the years enable unparalleled opportunities when host-nation governments request U.S. military assistance.
During OUA, III MEF forces quickly established and maintained a combined support force (CSF) headquarters aboard U-Tapao Royal Thai Naval Base, possible due to years of consistent engagement and training with the Royal Thai Armed Forces.
Similarly, 3d MEB forces were able to rapidly organize and build a headquarters element aboard Camp Aguinaldo, Manila, in support of the Philippines HA/DR mission.
When relief conditions warranted a move north of Manila for better command and control, 3d MEB quickly transitioned to Clark Airbase and significantly increased its situational awareness of the disaster area.[ref]Lee-Brago, Pia and Jaime Laude, "Exercise BALIKATAN BALIKATAN Troops Redeployed to Flood-Hit Areas," The Philippine Star, Manila, Philippines, 30 September 2009, p. 1.[/ref]
Close-knit, personal relationships with U.S. Embassy, country team, and joint U.S. military advisor group (JUSMAG) personnel are also critical.  These relationships and contacts enabled the quick introduction of U.S. military forces into the disaster area and provided invaluable background information and cultural knowledge on local politics and sensitivities.
U.S. Embassy, country team, and JUSMAG personnel are able to inform commanders and planners about the local sphere of influence and at what level of government the final decisions are made. This is important when establishing higher and adjacent liaisons with the host nation.
Instantaneous communications is required from the very beginning of HA/DR operations. 
The early use of cellular phones and commercial Internet in OUA and the Philippines relief mission was extremely invaluable. As big box communications networks were being established, planners and action officers utilized local/regional cell phones to the maximum extent. At the same time, commercial Internet provided immediate and highly reliable communications/e-mails/text messaging for coordination and planning efforts.
As III MEF headquarters personnel were flowing into Thailand in support of OUA, officers and SNCOs established temporary yet effective communications nodes in hotel conference rooms, enabling early planning and coordination to be conducted.
The same situation occurred in the Philippines as 3d MEB personnel flowed into Manila and without delay began operating out of hotel conference rooms using local cellular phones, Yahoo, and Hotmail e-mail accounts.
Key Elements for Response
A key observation from both the Southeast Asia tsunami and Philippines relief efforts was to keep all correspondence related to the mission unclassified, to the maximum extent possible. 
The free flow and exchange of information between U.S. military and host-nation agencies built immediate trust and confidence, so there was no pretense that the mighty U.S. military was coming into their country with a hidden agenda.
These initiatives build instant credibility with the international community as all U.S. military actions are openly displayed to the public and subject to everyone are viewing.
The use of intelligence, surveillance, and reconnaissance (ISR) assets enhances HA/DR operations.  
With many nations lacking ISR capabilities of their own, U.S. Navy P–3 aircraft in support of OUA were able to provide immediate surveillance and reconnaissance capabilities to CSF–536, supporting critical lifesaving and search and rescue missions.
The Commanding General, 3d MEB, utilized KC–130J, CH–46E, and UC–12 assets to conduct visual reconnaissance missions during the Philippines HA/DR mission.  III MEF currently does not have ISR capabilities (Marine unmanned aircraft squadron (VMU) Shadow and Scan Eagle unmanned aircraft systems) in the Western Pacific region; perhaps we should look at accelerating the detachment of VMU–3 into III MEF either by permanent change of station or unit deployment program.
Accurate in-transit visibility and situational awareness of transportation assets is key for coordinating the delivery of relief supplies and equipment.  
On numerous occasions during OUA, strategic airlift was positioned at requested airfields in order to pick up and transport relief goods believed to be stored there and ready to load.
However, when the strategic airlift arrived, no supplies or even personnel to coordinate the arrival on/offload were present at the scene, forcing the limited airlift assets to sit idle and await resolution.  Ultimately this caused many delays and resulted in an inefficient, wasteful delivery of goods.
Related to lift assets is the requirement to support VIP visits to disaster areas.  
Keeping these visits to an absolute minimum enables transportation assets to focus on delivery of supplies, relieving ongoing human suffering.  When VIPs arrive, primary and backup means of transportation must be scheduled to support them, quickly eating up very limited resources.
The fog of war exists in HA/DR operations as much as it does in combat missions.
Developing habitual relationships through continuous theater security cooperation and engagement enables U.S. military forces the ability to rapidly deploy to a crisis area and immediately begin providing humanitarian relief.
Openly communicating our operations with the host nation and the international community builds instant trust and confidence of U.S. objectives and intentions. Immediately establishing a CCC and inviting other nations, interagency organizations, and UN relief organizations to participate sets the entire operation up for success.
Public affairs and strategic communication play a role in this effort along with coordination with U.S. Embassy, country team, and JUSMAG personnel.  Mother Nature continues to deliver rain, tsunamis, floods, and earthquakes to the Pacific theater, and it is vital that III MEF is prepared to support the HA/DR efforts that follow these events.
Col Weisz is an aviation command and control officer.  He participated in Operation UNIFIED ASSISTANCE (Southeast Asia tsunami relief efforts) from U-Tapao Royal Thai Naval Airbase, Thailand, and in the Philippines HA/DR mission (Tropical Storm Ketsana and Typhoon Parma relief efforts) from Camp Aguinaldo, Manila, and Clark Airbase, Philippines.
For a look at the Japanese case see the following:
https://sldinfo.com/looking-back-at-operation-tomadachi-the-key-role-for-the-japanese-self-defense-force/
For a look at the Haitian case see the following:
https://sldinfo.com/tsunami-relief-and-the-earthquake-in-haiti/
https://sldinfo.com/general-burke-provides-an-update-on-the-haitian-relief-operations/
https://sldinfo.com/a-roundtable-at-the-21st-emtf-lessons-learned/
https://sldinfo.com/an-osprey-update-from-new-river-air-station-captain-dwyer-on-the-osprey-in-haiti/
https://sldinfo.com/transcom-and-haiti-planning-for-drawdown-from-the-outset/
https://sldinfo.com/uscg-posting/
https://sldinfo.com/22nd-meu-begin-phased-departure-from-humanitarian-assistance-in-haiti/
https://sldinfo.com/video-combat-controllers-haiti/
https://sldinfo.com/in-the-wake-of-disaster-how-the-haiti-earthquake-is-likely-to-redefine-the-notion-of-port-security/
https://sldinfo.com/seabasing-in-action-the-case-study-of-haiti-relief/
https://sldinfo.com/the-haitian-challenge/
https://sldinfo.com/video-osprey-in-haiti/
https://sldinfo.com/usmc-in-haiti-slideshow/
https://sldinfo.com/video-first-responders-to-haiti/
https://sldinfo.com/video-usmc-in-haiti/